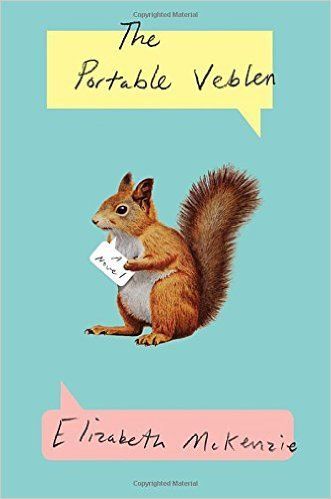 A squirrel runs through it, a "fluffy Sciurus griseus... Its topcoat was charcoal, its chest as white as an oxford shirt, its tail as rakish as the feather in a conquistador's cap." Elizabeth McKenzie's "The Portable Veblen" mixes natural history, magical realism and social commentary in a funny, readable whole.
The title is a little confusing: no, this is not the 1948 collection of the same title. That one contains writings by the Norwegian-American Thorstein Veblen, an economist who came up with the term "conspicuous consumption" and in 1899 published "The Theory of the Leisure Class." This "Portable Veblen" deals with his fictional namesake and the world in which she lives.
It's a California tale, set in a Palo Alto not yet entirely rebuilt with overstated mansions for the nouveau riche. Veblen Amundsen-Hovda is in her early 30s. She's essentially home-made, cutting her own hair, making her own clothes, restoring her own house, making her own translations (from Norwegian and from squirrel) and living, often, in her own world.
Still, her temp job at a hospital leads her to a man who is her near contemporary and frequent opposite, Dr. Paul Vreeland. Paul, a neurologist, has invented a device to help treat combat brain injuries, and he's looking to do well by doing good.
Both suffered appalling home lives in their childhoods. Veblen's mother, Melanie, is a nightmarish (if occasionally unintentionally hilarious) model of a hypochondriac-narcissist; Veblen's father, Rudgear, went mad after serving in Vietnam. Paul's parents are unreconstructed hippies who indulge his brain-damaged older brother, Justin, and chide Paul for his materialism.
Paul is wooed for his device by Cloris Hutmacher, scion of Hutmacher Pharmaceuticals, a woman dedicated to increasing her company's bottom line by any means necessary. He's rejected his childhood life of ethnic clothing and government helicopters buzzing over the family pot farm, but will he sell out?
Meanwhile, Veblen is worried about the changes that a relationship will bring to her own life. She loves corn on the cob; Paul doesn't like it, and she extrapolates from that: " 'If you don't like corn, it means I'll probably stop making it. We won't go on hunts for the best corn stands in the summer, driving all over until we find them. You won't be motivated to shuck it for me. The sound of me gnawing on it will annoy you, so I'll stop having it. It'll gradually become a thing of my past, phased out for good.' Veblen was almost ready to cry, and she had reason. Anything and everything her mother disliked had been phased out of her life for good."
"Veblen" is an idiosyncratic read, with some (seemingly random) black-and-white photographic illustrations deposited here and there, and passages from Veblen printed in a typewriter typeface. There's too much about her imaginary childhood squirrel kingdom of Wobb (McKenzie's good, but she's no Richard Adams), which feels a little precious. That's a small enough complaint, though.
There are special bonuses in a series of appendices, including Melanie's complete list of ailments, Cloris Hutmacher on her work with UNICEF, and, arranged by language in alphabetical order, 65 ways to say "squirrel."