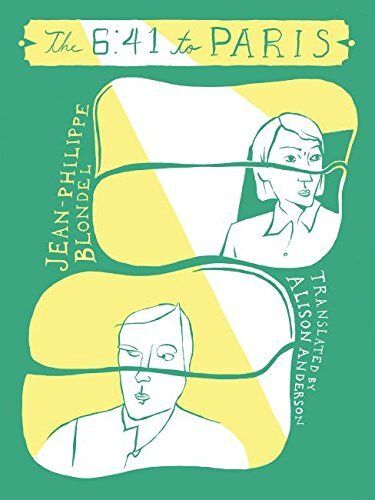 Two former lovers spend 95 tension-filled minutes on a train to Paris when each recognizes the other. They're reluctant to acknowledge or even speak to each other, let alone talk about their brief affair, which ended horribly in London after only four months.
That's the setup for "The 6:41 to Paris," the novella by French writer Jean-Philippe Blondel, recently translated by Alison Anderson. A best-seller in France and Germany, "6:41" relies on two people alternately retelling their past to provide the psychological tension during an ordinary but claustrophobic commute to Paris on a crowded train.
It's one of those situations common enough — you see an old acquaintance or maybe a one-time dear friend and neither of you know how to shatter the silence or begin a conversation. But the reason for this couple's silence is anything but ordinary — a shocker, really — that's slowly revealed through the narration and interior monologues by each character.
Cécile and Philippe are 47. Cécile is happily married, with one daughter. She's an entrepreneur who owns an expanding franchise of trendy shops that sell organic beauty products. Philippe is divorced with two kids. He had a promising future; but as a salesman at a superstore, he's hardly a success, especially compared to Cécile. Cécile is returning to Paris after visiting her elderly parents. Philippe is on his way to see an old friend in the hospital.
They recognize each other, but each wonders whether the other has made the same discovery. They have. They size each other up. Cécile sees a flabby, wrinkled man with a scraggly beard, who has gone downhill. She feels hatred toward him, intermingled with pity. Philippe sees a woman who's improved with age: She was "very ordinary back then and now look at her, she's a good-looking woman," he says.
Naturally enough, Cécile tries to imagine Philippe's thoughts and vice versa. She wonders if he remembers the time they spent together before their breakup. He thinks, "I am nothing to her, she is nothing to me."
They silently recall their last encounter in London, which so humiliated Cécile that she has never returned to Great Britain. Philippe realizes he was "a cad," but can't even remember how long they were together. Still, Philippe is regretful. So, their silence presses on until the last five minutes of their trip.
Each of us has some incident buried in our memory whose release might be triggered by encountering a certain person. In this story, Blondel conveys the claustrophobia and dread that Cécile and Philippe experience. A shared, suspenseful dread that makes you want to turn every page at locomotive pace to discover what transpired in London.