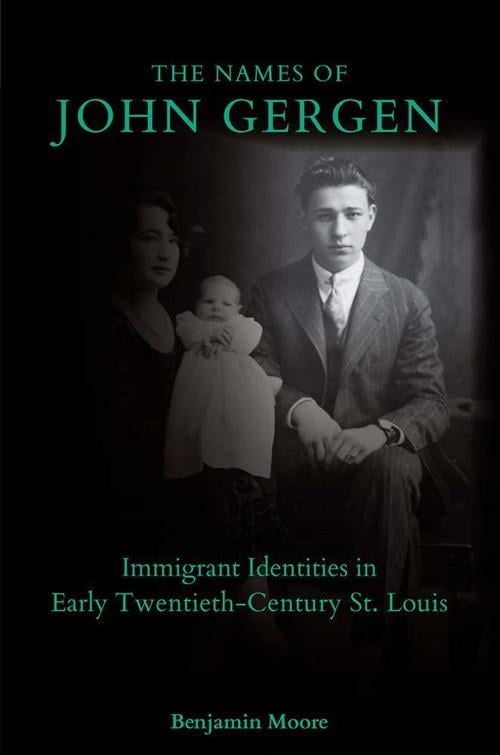 From 124 brittle pages of schoolboy scrawl found in a dumpster in south St. Louis, Benjamin Moore has painstakingly reconstructed a world that can seem to be as alive today as it was more than 100 years ago.
Moore, an associate professor of English and director of the Bosnia Memory Project at Fontbonne University, came across the discarded school papers in 2004 while he was jogging, behind a boarded-up house at 916 Allen Avenue in Soulard. He spotted them along with an enameled basin and part of a barrister bookcase, and after making sure he wouldn't be spotted, he hoisted himself into the large trash receptacle.
There, as he writes in "The Names of John Gergen," he found a dumpster "overflowing with material cleared out of a house that was being renovated." The schoolboy papers led him to research that was far from his typical academic specialty of 18th-century English literature, into a deeply detailed study of "migration, memory, and identity."
Along the way, he takes readers on a deep dive into topics as widely varied as education and religion, medicine and politics, labor and how many books were checked out of the local library. And he connects today's renewed debate over immigration to its roots of more than a century ago.
The bare bones of John Gergen's story are these: His family immigrated to the United States from southern Hungary at the start of the 20th century, winding up in St. Louis. Because of his father's untimely death, he was sent to live with relatives, changing his last name from Albeck to Gergen. Success at school was rare, and he was labeled "pedagogically retarded." He lived in Soulard all his life and died in 1935 at age 26 after contracting tuberculosis.
But the flesh that Moore's research puts onto those bones makes "The Names of John Gergen" more than mere names and dates. Moore's research unearthed interesting parallels between life in St. Louis more than a century ago and current headlines. He quotes an opinion piece published in the Post-Dispatch during a period where protests against immigrants were increasing, where the president of the United Mine Workers of America, John Mitchell, wrote in an essay headlined "Immigration Evils":
"The men who are now employed in our mines and factories should be safeguarded against the new arrivals who are willing to step into their places for lower wages."
Given the exacting nature of the detail, the book is written in such a way that readers can take their own dive into any or all of the various aspects of the lives of Gergen's family without losing a sense of the broader story. That story is individual and universal at the same time.
"In the lives of John Gergen and his kin," Moore writes, "we see that identities repeatedly shifted, as people negotiated and renegotiated the differences between where they came from and where they were going. … Perhaps most important, we see that ordinary people — the 'nobodies' whose labor produces the wealth and leisure of others — were very likely to be forgotten, by their families as well as by history."
The book's cover does illustrate these "nobodies" with poignant pictures of John Gergen, his sister, Elizabeth Berger, and infant Anna Berger, John's goddaughter, in 1926.
In the end, Moore notes that although Gergen and his family are long forgotten, "their lives are an avenue for understanding the institutions and processes that influenced the identities and daily existence of countless migrants in the early and mid-twentieth century."
That combination of anonymity and example, plus the wealth of historical data available to a dogged researcher, adds up to a lesson for us all.
"None of us can be certain that we will be remembered — or, for that matter, that we will be forgotten," Moore concludes. "But if we are not consigned to oblivion, then it will be the institutional identities that remain — the names, the vital records, and the fragments of expression that will offer glimpses into who we once were."
Dale Singer retired in 2017 after a 45-year career in journalism in St. Louis. He lives in west St. Louis County.