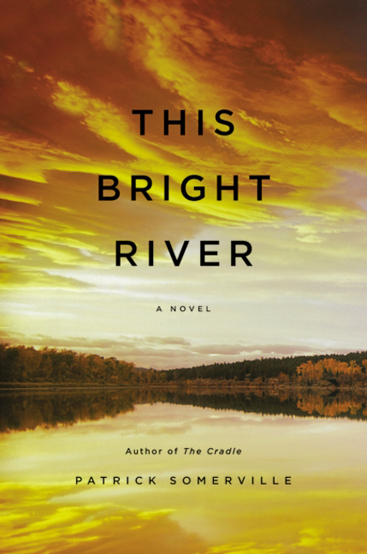 Patrick Somerville's "The Cradle" (2009) was a fine first novel telling two touching stories of familial love. But "This Bright River" is stylistically superior to and more ambitious in its portrayal of family love, pain and redemption.
Ben Hanson and Lauren Sheehan, both in their early 30s, try to rebuild their broken lives after returning to St. Helens, Wis., where they grew up.
Ben is a nerdy rebel. Imaginative, intelligent, but mostly directionless, he has trouble with drugs and alcohol and doesn't understand the power of money. He squandered a million-dollar trust fund in six years.
Surprisingly, Ben is also a sympathetic character who designs puzzles, riddles and stories behind computer games. But he's obviously troubled and has just spent time in jail for arson. Drunk, he'd broken into his boss' office and passed out while smoking, accidentally torching the place.
In prison, he created the puzzles and stories behind a game called "The Rivers," for his boss, who has stolen Ben's ideas and girlfriend. Ben's goal in game design is "to make something beautiful and disguise it as something entertaining." 
After release from prison, Ben's wealthy parents try to help him rebuild his life in St. Helens by having him clean up and sell a deceased uncle's house.
Meanwhile, Lauren is a doctor who met her husband while working at a refugee camp in Africa. He proved to be a womanizer and alcoholic. Lauren has fled his abuse and taken a job as a veterinarian's assistant in St. Helens, where she and Ben went to high school together. Lauren says the town is the "most grotesquely safe place in the universe." 
But it's also a dark and strange, with homicides, hold-ups, wife-swapping, and suicides in its recent past. Eventually, Ben and Lauren  date — until jealous Will catches up with them. He thinks:
"The thought of another man, Lauren with another man — somehow this contingency never occurred to you, as though in order to put that phase of your life to rest you necessarily have to think of Lauren as not here, not continuing forward in time without you, but dead."
Ben and Lauren tell most of this intriguing story, with Ben including the occasional email, chat log and a difficult puzzle. Sometimes the characters even tell their stories to each other.
There's an anonymous narrator, too, and Will tells his side. But none of this is confusing, since the multiple viewpoints are so superbly executed. The narrative voice and the dialogue never fail to sound true to character and the occasional humor isn't strained.
With hints of possible incest, rape and murders, "Bright River" is a serious and beautiful book about rebuilding broken lives that Somerville has disguised as entertainment.
---