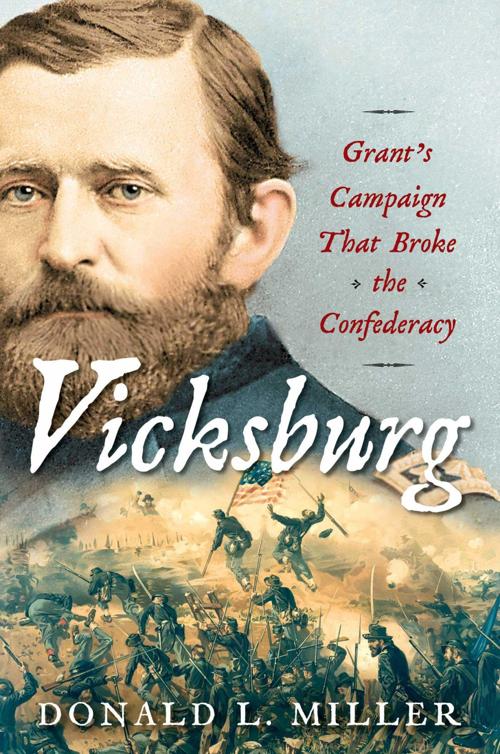 Many of us learn in grade school that July 3, 1863, marked a turning point in the Civil War. On that day, Union soldiers beat the Confederates at Gettysburg, Penn.
In "Vicksburg," historian (and professor) Donald L. Miller says that date did mark a turning point — not at Gettysburg, but with a Confederate cease-fire on the Mississippi River at Vicksburg, Miss. He says Vicksburg "was that rare thing in military history: a decisive battle, one with war-turning strategic consequences."
Miller writes that Gettysburg "was decisive only because losing it would have been catastrophic for the Union cause." He says Vicksburg, "by contrast, had immense strategic consequences. It did more than open the river and split the Confederacy. It took the river counties of Louisiana and Mississippi out of the war and left the strongest Federal army in the Deep South, where it could move anywhere at will."
Miller subtitles his book "Grant's Campaign That Broke the Confederacy." If the book has a hero, it's onetime St. Louis resident Ulysses S. Grant. The author salutes Grant for his hard-won victory. Miller says that the year before, at the blood-soaked Battle of Shiloh, Grant learned a key lesson.
"Shiloh changed Grant's mind about the war," he writes. Until that battle, Grant later wrote, he "believed that the rebellion against the government would collapse suddenly and soon, if a decisive victory could be gained over any of its armies." But with the savagery of Shiloh, Miller says, Grant concluded that "the war would have to be fought differently, with an intensity 'beyond anything that had yet been seen.'" Vicksburg had all the intensity a general could want.
To be sure, Miller takes the general to task for some military miscalculations — and personal shortcomings. Miller writes: "Grant was a binge drinker. He could go months between drinks, but when he partook he found it nearly impossible to stop."
Readers who fall short of Civil War Buff status may find Miller's attention to tactical detail a literary forced march, although a profusion of maps helps to keep things clear. And Miller steps back often from his regiments-and-road-junctions approach to offer some interesting sidelights. Among them:
• The key role played by the U.S. Navy, with its fragile riverboats and its clear-minded leader at the scene, one David Porter.
• The little-known importance of logistics. "Civil War battles are often described in minute detail without attention to how men and animals are fed, or how guns and ammunition reach the front. Had Grant not been acutely attentive to logistics, his army would never have reached Vicksburg."
• Everyday details about privates in the ranks — what they ate, what they wore, where they slept, how much they carried, which diseases besieged them, all livened with genuine quotes.
Miller writes of a Union nighttime river crossing late in April 1863 of 24,000 men and 60 artillery pieces. He says, "It was the largest amphibious landing in American history until D-Day, June 6, 1944, and one of the deciding American events of the American Civil War."
D-Day was the deciding event for World War II.
Harry Levins of Manchester retired in 2007 as senior writer of the Post-Dispatch.