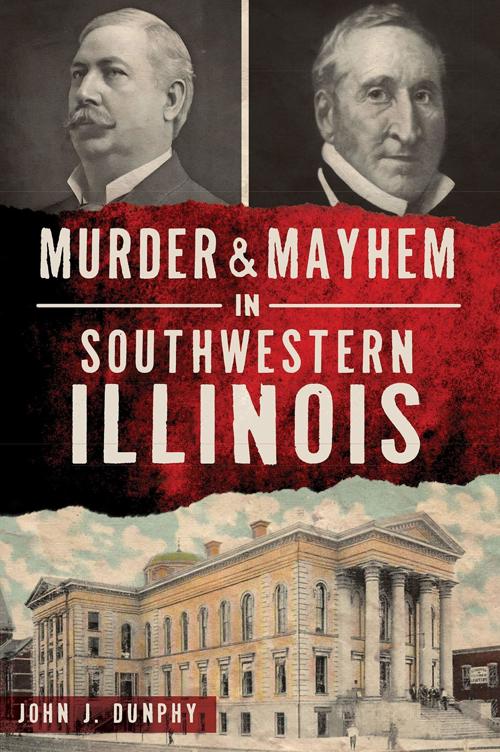 The "Murder & Mayhem in Southwestern Illinois" begins in 1814, when Kickapoo Indians rampage by killing a white woman and six children. The violence ends — more or less — in 1965 with the assassination in Memphis, Tennessee, of Martin Luther King Jr. by Alton native (and onetime St. Louis resident) James Earl Ray.
Author John J. Dunphy seems well-qualified to tell these gory stories. He's an Alton native, a former writing instructor at Lewis and Clark Community College, a weekly columnist for the Alton Telegraph and the author of four other historical books, plus two volumes of poetry. He owns a bookstore in Alton.
Among his accounts of murder and mayhem:
• A political quarrel in 1842 came close to putting Abraham Lincoln into a duel with Illinois State Auditor James Shields on a Mississippi River island near Alton. But nobody got hurt, and Dunphy writes that "Lincoln and Shields purportedly retired to one of Alton's taverns and spent the rest of the day toasting each other's continued good health."
• A town was built for murder and mayhem — Benbow City, which opened in 1907 "with just eighteen registered voters, a population of three hundred — and no fewer than twenty-three saloons. That translated into one saloon for every thirteen inhabitants." The town also housed tribes of prostitutes. But Wood River annexed Benbow City in 1917, and things calmed down, more or less.
• In the time just before World War I, Alton "had a well-deserved reputation as a wide-open city where gambling and prostitution thrived," as did political graft. But a minister named Curtis Reese defied physical threats and led a drive to clean up the community. "Ironically," the author notes, "the city that Reese sought to rid of gambling has played host to a riverboat casino since 1991."
• East St. Louis erupted into race riots in 1917. Although the official death toll of Blacks is put in the dozens, author Dunphy suspects that it was far above 100.
• At the height of war fever in the spring of 1918, a mob of hard-drinking coal miners lynched German immigrant Robert Prager. "Repercussions from Prager's lynching extended to the use of the German language," Dunphy writes. Public schools in Edwardsville, East St. Louis and even St. Louis eliminated instruction in German. He adds, "Churches in the Metro East that had traditionally held German-language services switched to English."
• In the mid-1950s, Ray served a prison term for robbing a cabbie in Chicago. Upon his release, he pulled off some burglaries in East Alton and Hannibal. After yet another prison stretch, Ray moved to Soulard and took to robbing grocery stores in St. Louis and the Alton area. He got a third prison term but escaped and robbed the Bank of Alton of $30,000. Authorities think he used a bit of that cash to buy the rifle used to assassinate King.
Curiously, the book ends with a chapter on the Army's antiaircraft missile base in Pere Marquette State Park just outside Grafton. Its inclusion is curious because no mayhem appears to have happened there — no missiles fired, no antiwar protests.
Maybe Metro East needed some peace and quiet.
Harry Levins of Manchester retired in 2007 as senior writer of the Post-Dispatch.