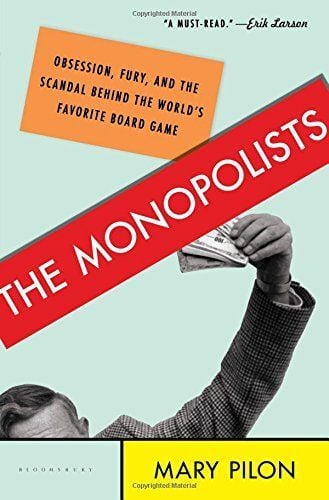 Nobody argues against the status of Monopoly as the world's most popular board game. But in "The Monopolists," journalist Mary Pilon recounts the long legal struggle about who invented the game.
The standard account holds that the idea took shape in the 1930s in the mind of one Charles Darrow of Philadelphia, a salesman who had lost his job to the Great Depression. He sold the game to Parker Brothers (now owned by Hasbro) and got rich on the royalties.
In the '70s, a San Francisco State University economics professor named Ralph Anspach devised a game called Anti-Monopoly. That game soon started a decade long-court battle pitting Anspach against Parker Brothers — and generating stacks of court documents on the history of the game we call Monopoly.
Turns out that the notion traces back to 1904, when Lizzie Magie of Washington patented The Landlord's Game. As Pilon writes, "Lizzie's game featured play money and deeds and properties that be bought or sold. Players borrowed money, either from the bank or from each other, and they had to pay taxes." Her game even had a square marked, "Go To Jail."
In the late 1920s, a student at Williams College in Massachusetts found himself playing a homemade variant of The Landlord's Game. After graduating, the game player — his name was Daniel Layman — started producing the game under the name Finance. But its sales were just so-so and Layman gave up on his game. But before he left, he taught it to some Quaker friends in Atlantic City, N.J.
Yes, Atlantic City — the home of Boardwalk, Park Place and all the other street names we learned while playing Monopoly. In the late '20s, a newcomer to Atlantic City brought with her a homemade board game she had played in Indianapolis, a game based on the Landlord's Game. The newcomer changed the street names to Atlantic City street names. Somehow, a handmade copy of the game made its way to Philadelphia's Darrow — and the rest, as they say, is Monopoly.
Trouble is, author Pilon's book is less about the history of Monopoly than it is a treatise on trademark and patent law. Readers who have law practices specializing in trademark and patent law will lap this book up. The rest of us — mere Monopoly players — may find ourselves scratching our heads.
Still, author Pilon turns up an occasional gem. For instance, somewhere along the way, Atlantic City's Marven Gardens got misspelled as "Marvin Gardens." The typo lives on to this day.
Harry Levins of Manchester retired in 2007 as senior writer of the Post-Dispatch. His toy shelf for his grandchildren includes a Monopoly set — plus an oddly similar game called St. Louis-Opoly.
---