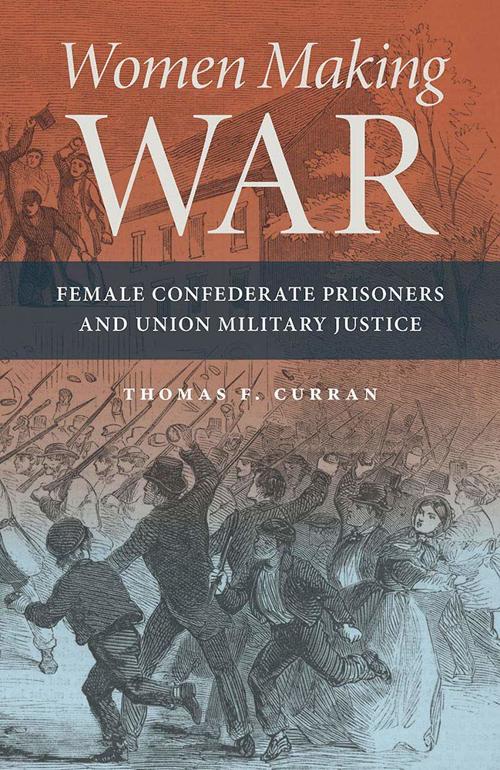 Readers may file "Women Making War" under the category of niche history, as detailed by the book's subtitle: "Female Confederate Prisoners and Union Military Justice."
Most of the book recounts events in and around St. Louis. The setting makes sense, given that author Thomas F. Curran teaches American history at St. Louis' Cor Jesu Academy.
Curran notes early in his book that the activities of the women "ranged from overt displays of support for the Southern Confederacy to offering aid and comfort to those fighting against Federal authority to more direct activities such as spying, smuggling, sabotage, and even service in the Confederate army itself. As residents of the region within which the war was predominantly fought, Southern women often showed their loyalty to the Confederate cause in ways that put these women in harm's way, and in some cases brought them into conflict with, and often the custody of, Federal military authorities. This was particularly true for women in Missouri."
Readers will have to salute Curran for his painstakingly thorough research. But many will feel pained by having so much of that research dumped back on them. Curran's index lists 462 names, even though his book has but 194 pages of text. Some of that historical text comes across as trivial. A sample:
"A similar fate awaited Eliza Campbell. On the day that news of the surrender at Vicksburg arrived in St. Louis, according to Unionist Julia Gazzollo, Campbell threw water out a window drenching Gazzollo as she passed by. Gazzollo explained that Campbell had called her names and often sang rebel songs, the latter accusation to which another witness attested. In her defense, Campbell claimed that dosing Gazzollo had been an accident, yet she freely admitted that she 'had sung secesh songs or parts of them.' She proclaimed herself 'Union, provided, they would keep the [N-word] out of the question,' reflecting the attitude of many Missourians toward the Emancipation Proclamation. She was released on parole having given her oath."
What's more, Curran had to research an era in which record-keeping was spotty. As a result, "Women at War" teems with phrases like "whatever the case" or "little is known."
Curran describes women being held in houses refashioned as prisons or in the Union POW camp in Alton. Some of the women were banished from Missouri and shipped off to the South. Curran has amassed these details to shape his sense that the role of such women in American history has been largely overlooked.
Sometimes, his research turns up a gem. Early in the war, for example, Union Maj. Gen. Henry W. Halleck managed to link Confederate sympathy with carnal sinfulness:
"St. Louis's disloyal women had been showing their solidarity in opposition to the Federal government by wearing bright red rosettes. The general handled the situation by purchasing scores of similar rosettes and having them distributed among the city's prostitutes, who gladly put them on. Once the local newspapers publicized Halleck's generosity to the ladies of the evening, the flowers quickly disappeared from the breasts of Confederate sympathizers."
Harry Levins of Manchester retired in 2007 as senior writer of the Post-Dispatch.