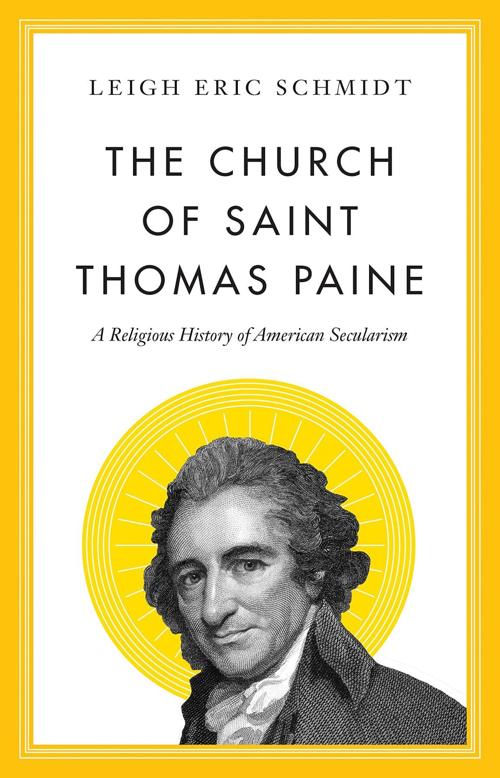 Whatever your tip-of-the-tongue answer might be, it likely will be modified by this thought-provoking look at the secular humanist movement of the 19th century and its descendants today.
As the title indicates, most followers of secular humanism took as their spiritual leader Thomas Paine, the author best known for "Common Sense," which helped power the American Revolution, and "The Rights of Man."
That latter work was the strongest influence on acolytes known as "Paineites." His declaration that "the world is my country, and to do good my religion" became their watchword, and the slogan "Deeds, not creeds," became their rallying cry. The focus was on this world and this time, not an unseen realm of heaven and life everlasting. He distilled his message and his teaching in these words:
"I believe that religious duties consist in doing justice, loving mercy, and endeavoring to make our fellow-creatures happy."
In "The Church of Saint Thomas Paine," Leigh Eric Schmidt — a humanities professor at Washington University, where he is on the faculty of the John C. Danforth Center on Religion and Politics — traces the ups and downs of the movement that followed Paine's doctrine. Their beliefs never caught on in a large way, but they have never totally died out either.
Enthusiasm for Paine's way of life, in measured doses, remained strong, as did the language of humanist proponents. Schmidt quotes Robert Ingersoll, described as an "agnostic orator," as mocking religious relics as "religious rubbish" and those who rely on them as "almost idiotic."
Yet after Paine's death, some of his own followers, worshipping him as a secular saint, considered his bones as holy remnants of the faith he put into good deeds.
Such devotion persisted, usually in limited ways, as groups tried to rekindle and spread the word and the beliefs of Paine. Several small efforts took root briefly in various spots in Missouri, and the Ethical Society, in St. Louis and elsewhere, has kept the spirit of Paine and his devotees alive.
The controversy over secular humanism versus more established religion remains far from settled even today.
After the U.S. Supreme Court banned school-sanctioned prayer in public classrooms, politicians took up the cry. Ronald Reagan took aim at the "religion of secularism," and Mitt Romney said that "the notion of the separation of church and state has been taken by some well beyond its original meaning."
In the wake of continued court fights about what precisely constitutes religion, Schmidt quotes conservative activist Phyllis Schlafly as writing in USA Today:
"Every time a teacher tells a child that he can decide for himself whether to steal, lie, cheat, throw people out of the lifeboat to drown, blaspheme, fornicate, covet, or commit abortion, suicide or euthanasia, that teacher is teaching the religion of humanism. Every time a teacher rejects or ridicules the notion that God created man and the earth, that teacher is teaching the religion of humanism."
And as this new school year began, Harvard University made headlines with its new president of chaplains, Greg Epstein, an atheist who wrote a book titled "Good Without God."
But in the longstanding battle between religion and humanism, Schmidt notes, there has never been much doubt over which side is dominant. "The insidious sovereignty attributed to the religion of secular humanism," he writes, "was always far in excess of anything that actual proponents of religious humanism were managing."
In the end, he concludes, his study of Paine and his followers "is about those who found religion in and through their irreligion. It is about those who cultivated secularism's distinctly precarious and circumscribed enchantments."
Dale Singer retired in 2017 after a 45-year career in journalism in St. Louis. He lives in west St. Louis County.