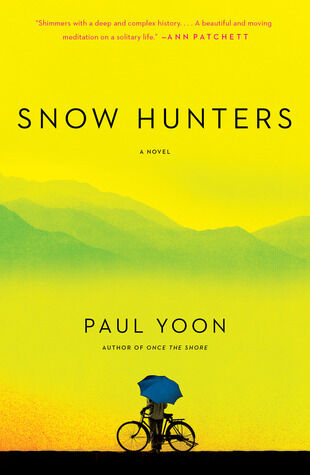 About four years ago, Paul Yoon published his first book, the short story collection "Once the Shore." Born in 1980, Yoon considers that collection "a kind of beginning — a jumping off point" for "Snow Hunters," a subdued first novel that, like many of Yoon's short stories, deals with separation and loss, grief and the horrors of war.
This time the locale isn't a fictional Japanese island, but Korea and then Brazil, where Yohan, the book's 25-year-old protagonist, tries to reconstruct his life.
It's 1954 when Yohan, a former Korean prisoner of war, arrives in Brazil after a month aboard a cargo ship. Unlike his comrades, Yohan has declined repatriation to North Korea and stayed, assisting American doctors in the POW camp. Eventually, he accepts a job and a home in Brazil on the outskirts of a Japanese community. There, he works for Kiyoshi, a Japanese tailor, who gives him a place to stay and becomes Yohan's father figure.
Yohan's quiet life becomes a treatment for post-traumatic stress disorder: depression and anxiety caused by his prison time and the death of his blind friend, Peng. Yoon portrays Yohan's recollections as subtle, but nightmarish exposition. Details are minimal. Yohan and other POWs would "carry the bodies of men who had been captured and who had not survived." They would salvage and boil clean what clothes and blankets they could and scrub the blood off mattresses. The first week, Yohan vomits every day.
"The days were unchanging. They witnessed the arrival of more prisoners and more men carrying stretchers through the gates, their legs hidden in the tall grass and the wounded floating on their backs across the field. The guards rotating in the towers. The occasional storm of a helicopter and all the dust, and all of them looking up from where they had been working, watching the thing rise."
During the war, Yohan and Peng call a family scavenging through the snow for anything to help them survive "snow hunters." In Brazil, Yohan still feels guilty that he couldn't save Peng. His new job requires delivering clothes from neighborhood to neighborhood and, though he speaks little Portuguese, getting to know the people. He makes deliveries to a church, where he meets Peixe, the church's groundskeeper, and two beggar children, about 8 and 15, who "slip in and out of his life."
"Snow Hunters," published 60 years after the end of the Korean War, is an unassuming story depicting a young man trying to accustom himself to a new life. Yoon gives Yohan plenty of assistance: utilitarian help directly from Kiyoshi, and, less overtly, from Peixe and the children, who help Yohan absolve and redeem himself. Writing about war and its ramifications can be tricky, but Yoon's writing is graceful, understated, at times elegiac, but graphic in the right places.
Published by Simon & Schuster, 196 pages, $22