There was the Spirit of St. Louis. But before that, there were the spirits of St. Louis.
About 90 years ago, Charles Lindbergh was the first person to fly an airplane over the Atlantic. It took 33½ hours, and he landed to cheering crowds in France.
Consider, though, the "spirits," who came from France 200 years ago at the urging of Bishop DuBourg. Five women withstood a long, harrowing ocean voyage to New Orleans. After resting with Ursuline nuns, they boarded a steamboat and traveled for several more weeks up the Mississippi to St. Louis.
They were greeted with, well, not much. The bishop had made no arrangements for housing. They were sent to St. Charles, where they hunkered down in a log cabin in the wilderness.
These women, sisters led by Rose Philippine Duchesne, started the first free school west of the Mississippi. The rugged pioneers would begin other schools, evangelize Indians, open a novitiate. Duchesne planned how to raise money, negotiated with Dubourg (while really answering to a sister in France) and acted with more individual agency than most women of the time.
Consider, perhaps, which travelers had the bigger challenge — and the bigger achievement?
But a small new exhibit at the St. Louis Public Library marks some of the ways she and many other Roman Catholic sisters helped build St. Louis.
"Catholic Sisters: The Spirit of St. Louis" runs Saturday through April 28 in the downtown library's Carnegie Room. The third-floor space holds books, photos and artifacts representing 15 St. Louis communities of sisters.
Most of those groups came to the area in the 19th century, starting with Duchesne's Society of the Sacred Heart. They came to teach German immigrants, care for the poor and sick, or educate deaf students.
Lay people often realize sisters have "done a lot of good for us," says Sister Regina Siegfried of the Adorers of the Blood of Christ.
"They probably don't know all the details of history, but I think they are aware of our contributions to society."
Artifacts in the exhibit will illustrate some of that history and even modern contributions:
• a smallpox bell, used to warn of a contagious patient
• a cloth embroidered for a casket
• cornhusk shoes, made so a sister's leather pair would last longer
• a 21st-century mat, woven with plastic bags, for a homeless person.
Photos show sisters in an early hospital pharmacy, boarding a plane for a mission in Japan, and demonstrating against hazardous landfills and for social justice.
Over two centuries, the sisters have gone from caring for the poor and sick to addressing human trafficking. They opened schools, then later taught in classrooms stuffed with students. The sisters' communities swelled in the 1940s, '50s and '60s. Now, many Catholic schools have few of these women as teachers.
In the U.S., the number of these "women religious" today is about 46,000, down from about 180,000 in 1965, according to a research center affiliated with Georgetown University. At the end of last year, there were 1,184 living in the Archdiocese of St. Louis, the diocese says.
Some argue that those large midcentury communities were more of an anomaly. "Originally, the groups were small," says Jenny Beatrice, director of communication for the Sisters of St. Joseph of Carondelet.
Living conditions today are certainly easier than they were in pioneer days, Siegfried says. "But the ministry is still demanding. Sisters work really hard."
She says new members of their communities "are looking for committed, dedicated lives. They want something bigger than themselves. They find a group of enthusiastic, dedicated women and see they can make a difference."
Since Vatican II, sisters are less likely to wear habits, though two are on display in the exhibit (one has a high-flying cornette).
Which leads to the explanation of how sisters differ from nuns. Officially, nuns are cloistered. Sisters are religious women who, like nuns, take vows of chastity, poverty and obedience. But they aren't cloistered, at times living in apartments (sometimes even alone or with only one other sister), and serve in public ministries.
When Siegfried taught high school in Waterloo, "the kids all called us nuns," she says. "The terms are interchangeable unless you get really technical about it."
Sister Genevieve Cassani also doesn't worry too much either about labels: "I like to think there is a contemplative heart in every one of us who reaches out to the community."
She says she tells people: "I don't care if they call me a nun or a sister. I tell them, just call me 'Gen.'"
Cassani, a member of the School Sisters of Notre Dame for about 50 years, says her work has changed over time.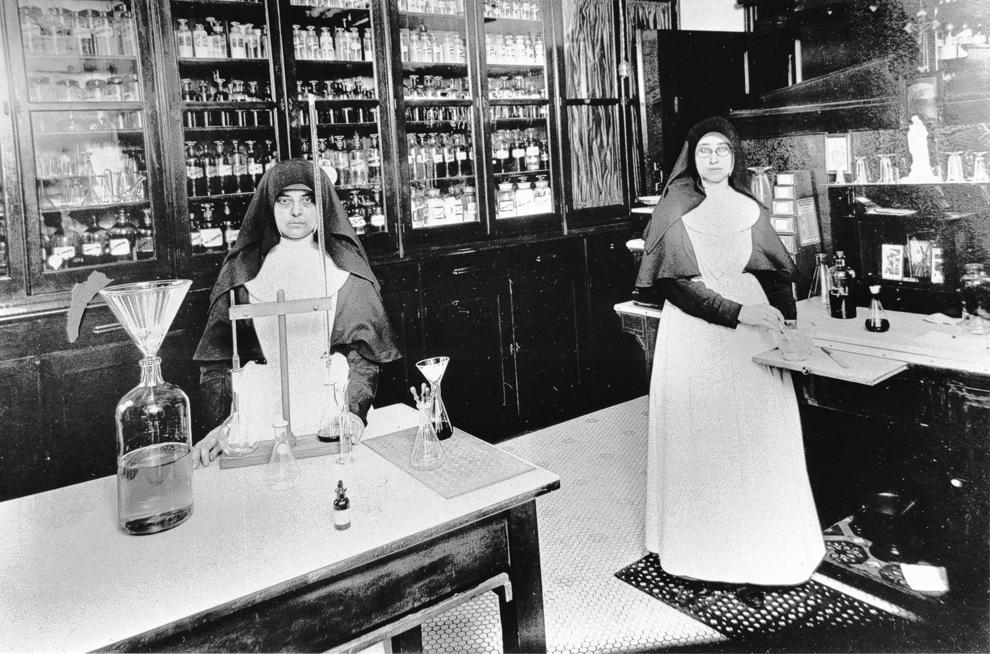 "We all started out teaching. Now women coming in might have pharmacy or law degrees." They might become educators although the sister with the law degree works in child advocacy.
Cassani now focuses on graphic design and has a studio at the Notre Dame sisters' Theresa Center. She lives in Webster Groves.
"Our mission is always to bring about a kind of unity or oneness, to deal with fractures or fissures in people's lives," she says.
Both Cassani and Siegfried believe old stereotypes of stern nuns are out of date.
"We really enjoy each other's company," Siegfried says. "We're not running away from anything; we're running toward things."
"I am deeply happy," Cassani says. "It has been the most blessed way in which I could have lived my life."
Last summer, Cassani was downtown with a petition for Clean Missouri (a legislative reform initiative).
She wore no habit, but a man came up to her and asked if she was a nun. He remarked:
"You all are always in the forefront doing these sorts of things."
What "Catholic Sisters: The Spirit of St. Louis" • When Saturday through April 28; 10 a.m.-6 p.m. Monday-Saturday • Where Carnegie Room, St. Louis Public Library, 1301 Olive Street • How much Free • More info 314-241-2288; slpl.org