Whatever the actual weather forecast, there are sure to be plenty of rainbows spotted around the St. Louis County Library branches next month.
Rainbow friendship bracelets, rainbow string art, rainbow sugar cookies, even a wall of affirmation-covered rainbow Post-Its.
For the first time, the library system is officially marking Pride Month with more than 80 activities — for children, teens and adults — at each of its 19 branches.
LGBTQ themes have been incorporated into the libraries' regular events — book discussions, cooking clubs, movie screenings, craft hours. The calendar also includes Q&As, dance parties and scavenger hunts.
"It's a different way to present our programs," says Kristen Sorth, the county library director. "You get to see movies for free, have a lot of great book discussions, learn how to talk to your kids about LGBTQ issues."
Those programmatic themes aren't new to the library, but the deliberate bundling of them in June is. It fits with the library's new strategic plan, Sorth says. Along with literacy, the plan prioritizes community and impact, "providing welcoming spaces" that are inclusive and equitable.
"The library is about fostering a sense of community and social connectedness, and this fits right in," she says.
The programs are all free, though some require preregistration. Kids can create Andy Warhol-style pop art or unleash their Rocketman at an Elton John-themed Tiny Dancer Party.
For teens, there are zine parties centered on the LGBTQ movement's underground history, PRIDE Coalition gatherings and themed Google Expedition programs, which use virtual reality and cardboard goggles as a sort of 21st-century View-Master.
Youngsters will be transported on June 11 from the Daniel Boone branch for a historical LGBTQ tour through New York City, or they can visit Cliff Cave on June 24 to "march" in Pride parades in cities around the globe.
"It's a 360-degree experience," Sorth says. "You can go anyplace in the world and have a discussion about what's going on there."
'Change in visibility'
At the Prairie Commons branch, parents and educators can learn about how to talk to children about gender identity.
"The biggest barriers to furthering understanding are not malice or prejudice," says Jaimie Hileman of Trans Education Service. "The majority of folks just don't have access to good information."
And Google is not the answer. "There's more misinformation out there than there is sincere and fact-based information," she says.
On June 8, Hileman will share terminology, avenues to advocacy and stories about the experiences of trans people, including her own.
She says she was not surprised when the library contacted her about giving a presentation.
"I've noticed an enormous change in visibility for LGBTQ issues," she says. "Three years ago, we had the Transgender Pride flag raised in front of (St. Louis) City Hall for the first time. It's no longer special interest."
Now it's "Bohemian Rhapsody" and "Love, Simon," both of which are screening at library branches next month. It's a "Lumberjanes" teen book discussion and rainbow tie-dye T-shirt making.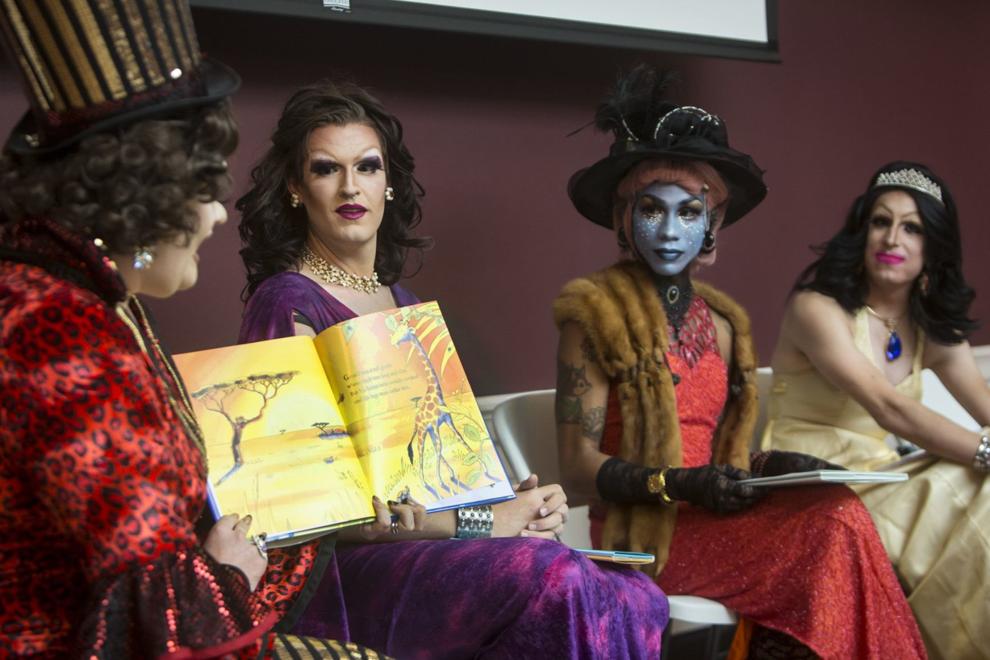 And it's a drag makeup workshop hosted by performance artist Maxi Glamour.
"In today's age, intellectual institutions like the library are really into queer culture," says Glamour, whose website describes her as the Demon Queen of Polka and Baklava. "Drag queens are at the center of queer culture."
This won't be Glamour's first time in the library spotlight: She's also been a reader at Drag Queen Storytime. But the June 5 event at Prairie Commons is for adults.
Glamour will give a makeup tutorial, highlighting her techniques, favorite products and the sci-fi inspiration for her fantastical looks.
Drag is not limited to any age, race or gender, she says. All are welcome.
"It's all kind of drag, when you think about it. It's who you want to be and present to the world."