For about a decade, Laurell K. Hamilton had an intriguing sticky note on her wall. It read: "There were angel feathers in the dead woman's bed."
The image never found a home in either of the urban fantasy writer's two series: For 28 books, Hamilton's heroine Anita Blake has dealt with vampires, werewolves and other things that go bump in the night. Merry Gentry, a faerie princess, also confronts paranormal crime, but her nine-book world is full of ogres, goblins and political enemies who want her dead.
This week, however, those angel feathers debut in Hamilton's first new series in 20 years. And she wonders if the coronavirus pandemic influenced her writing, leading her to create a lighter world than she otherwise might have.
"People needed hope, not just dark," she says. "I think events in the world subconsciously affected me."
Of course, for a bestselling writer who creates her own worlds involving all manner of shape-shifters, erotic partners and monster hunters, a "lighter" world still involves demons. But in "A Terrible Fall of Angels," which goes on sale Tuesday, Hamilton's latest paranormal detective has some heavenly backup.
Not only does Detective Zaniel Havelock see angels, he can call on them for help. Hamilton also leavens her levitative world with some typical cop banter, as Zaniel reprimands another officer who had let loose with profanity:
"Gimble, what did I tell you about cursing in front of Celestial beings? Especially using blasphemies that involve Heaven, God, God's Mom, or any other saint, Deity, or other spiritual being?"
A police procedural will have crime, as Hamilton says. "Police deal with horrible things." And, she notes, angels in the Bible can be terrifying.
But her new hero, who left the College of Angels, still has faith. "His faith was damaged there, but it didn't go away," Hamilton explains. "He's seen angels. He doesn't have to doubt or question it, he's seen it."
Writing during pandemic
Hamilton, who lives in St. Louis County, was in the middle of editing an Anita Blake novel when everything was locked down last year to try to prevent spread of the coronavirus. East Coast editors were figuring out how to work long distance with no office assistants.
But "Sucker Punch" still came out in August 2020 and sold well, says the author, who has more than 20 million books in print. "It was anticipated, and I have a built-in fan group."
Her readers expressed their gratitude, she says. "My fans told me, 'Thank God you brought a book out. This gave me someplace to go, someplace to hide away and nurture myself.'"
Hamilton felt that the one thing she could do to help people weather the pandemic was to write more.
"People couldn't take being online anymore," she said recently via Zoom. "It was no longer a refuge, but reading is one of those private things you can do."
She told an editor she was inspired to write a 28th book in the Blake series, a surprise that hadn't been scheduled. "Rafael," a paperback featuring the king of the wererats, was published in February.
Meanwhile, Hamilton was also working on "A Terrible Fall of Angels." After 40 novels, she was challenged to create a whole new world and characters.
"Zaniel was not what I expected," she says. He's her first male narrator, a 6-foot-3 Christian who turned out to be married, but unhappily separated from his wife and young son.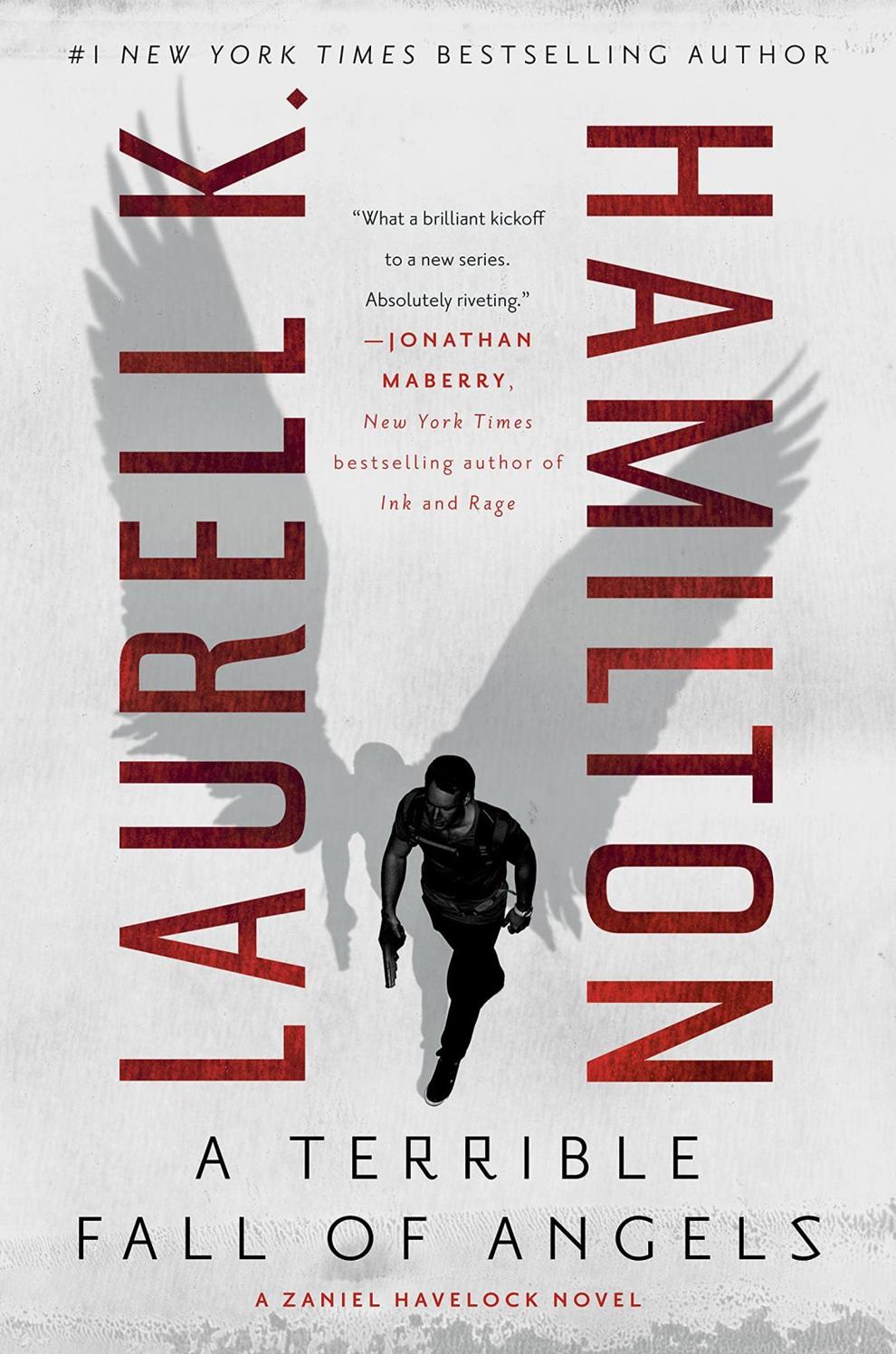 "Zaniel is the nice guy, good looking. He's like the white knight who wants to save the day."
She wanted to make sure Zaniel's perspective and voice were right: "It was intimidating. I wanted to do it right. If I can't do it right, I don't want to do it."
Her writing is character-driven, Hamilton says. She wrote pages and pages before she felt connected with her new hero, and says she often must write a whole first draft to see how the fictional world is going to work.
It wasn't until later that she realized the book's jumping off point was her idea that Heaven and Hell have created a treaty: They agree there will be no end of the world, no apocalypse. And humans, who see and believe in angels and demons, work to support the treaty.
Reality and fantasy
Hamilton likes to imbue her fantasy worlds with reality along with research.
"If you are going to ask people to believe fantastical things, the more reality you can put in, the better," she says.
For instance, before creating vampire hunter Blake, the author had fired a couple of guns. By now, she's far more familiar with firearms, like her fictitious U.S. marshal. Hamilton also studies martial arts, and most recently found Filipino arts such as Kali have "captured" her heart, she says. "You can always tell which writers do martial arts ... it shows in their fight scenes."
For her new novel, along with Biblical references to angels, she read about lore in tomes such as Gustav Davidson's "A Dictionary of Angels: Including the Fallen Angels." Her magic systems in the book are her own design, however.
Future books in the series may take off in unforeseen directions. Co-workers in Zaniel's Metaphysical Coordination Unit include an expert in voodoo and another in Wicca. Hamilton, a former Episcopalian, has been Wiccan herself for years and says she's bisexual and polyamorous. In all her series, characters have diverse gender, racial and religious identities.
With "Angels," she says, she knew she wanted to show a larger breadth of religion, as she has with sexuality. Gender fluidity in some of her novels was prominent long before more recent public discussions.
Yet, a monogamous character might be easier for her as a writer. It keeps the character pool smaller, she says.
Right now, Hamilton is working on her next Anita Blake novel, due out next year. Following it will be another book featuring Zaniel, expected in 2023. And if she can, Hamilton still hopes to write a new Merry Gentry novel.
Although she doesn't always know what to expect from her characters, Hamilton's readers can be counted on to challenge her narratives.
They ask why the novels have sex in them — or why they don't.
"When I was starting out, they were bothered that a woman wrote about violence."
On TikTok, she recently was asked whether her new series is "spicy." Not really, she said. But she also hinted:
"I don't seem capable of writing non-spicy forever."