You might have biscuits and gravy in the morning, chardonnay at night, and poetry all day long.
There are spaces for writers, readers and eaters at the new High Low, a literary arts center and cafe in Grand Center.
"I think it's going to be a beautiful place," says Jane Ellen Ibur, the poet laureate for St. Louis. "Everyone is thrilled to be there."
Although the building on Washington Boulevard is still getting its finishing touches, particularly the cafe space, events are taking off, bar service has commenced and some nonprofit groups have moved into offices.
High Low — its name evokes the range of literary appeal — is a major addition to the St. Louis area's cultural venues. It's another project by the Kranzberg Arts Foundation, which is energizing the historic area near the Fox Theatre and Powell Symphony Hall by adding a variety of smaller spaces offering theater, music, art, and now the written and spoken word.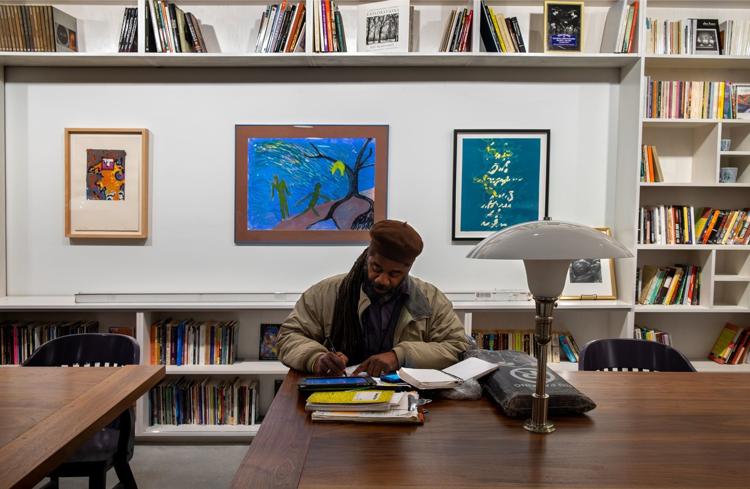 "It is a brilliant concept," says Lyah LeFlore-Ituen. "It's about time — there are so many people who need a gathering place. I can see it like a village ground zero."
LeFlore-Ituen now has a project based at High Low and named for her late poet mother: Shirley Bradley LeFlore Foundation and the Creative Arts and Expressions Lab. Other offices are for Ibur, UrbArts, River Styx, Flood Editions, the St. Louis Poetry Center, the Volunteer Lawyers and Accountants for the Arts, and the Tennessee Williams Festival St. Louis.
Workspaces, primarily 10 carrels with desks, will be offered to writers who apply, and a gallery of literary-related artwork will rotate through the year.
But first there's the necessary fuel. Blueprint Coffee will soon be available (perhaps by Dec. 1) from 7 a.m. to 2 p.m., with food service developed by Rob Connoley, chef and owner of Bulrush, which is next door.
The cafe will help make High Low approachable, bringing in people who may not normally visit a literary arts center, says Chris Hansen, executive director of the Kranzberg foundation. The project is a "shared ecosystem," he says. People might walk in for coffee and browse the library and "find a new book, a new author."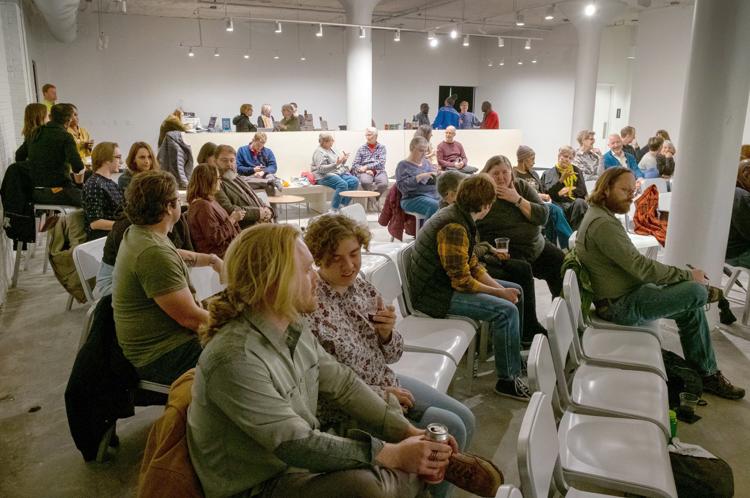 While eating, patrons may also find out about upcoming events (more than 100 are already scheduled for next year). Hansen hopes the center's shelves will include a wide collection of literary journals and books by Missouri authors, although the library material won't circulate but will stay at High Low.
The project "means a lot to us," he says. The foundation had been encouraged to create a space for literary arts, he says, and it finally found a suitable building in late 2017.
But taking 3301 Washington Boulevard from bare bones to a modern, modular space has taken longer than expected. Left Bank Books and River Styx had scheduled events starting in September, but High Low wasn't yet ready, Hansen says, citing the building boom in the city's central corridor and a lack of construction workers.
The author events were easily moved to another Kranzberg venue, such as .Zack, which can be seen from High Low.
On Monday, River Styx had its first author reading at the new event space, which holds about 120 people and is entered from the building's side on North Leonard Avenue. A charming lighted "Readings" sign guides the way to the door.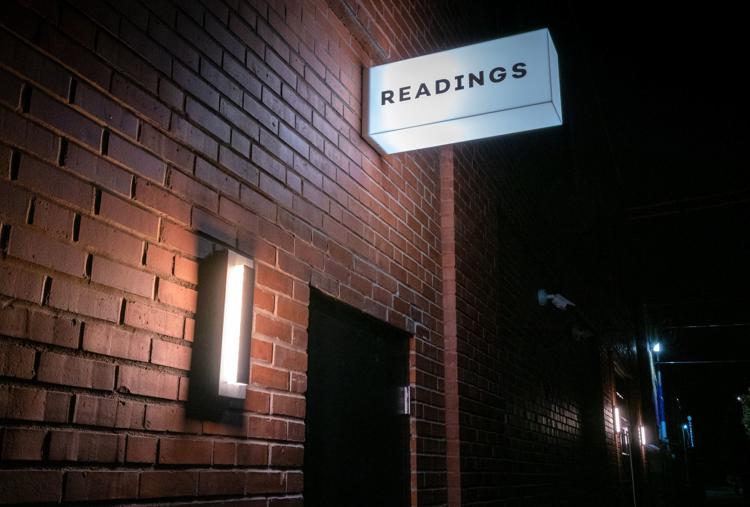 Jason Brown says the event featuring Ibur and short story author Rion Amilcar Scott was "awesome. The sound in there is as good as I've heard at a reading."
Brown, editor-in-chief of River Styx literary magazine and co-director of its reading series, is thrilled he no longer has to drag audio equipment to a space and set it up himself: "They already had everything there."
The lighting wasn't fully installed, but 60 or so attendees seemed to love the space, he says.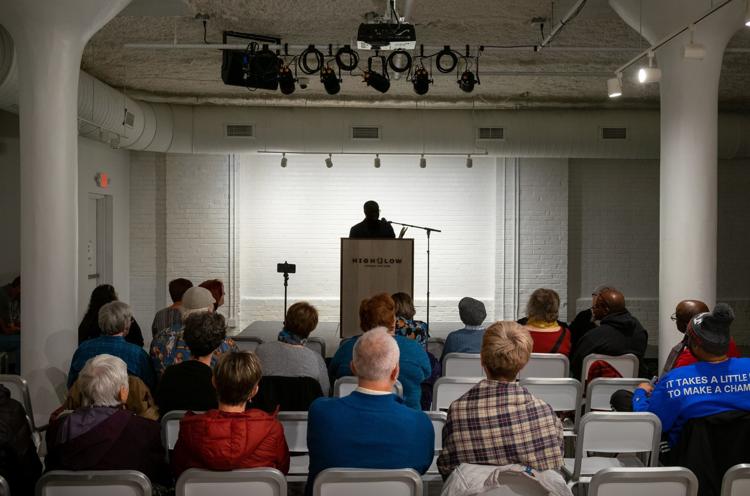 And because River Styx now has an office on the second floor, Brown would only have to run upstairs if he forgot something.
"We are happy to be in there," he says. "It's nice to be around other people who are artists, and it's good for collaboration." River Styx's office is next to the Poetry Center, so he believes that will make it easier for the two nonprofit groups to work together and perhaps fund-raise.
River Styx charges only a few dollars for its events. At High Low, some events will be free. If tickets are required, they will be issued through MetroTix, which Kranzberg uses for all of its venues. (One can avoid ticket service fees by buying at the MetroTix office at 531 North Grand Boulevard.)
SPACE Architecture + Design oversaw the design of High Low, whose event area is a modern white with concrete floors. A few days ago, painters were giving one brick wall another coat , and other walls awaited artwork. A mobile platform features a podium, which turned out to be a few inches too high for poet Ibur, who says she could have used a step stool.
She notes that the building's large windows showcased a beautiful sunset. And she's eager to have writing workshops in the upstairs conference room.
Kris Kleindienst, co-owner of Left Bank Books, is also impressed by the "cool" space. "I like it. I am curious to see how people use it."
Having cocktails available makes author readings more of a social event, she says. Left Bank will still host authors in its own store, but she expects to take advantage of High Low for slightly larger audiences "on the literary end."
The bookstore will also continue to use other spaces. "There are three factors where we book an event," she explains, citing "size, personality of the audience, and the cost and availability of the venue."
She appreciates the Kranzberg Arts Foundation's awareness that nonprofits and some arts groups don't have a lot of money to rent spaces. The High Low will have separate agreements for its tenants and various users.
Hansen says it's up to the literary groups to create events: The High Low is a way to support them by taking care of the infrastructure.
It's hard for arts nonprofits to get grants to pay for operating costs like heating and cooling, he says. "Our gift is the infrastructure."
To that end, literary groups made their desires known, he says.
"We knew they wanted it and needed it."
Arts foundation will make historic building home to many groups.