We know the "Wimpy Kid." But who is Jeff Kinney?
The Kid's creator overheard one of his readers ask that question at a Dubai book festival. Yes, Jeff Kinney, despite the low name recognition, has readers in United Arab Emirates.
Ditto England, Germany, even Bulgaria.
Kids everywhere seem to experience his "Diary of a Wimpy Kid" series the same way, Kinney says.
"We all have childhoods that are built out of the same building blocks."
Before he heads overseas again for a seven-country tour, Kinney will be at the Touhill Performing Arts Center for a stage show related to his 14th book in the series, "Wrecking Ball."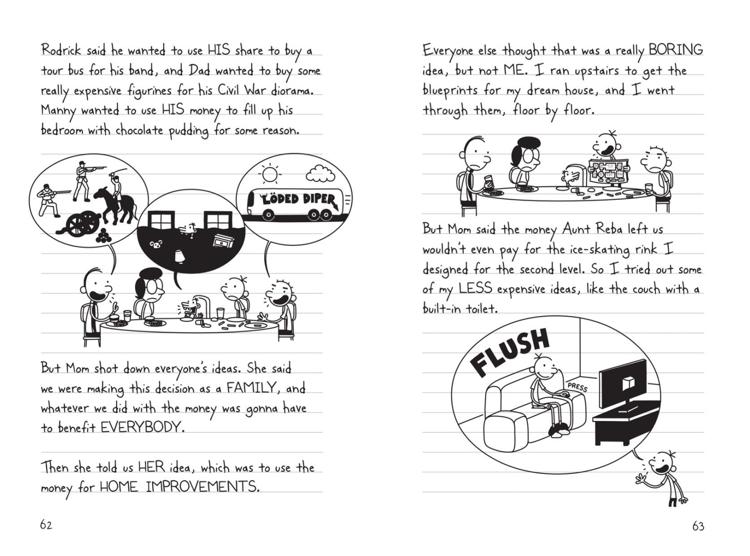 "It's a lot of fun," he said in a telephone interview from his home in Massachusetts.
"It's totally random. We let everything be decided by a wheel."
A spin of a wheel (or a digital "circular saw") dictates whether the show moves on to trivia, a dance-off with parents or a request for Kinney to draw.
The last time the author-illustrator was on tour in St. Louis was about seven books ago, he says. This time, he brings along a quirky stage show that actually has its roots here.
"I changed my approach to events last year," he says. Previously, fans stood in a signing line for hours to meet him.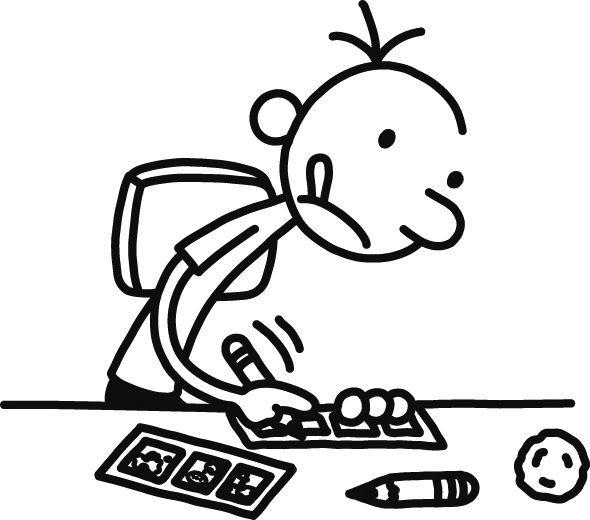 "I felt like I wasn't really connecting with my readers or the parents."
A video of last year's "Meltdown" tour includes kids throwing giant "snowballs" at one another. The show concept comes from St. Louis marketing firm Switch, which also creates the set and produces the event.
Because "Wrecking Ball" is about home renovation, construction is the show's theme. And like all construction sites, it will have a port-a-potty at the ready.
Stafford Warneke, vice president of field marketing for Switch, says Kinney came up with the port-a-potty gag (he knows his middle reader audience).
Abrams Books initially approached Switch. "They wanted to bring the book to life by doing something a little bit different," Warneke said this week.
Kinney's own house has been undergoing renovation, putting him in the mood for "Wrecking Ball." In the book, the lanky, Gumby-armed "Wimpy Kid," aka Greg Heffley, learns that the family has inherited a bit of money from Great Aunt Reba.
Greg writes: "I have a LOT of great aunts, though, and at first I couldn't remember which one she was.
"Mom reminded me that Aunt Reba was the one who used to send angry letters to me when I forgot to write her thank-you notes for my birthday money. And then I knew EXACTLY which one she was."
Greg would like to spend the windfall on a boat, but his mom overrules everyone, saying home improvements would benefit the whole family.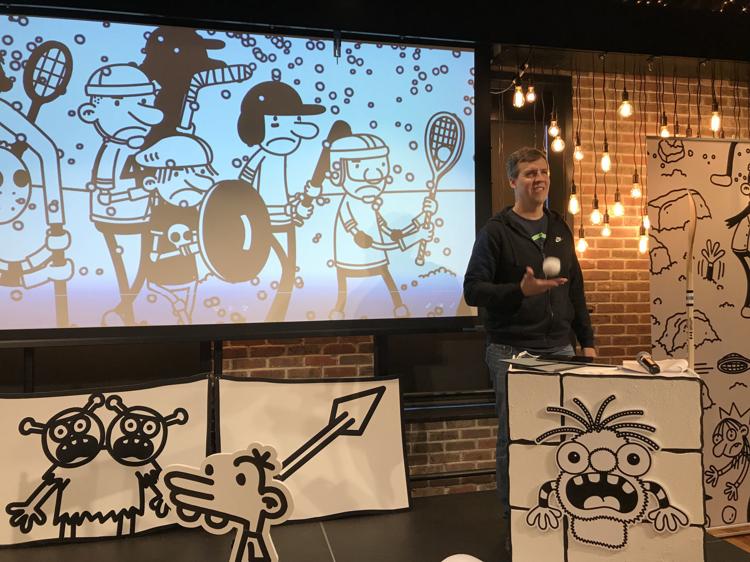 Of course, with any demolition come problems along the lines of rotten wood and rodent nests. (Greg notes in his diary: "And that's why I've decided when I build my first house, it's gonna be 100% GLASS.")
Kinney's own "typical American childhood," as he calls it, was spent in Fort Washington, Md. Of himself, he says, "I was a pretty funny kid, but I didn't have a lot of personality."
He was good at drawing and successful enough at school until college, when his attention deficit disorder became more of a challenge.
His dream job was to draw a newspaper comic strip, but he says his illustrations weren't good enough. He decided to "write a version of my own childhood" with a gangly young narrator who draws the illustrations.
Kinney spent about four years working on ideas and another four years writing.
"I spent a lot a time at the very beginning because I didn't really want to change the characters later," he says.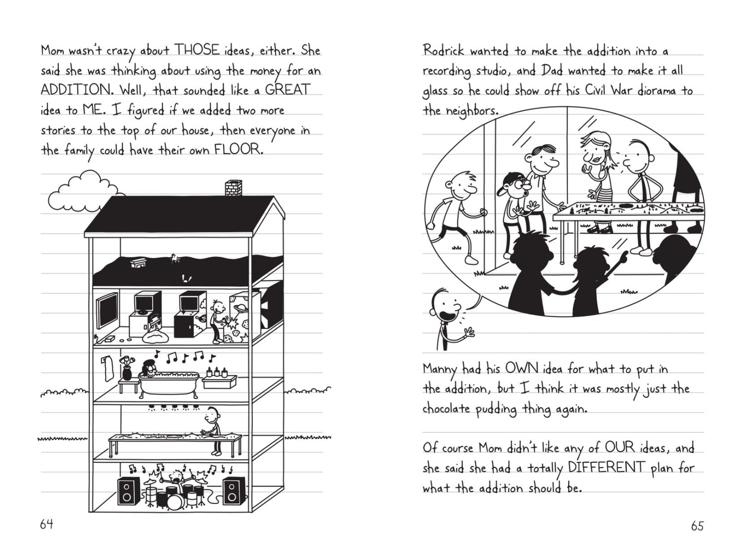 He told the Guardian newspaper in 2012 that his "wimpy kid" is not a hero: "He's full of imperfections, and having a flawed character is a little bit more interesting than having a character that always does the right thing.
"I've enjoyed lots of books where the character is heroic, but with the title alone I wanted to tell kids that Greg is not the most outstanding or admirable character. There is something a little bit different about him."
His first book became a blockbuster in 2007. The series has sold more than 200 million books and been translated into more than 60 languages.
By the time "Wrecking Ball" went on sale Tuesday, it was Amazon's No. 2 (only behind the upcoming book about President Donald Trump written by "Anonymous").
Now 48 and the father of two teens, Kinney says it's actually gotten easier to write the books.
"It used to be I'd kind of hope I'd come up with a story by deadline."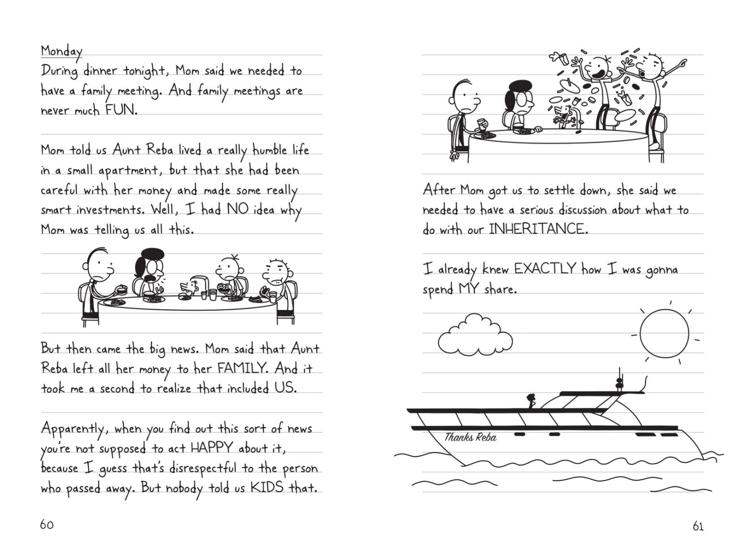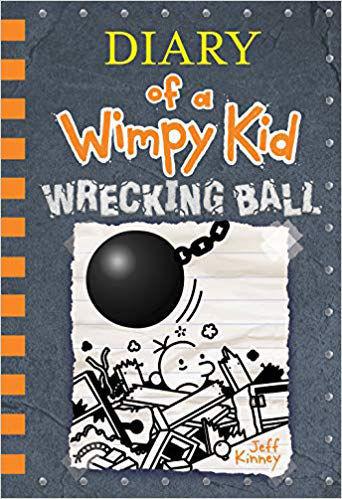 Now he employs a technique that helps boost creativity and gives him a methodology, he says.
Called Systematic Inventive Thinking, Kinney says, it offers templates to approach a problem, even writing jokes.
He gives an example: Say he wants to write about a family traveling by plane. The template might suggest "subtracting" something. So Kinney considers things to subtract, like an airplane seat. He decides a character visits the restroom only to return to a sleeping baby's having taken the seat.
"By applying the template, it gave me an idea for that joke," he says.
Whatever the methodology, the "Wimpy Kid" series has been popular enough to spawn four films and allow Kinney to open a bookstore in his family's hometown of Plainfield, Mass.
"I feel like we owe it the world to open bookstores," he says. "The more bookstores there are, the better."
Visitors to his store, An Unlikely Story, can see his third-floor studio on certain tours.
The store also brings in writers such as Henry Winkler and Dav Pilkey. It has a big staff — about 23 people. But An Unlikely Story isn't profitable yet, he says.
"The books paid for the bookstore."
What "Diary of a Wimpy Kid: The 'Wrecking Ball' Show" • When 7 p.m. Tuesday • Where Touhill Performing Arts Center, 1 University Boulevard • How much $20-$30 (includes 1-2 tickets and a copy of book) • More info thenovelneighbor.com