Thom Wall spent five years traveling with Cirque du Soleil. Four continents, nine countries, 17 cities. He spent months at each location, juggling for one of the world's biggest touring circuses.
He also spent those five years putting on the same performance night after night after night.
"The repetition is real," Wall says. "Imagine if you're an English teacher and every single day you have to do the same lesson plan with the same intonations in your voice. With the same timings, the same gestures, everything. It gets robotic after a while."
Wall didn't want to leave Cirque du Soleil, but he needed something fresh to focus on during his down time. So he started teaching juggling tricks to the ushers and popcorn vendors.
Wall jumped at the opportunity, giving workshops in German and Spanish. But the ushers and popcorn vendors wanted to know more: Did Wall have any books they could follow?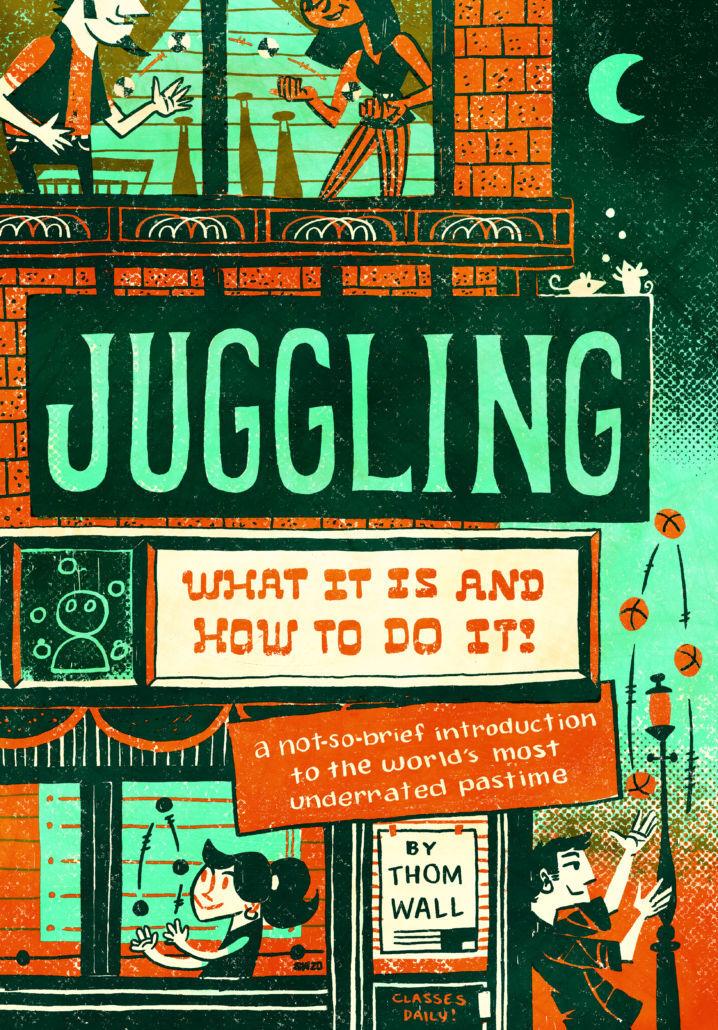 Several years later, Wall, 33, finally does have that text: "Juggling: What It Is and How to Do It," on sale Aug. 31 by Modern Vaudeville Press, which Wall founded. The St. Louis native and Ladue Horton Watkins High School graduate calls his book unique.
"I realized that there was no resource that taught contemporary juggling techniques," Wall says.
The books that were already available focused on "this old style of juggling performance or juggling training, where you just throw the throw, it does this and then it just works," he says. "Whereas juggling pedagogy in the past 30 years has completely changed."
Wall's focus is siteswap notation, a kind of number system his book labels "the language of juggling."
Wall compares it to music theory: "In music, different notes represent how long a specific sound is played. In juggling, different numbers represent the amount of time it takes for an object to return to a hand."
For years, siteswap notation has been an "open secret" in the juggling community, Wall says. He teaches it to students, and if you visit the main juggling subreddit, you will find random users explaining the technique. Despite this, siteswap has never been included in a large-scale published book until now.
Wall tried to make siteswap notation as understandable as possible, but he realizes not everyone learns in the same way. His book isn't just intended for beginners, he says, but for a wide range of experience levels — jugglers who want to throw five balls at once, improve their stage presence or even balance a broom on their head.
Each exercise in the book is lined with diagrams, illustrations and graphics. One of Wall's most common visual aids is a long-exposure photograph tracking the movement of LED balls as they are juggled.
"The real goal is just to make myself obsolete as a teacher, which might seem a little counterproductive," he says.
Although a professional juggler and circus performer with more than 11,000 followers on Instagram, Wall has always been interested in writing. At Washington University in St. Louis, he took multiple writing classes and studied Germanic languages and literature.
Wall began "Juggling: What It Is and How to Do It" in 2014 but really started developing the book in 2016, during an 18-month Cirque du Soleil stop in Japan, where he performed in 10 shows a week as a part of the show "Totem."
Wall spent entire mornings in Japanese coffee shops writing — and almost the same amount of time researching online resources. He scoured academic journals and peer-reviewed articles. He wanted the book to be rooted in the "why," he says, not just the "how."
Many pages feature a footnote, with references to a number of scholarly sources. In one part, for example, he cites a Japanese study that discusses the benefit of napping after training sessions.
When Wall left Cirque du Soleil in January 2019, he still hadn't finished the book. Even though he'd been on the road with the circus for five years, he didn't stop to relax. He continued to travel around the world performing, primarily on cruise ships. He also visited St. Louis to give a TEDx talk, while simultaneously balancing a variety of objects, including a sword and glass cup, from his mouth.
On his blog, Wall keeps track of his travel distance every year. Although he performed only 160 shows in 2019 (compared to 377 in 2018 with Cirque du Soleil), he logged 65,737 miles of travel — his highest in six years.
During that time, Wall estimates he spent 10 to 12 hours a week working on the book, aiming to finish around 2022. Then the coronavirus pandemic hit, and his juggling gigs dried up. Aside from one virtual show, he hasn't touched his juggling props.
Instead, he has plopped himself in his home office and dedicated nearly 60 hours a week to the book, in hopes of giving people a new quarantine hobby.
"Parents want their kids to go outside, put down the video games," he says, laughing. "This is a book that might help parents everywhere get their kids into a more wholesome activity."
Stay up-to-date on what's happening
Receive the latest in local entertainment news in your inbox weekly!