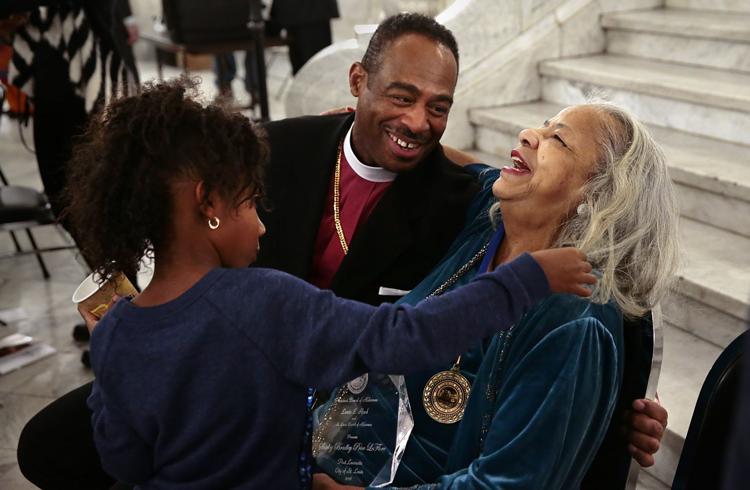 As a girl, she listened to women in her mother's beauty shop as they told stories. She listened in as strangers gossiped on streetcars, when churchgoers talked and when female relatives chatted at the kitchen table.
Young Shirley would make up plays about some of the people she'd overheard and started writing in grade school. As an adult, she turned talk into an art, becoming a pioneer in spoken-word poetry in St. Louis.
Now, as the city's second poet laureate, Shirley Bradley Price LeFlore, 78, says the audience is wider for her craft and more "young people are using their voices."
After more than 50 years of performing, mentoring and teaching, LeFlore is being honored in her hometown for a career that has touched hundreds, if not more.
"She is such an iconic and loved figure that it was sort of the obvious choice," says Michael Castro, who served as the first St. Louis poet laureate. "It's sort of the capstone of a long career."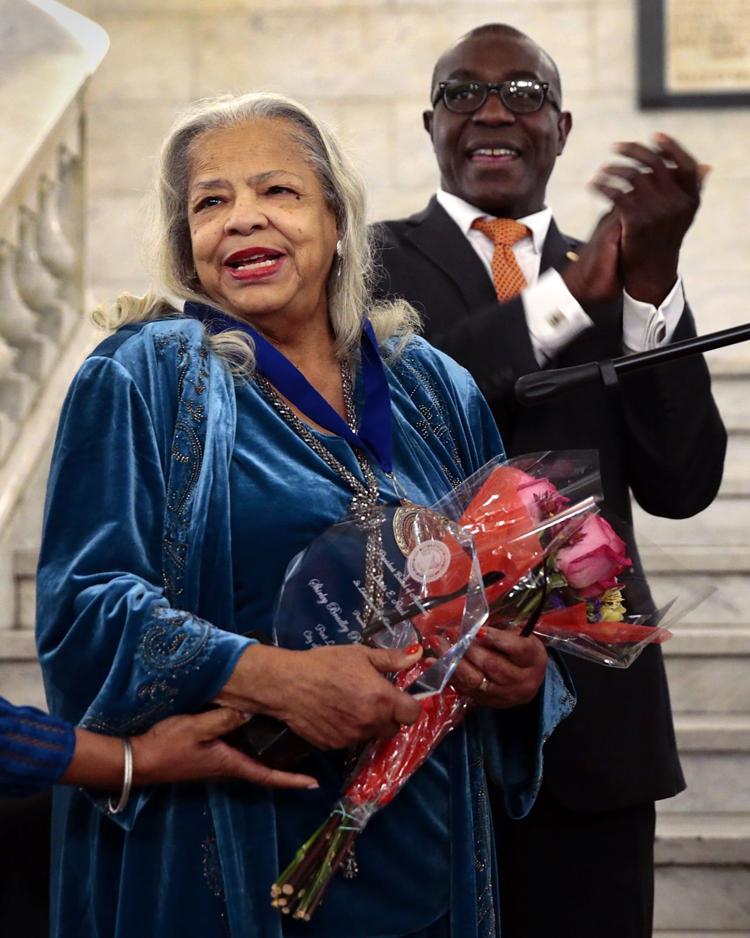 LeFlore received the honor Nov. 9 from Lewis Reed, president of the Board of Aldermen. During a ceremony at City Hall, U.S. Rep. William Lacy Clay and Alderman Terry Kennedy, both of whom are longtime friends of LeFlore's, were among those praising her achievements.
Kennedy introduced LeFlore to the board by reading part of LeFlore's poem "Rivers of Women." He said, "She puts in her writing ideas that will cause people to think differently," calling her a "wordsmith — some of us would say a word warrior."
He recounted some of LeFlore's contributions to St. Louis as the founder of Creative Arts and Expressions Lab in 1981 and as an original member of the Black Artists Group, which her husband, jazz musician Floyd LeFlore, co-founded.

Before her husband's death, LeFlore performed with him and many others, including saxophonist Oliver Lake, trumpeter David Jackson and singer Fontella Bass.
"It was nice to sit back and listen to nice things being said about me," LeFlore said last week. In the living room of the Frontenac home she shares with a daughter, Lyah LeFlore-Ituen, the poet remembered many of the people she's worked with or known through the years and how she always tried to perform when asked.
"I once left the hospital and went to a gig," LeFlore says. She has slowed down some and uses a cane. But, her daughter says, "the fire is still there," and as poet laureate, LeFlore can be an inspiration to young people.
"She's always had an intergenerational perspective," LeFlore-Ituen says. "She wants to inspire young poets."
Born in 1940, LeFlore graduated from Sumner High School. She attended Lincoln University, later graduating from Webster College (now University), and received a master's degree in psychology from Washington University.
LeFlore-Ituen says her mother was an early artist-in-residence at University City public schools and has taught at colleges including Lindenwood University, Webster University and Harris-Stowe State University. At Webster, she became an assistant dean of students — "Black-ish" actress Jenifer Lewis was a 1979 graduate who has cited her help. "She saved my life," Lewis said of LeFlore's support.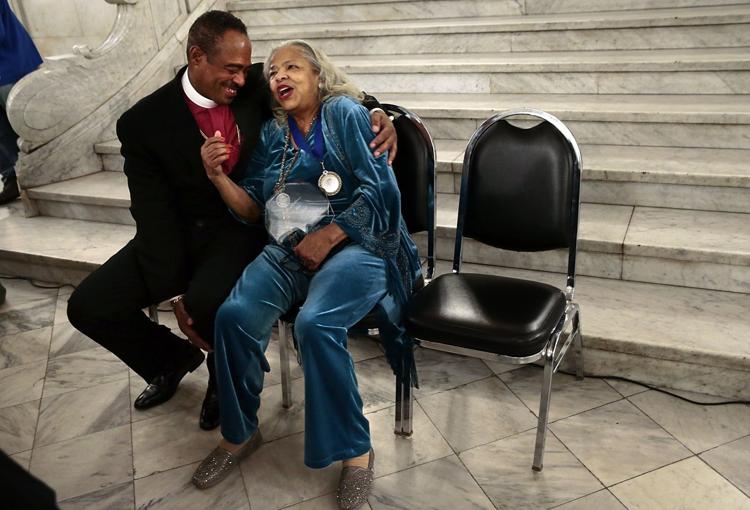 In the late 1960s, LeFlore took part in civil rights events, including the March on Washington and the Poor People's Campaign, incorporating politics into her poetry.
"He saw the rapture beyond the rupture/beyond the back of the bus and the mississippi mud ..." she wrote in "Dr. King."
"Her performances were very memorable," Castro says. "She had a strong presence and charisma. She read her poems kind of with a jazz beat. Her poems were not like anyone else's, full of rich imagery."
He has known LeFlore since the 1970s, when people flocked to hear her read at Duff's restaurant for the River Styx series.
"She was a pioneer in performing poetry" and a repository of local history, he says. Mentored by Margaret Walker and influenced by Gwendolyn Brooks, LeFlore displays pictures of herself with famous literary people she's known, including Sonia Sanchez, Ntozake Shange and James Baldwin.
During the 1990s, LeFlore moved to New York, where she performed regularly on many stages, including the Nuyorican Poets Cafe. In 1993, she appeared at Weill Hall, part of Carnegie Hall.
Some of her work has been performed as plays, such as a Metro Theatre Circus (now Metro Theater Company) production of "Songs of RiverMagic" in the late 1980s. Some work was supported by grants, including from the Missouri Arts Council. The play "Deliverance" was an early regional production centered on HIV/AIDS.
In 2011 and 2013, the Missouri History Museum was host for an adaptation of "Rivers of Women," directed by LeFlore-Ituen.
In the play adaptation, LeFlore wrote:
"I have known women/rivers of women/Blu/blck/tan/high yella/blu-vein women rivercrossing women/waters deep as the nile/mississippi as mud/seaboard and island ocean women/women who ride the waves and balance the tide ..."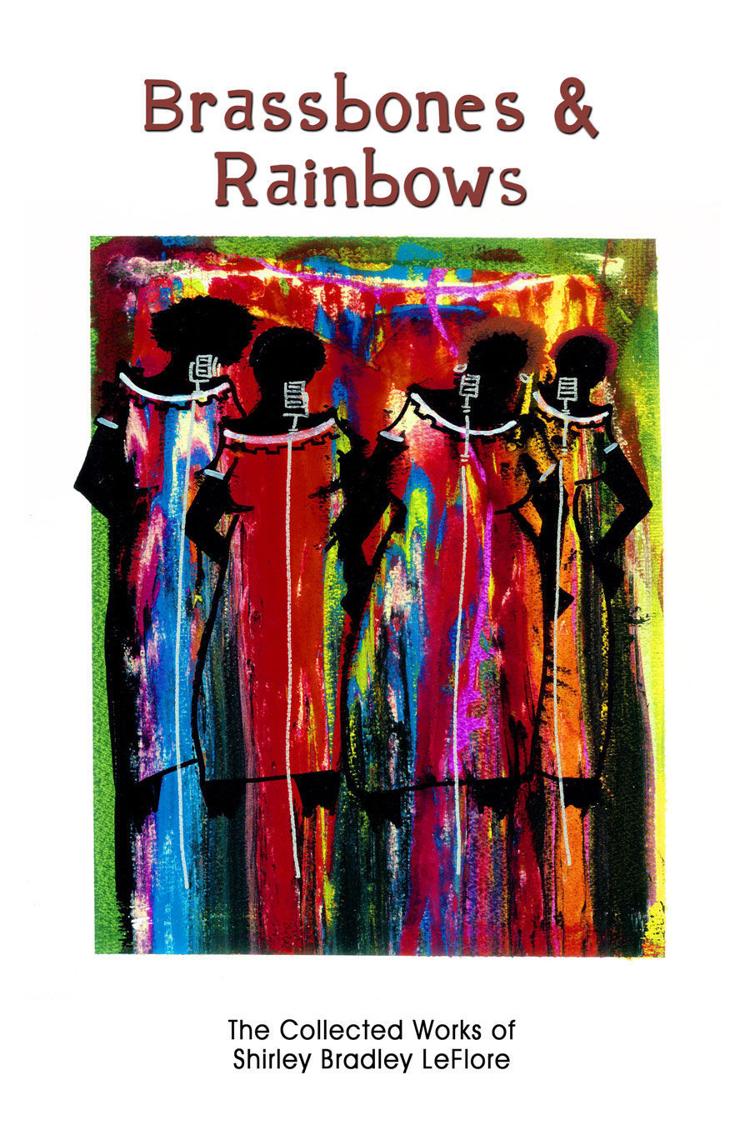 In the foreword to the published book, she and her daughter write, "As women, we stand on the shoulders of women who have been great throughout history, our grandmothers, our great grandmothers, our mothers, our aunts." LeFlore, who has three daughters, now also has four grandchildren.
LeFlore-Ituen, who is a TV producer and a writer, is proud of her mother's work, calling her a "living legend." She is working on a documentary about her and planning an invitation-only gala next month to honor LeFlore.
"Sometimes St. Louis doesn't recognize its own," she says. She points out that her mother was interviewed in another documentary, "Word Warriors III." She can detail the many anthologies that have included a poem by LeFlore, and she helped compile her mother's 2013 book, "Brassbones & Rainbows."
For its foreword, poet Amina Baraka wrote that LeFlore is a "literary griot. Writing and telling stories, creating lyrics we can sing and dance to, she paints the lives of African American people through the eyes of a poet."
But LeFlore herself says she was never as interested in publishing as in performing. As poet laureate, she will serve until the end of March. Then Jane Ellen Ibur will become the city's third poet laureate.
LeFlore accepted the short term after the poet laureate task force was stalled by members' disputes over procedures. A new task force was eventually chosen and started anew many months after Castro's term had ended.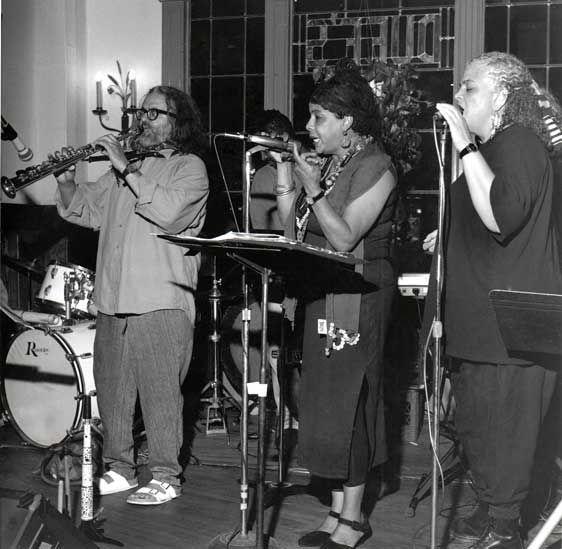 But LeFlore-Ituen believes school groups will be energized by her mother's story and her poems. "We've got a little bit of time to make a whole lot of magic happen," she says.