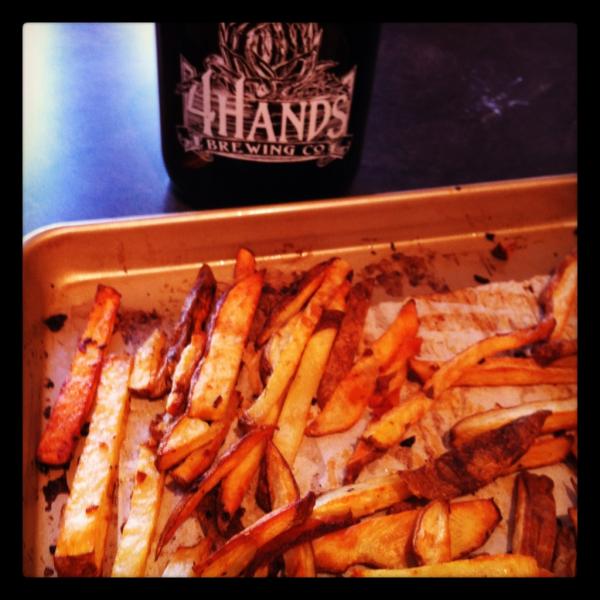 Every other month, the cheery folks at "Great Day St. Louis" invite me on the show to cook something using beer as an ingredient. Today's recipe was one of my favorites yet: beer-soaked fries that you bake, not fry. 
The spuds turn out great no matter what kind of beer you use -- I've experimented with pilsners, Belgian-style ales, India pale ales, saisons and more. Today I used Cast Iron Brown Ale, a roasty, smooth brew from the new 4 Hands Brewing Co. in St. Louis.
My theory is that beer's natural sugars help promote browning in the oven, making the fries crispy on the outside, pillowy on the inside, like you expect from the deep-fried version.
The video from today's segment is posted here.
Beer-Soaked Fries with Garlic
24 ounces (2 bottles) brown ale
3 medium-size russet potatoes
3 tablespoons extra virgin olive oil
1 teaspoon fresh ground black pepper
1. Preheat oven to 425 degrees. Scrub and dry the potatoes, then cut into fries, leaving the skins on. Each potato will yield about 20-24 fries.
2. Combine the fries and beer in a large bowl. Let soak for 15-20 minutes, stirring twice.
3. Drain off the beer. Toss the fries with garlic, olive oil, salt and pepper.
4. Line two large baking sheets with parchment paper. Spread the fries in a single layer on the pans so none are overlapping or stacked.
5. Bake for about 50 minutes, tossing twice during cooking and rotating pans in oven to ensure even heat distribution. 
6. Transfer fries to a large, paper towel-lined bowl. If desired, sprinkle finished fries with sea salt, fresh-chopped herbs like rosemary or thyme, or with grated parmesan or pecorino.
Stay up-to-date on what's happening
Receive the latest in local entertainment news in your inbox weekly!