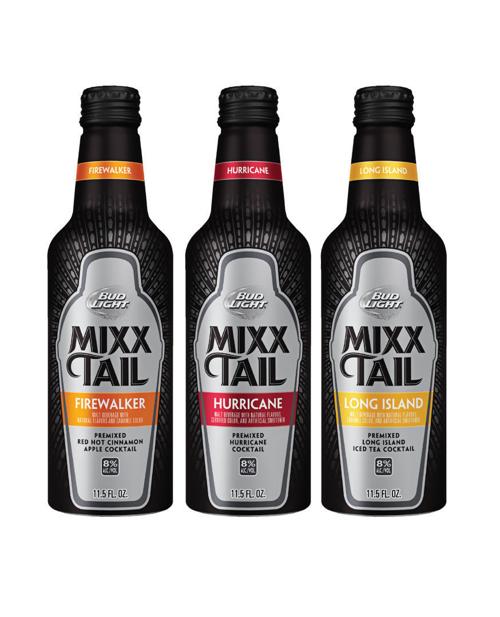 Bud Light's first new line extension since 2012, Mixxtail, will begin sales at U.S. retailers Feb. 16. 
The cocktail-inspired Bud Light Mixxtail comes in three flavors — Long Island Iced Tea, Firewalker and Hurricane, Anheuser-Busch said Tuesday. A-B confirmed the new line extension in November, but hadn't yet released information on the launch date.
"It's a combination of cocktail flavors that we know consumers love, with the smoothness of Bud Light," Bud Light Extensions' marketing director Mallika Monteiro told the Post-Dispatch. "We've done a lot of market testing to find the flavors cocktail drinkers are interested in."
The Hurricane and Long Island Iced Tea beverages are well known and approachable flavors, and Firewalker is a red hot cinnamon apple flavor that's a "hot trend," now, Monteiro said.    
A-B will soon begin a marketing campaign for Bud Light Mixxtail that includes TV, print and online advertising. The target market for Bud Light Mixxtail beverages are adult drinkers "mostly in their 20s who like to entertain at home," Monteiro said.  
The Mixxtail flavored malt beverage, with 8 percent alcohol by volume (ABV), are packaged in 11.5 ounce aluminum bottles, 16 ounce cans and and 25 ounce cans.
A similar offering by A-B InBev is available in Argentina under the brand name Quilmes. 
A-B, which has its U.S. headquarters based in St. Louis, has since expanded the 'Rita lineup to Straw-Ber-Rita, Mang-O-Rita and Raz-Ber-Rita, in addition to seasonal offerings. A new summer seasonal, Lemon-Ade-Rita, will debut later this year, Monteiro said. The four year-round 'Ritas are the top selling flavored malt beverages in the U.S.  
Lisa Brown • 314-340-8127
@lisabrownstl on Twitter
Daily updates on the latest news in the St. Louis business community.