How did you feel while watching the Nathan's Hot Dog Eating Contest on July Fourth?
Deeply, intensely, strangely patriotic?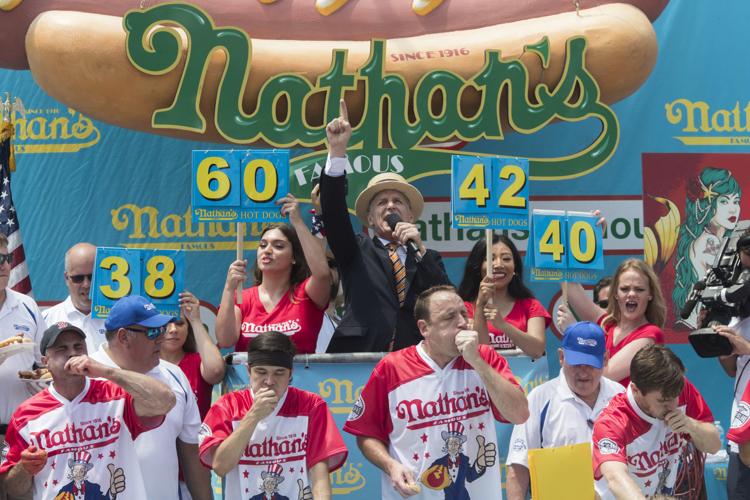 Large quantities of food presented and consumed in a single sitting might be as American as apple pie (Joey Chestnut broke that record, eating more than four 3-pound apple pies in eight minutes) and ice cream (Cookie Jarvis, 1 gallon, 9 ounces of vanilla in 12 minutes).
Here in the Gateway City, a surprising number of restaurants offer their own challenges, often by super-sizing a regular menu item. If you win (that is, you do not have what the competitive eating world deems a "reversal of fortune" within a certain time period), you often get the food free, your name on the restaurant's wall, a T-shirt and bragging rights.
Here's just a few ways you can obtain your own, locally sourced stomachache without a trip to Nathan's Hot Dogs on Coney Island.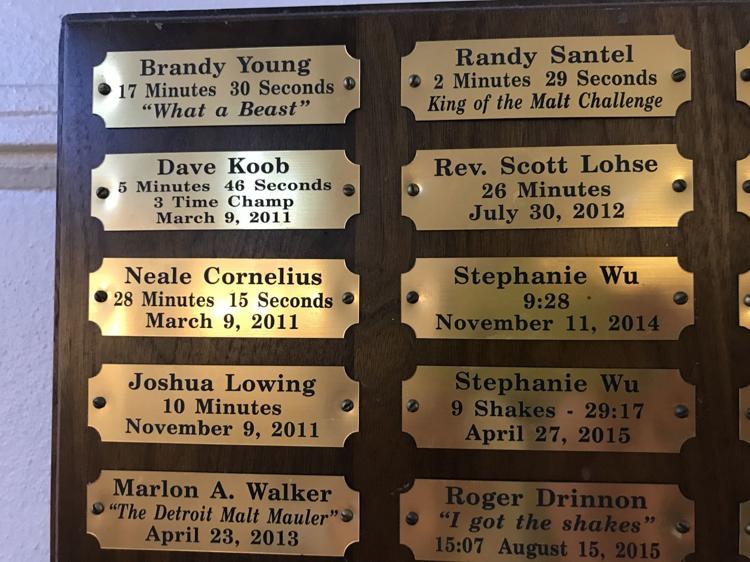 The Five Malt Challenge
It's high season for the five-malt challenge at Crown Candy Kitchen in Old North St. Louis, when college kids come back to town and everyone wants to see who can drink five malts or shakes in 30 minutes. Someone gives it a try at least once a week, says owner Andy Karandzieff.
The restaurant opened in 1913. Karandzieff thinks the challenge has been around since the late 1940s. People were back from the war, the neighborhood was still booming, and neighborhood guys hanging out began bragging to one another about how many malts they could consume.
Winners receive a T-shirt and their name on the Crown Candy Kitchen wall of fame.
And winners and losers have to clean up the mess if they experience a reversal of fortune.
"Oh, I've seen guys throw up on their girlfriends, I've seen them throw up on their friends, I've seen them throw up right in the middle of the restaurant, right on the door," Karandzieff says. "I say, 'Please, if you think you are going to get sick, throw up in the bathroom or on the curb, out in the street.'
"I always joke when they're doing it: 'You know they taste almost as good coming out as they do going in.'" VSH
The 'Adam' Bomb
A platter of any meat and two sides at beloved midtown barbecue restaurant Pappy's Smokehouse is a substantial amount of food. But if you must go bigger, there is the "Adam" Bomb: a full slab of ribs, a beef-brisket sandwich, a pulled-pork sandwich, a quarter of a chicken, a Frito Pie with a hot link and four sides.
(The "Adam" Bomb is based on another platter, the Big Ben, which delivers everything minus the Frito Pie with a hot link.)
When Pappy's first introduced the "Adam" Bomb, diners did try to tackle the platter individually. Now, it is mostly groups that order the platter to share. IF
The Giant Joe
Like sloppy Joes? The Red Bar and Grill in Collinsville has a Joe for you.
For $14.95, you can get a Giant Joe, which the restaurant's menu describes as a "super sloppy beast." It's 14 ounces of sloppy Joe meat on a 10-ounce bun, with about two basketfuls of fries or tater tots, says bartender Lexy Storm. Eat it all within 30 minutes, and you get a T-shirt, your photo on the wall and the Giant Joe is free.
About 18 people have completed the challenge since 2010.
"You have a timer sitting in front of you, as soon as the Giant Joe comes out. We try to egg them on a little bit — try to get them to finish it," Storm says.
She hasn't seen anyone finish the challenge herself. "I haven't had any women try it," she says. VSH
Mama's Pasta Challenge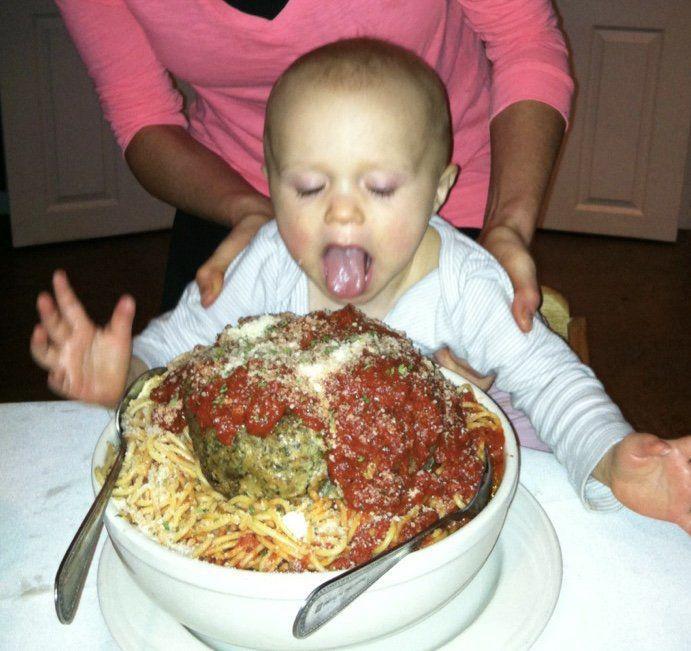 A food challenge involving spaghetti and meatballs? That can't be too hard, can it? Especially when it's spaghetti and only one meatball?
But the meatball in Mama's Pasta Challenge at Mama's on the Hill weighs 3 pounds. It sits upon a mountain of spaghetti and is covered by an ocean of marinara sauce. The whole thing weighs a good 6 pounds.
On the other hand, the whole thing only costs $24.99. And if you eat it all, within an hour, the meal is free. Plus, you get a "Who toasted your ravioli?" T-shirt. If you want, you can also get your picture taken and posted on the wall, once the restaurant's remodeling is completed.
The idea for the pasta challenge was born five or six years ago, and the very first person who attempted it completed it, says manager Kim Diesel.
It has been a popular item, with at least one person a day attempting it. But few make it through the entire dish.
Since the meatball was enlarged from 2 pounds to 3, about a year ago, only two people have managed to finish it.
"Most of them do it just for fun, for kicks and grins, and then they've got dinner for the rest of the week for the whole family," Diesel says. DN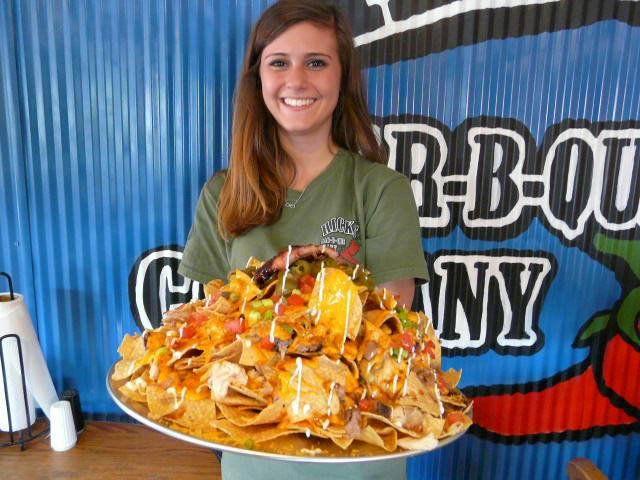 Monster Nachos
Al Hicks of Hicks Barbecue Co. in Belleville says you have to see the Monster Nacos to understand it.
The restaurant fries up a bunch of tortilla chips and places them on a 16-inch pizza pan. Melted and shredded cheddar cheese is added, followed by three different meats: smoked brisket, pulled pork and chicken. Then more cheese, tomatoes, green onions and jalapenos. It's topped with a single smoked rib.
The whole thing weighs 7½ pounds. If you can finish it in an hour, it's free.
"It's a whopper," Hicks says. "We started it about four or five years ago, and we've only had one person finish it."
The restaurant makes about three or four of the Monster Nachos a month, often for families and groups that order it to share. For $49.99, it's worth the full stomachs and conversation.
"It gets people talking about (the restaurant)," Hicks says. "We basically break about even on it. It's the buzz, you know?" VSH
Where Hicks Barbecue Co., 609 South Illinois Street, Belleville • More info hicksbbqcompany.com
The Captain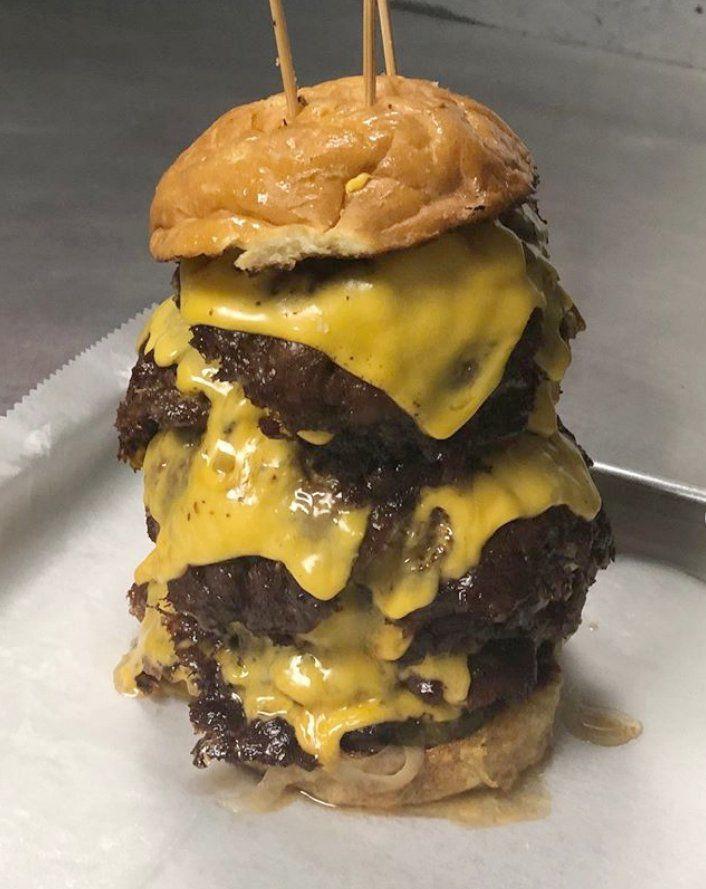 Officially, the burger menu at Mac's Local Eats in Dogtown reaches maximum capacity with the Captain, a stack of four 2-ounce patties, each with its own slice of melted cheese. Unofficially, you can keep adding patties (with cheese) at $2.50 a pop. If you're the first to finish a burger with a certain number of patties, you get to name that burger.
You had best be hungry, however. Mac's diners have already claimed the burgers with five through 20 patties. Recently, a diner who Mac's owner Chris McKenzie described as a "20-something physical trainer" ate a burger with 25 patties.
"He annihilated it," McKenzie says.
McKenzie finds eating contests "shticky." The Mac's burger competition is meant to be laid-back.
"If you want to try it, you can try it," McKenzie says. "I'm not buying the burger."
The rules are simple. Finish the whole thing. Use your hands or utensils. Drink water if you need to.
"You just to have finish it before we leave the building," McKenzie says.
So far, only two diners have attempted to claim a burger and failed: a man who couldn't finish 14 patties and a woman who attempted a 19-patty burger and fell about halfway short.
McKenzie says there eventually will be a menu board with the burgers' names. For now, you can follow the contest on Mac's Instagram account (@macslocaleats).
"Those posts get a lot of social-media attention," McKenzie says. "There's no doubt about that." IF