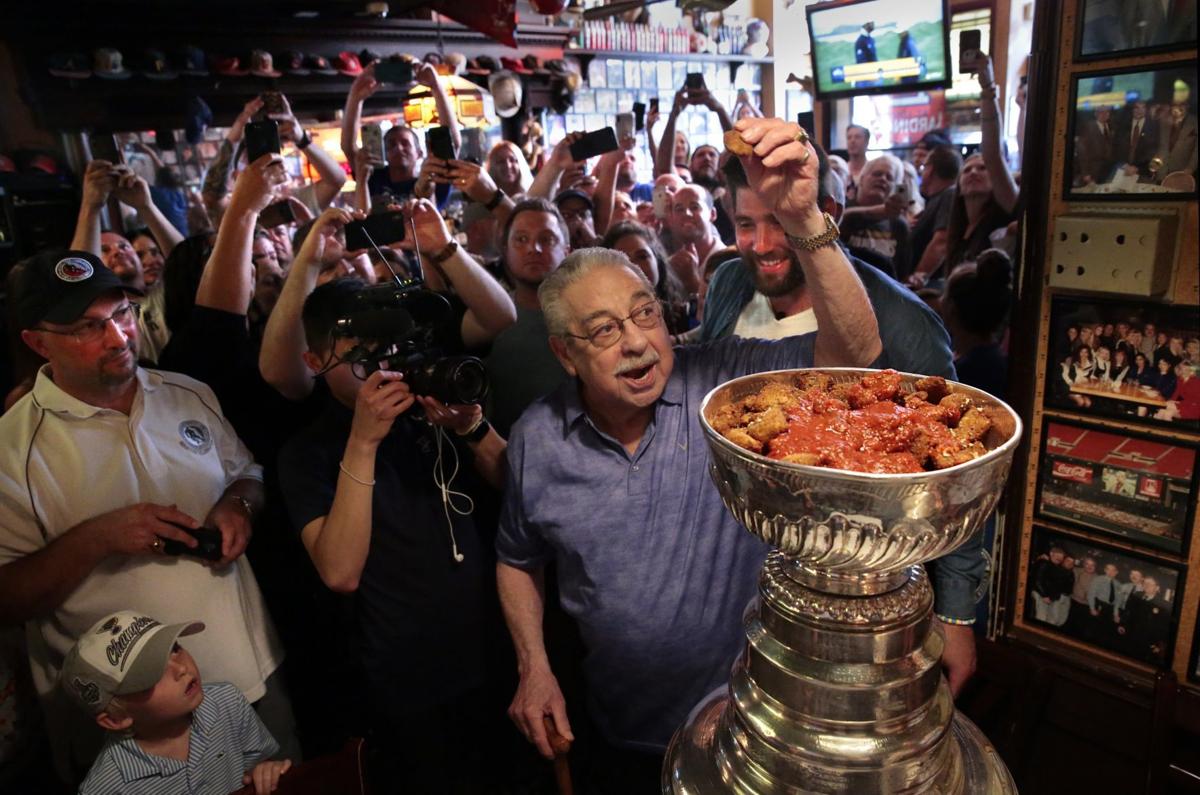 ST. LOUIS — Famed St. Louis restaurateur Charlie Gitto Sr., who established along with his wife several restaurants that left an indelible mark on the St. Louis dining scene, has died. He was 87.
Gitto died peacefully Saturday, according to a post on the Charlie Gitto's on the Hill Facebook page. The post did not provide a cause of death.
"Charlie Sr. was a fixture and the heart and soul of his downtown restaurant on Sixth Street," the post said. "He was there nearly every day in his 'office,' a seat at the bar, the best seat in the house he called it, where he could see his entire restaurant."
He was "a St. Louis restaurant icon" who said, in answer to most any question, that "spaghetti was always the answer," according to the post.
A funeral Mass will be celebrated at 10 a.m. Thursday at the Cathedral Basilica of St. Louis, 4431 Lindell Boulevard. Visitation will be 4-8 p.m. Wednesday at Hoffmeister Colonial Mortuary, 6464 Chippewa Street. Burial will be at Resurrection Cemetery.
The couple opened the well-known Charlie Gitto's Pasta House on Sixth Street downtown in 1978. Their children owned the other restaurants.
The two of them started in the business when they opened their first restaurant, Gitto's Pizzeria, on Macklind Avenue in 1956. Their four children pitched in at the restaurant as soon as they were able to bus tables and wash dishes.
The couple was married 59 years before Annie Gitto died in 2012. Her husband said at the time that, "I got all the credit and she did all the work."
Charlie Gitto told the Post-Dispatch in 1987 that, "All my life I had wanted to work in restaurants, especially as the head waiter or maitre d' who'd snap his fingers and make things happen. I guess I got that idea from going to movies as a kid and seeing those folks in fancy restaurants."
The Sixth Street restaurant's location near old Busch Stadium made it a regular stop for visiting ballplayers and coaches. During the Cardinals' victorious 1982 World Series, it hosted eight major league managers at the same time.
"It thrilled me to death," Gitto said in a 2000 Post-Dispatch interview. "Here I am, a little guy like me and I have eight major league managers in here at once."
Gitto forged an especially strong relationship with former Los Angeles Dodgers manager Tommy Lasorda, who had his own table at the restaurant.
"He's just like a brother to me," Gitto said in 1987. "He's like family. When he's in town, and when he wakes up, he calls me and we eat breakfast together."
In lieu of flowers, donations can be made to the American Heart Association (460 North Lindbergh Boulevard, Creve Coeur), Alzheimer's Association (9370 Olive Boulevard, Olivette) or Backstoppers (10411 Clayton Road, Suite 203, Frontenac).
Recipes from Charlie Gitto's 
Charlie Gitto's Italian Chopped Salad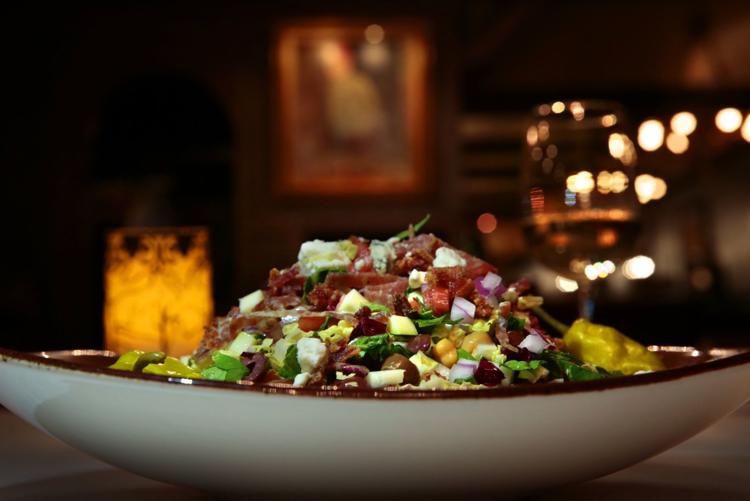 Charlie Gitto's Italian Chopped Salad
10 ounces equal mix of green cabbage, romaine and radicchio, finely chopped
1 small thin zucchini, about 4-inches, ends trimmed, seeded and diced fine
1 small 2-inch Roma tomato, seeded and diced fine
3 tablespoons finely diced red onion
3 tablespoons thinly sliced small black olives, cut crosswise
½ cup garbanzo beans, rinsed and drained
½ cup Charlie Gitto's Sweet Vinaigrette salad dressing
4 fresh basil leaves, cut in a fine chiffonade (optional)
4 ounces Gorgonzola cheese in fine crumbles
4 slices regular-cut bacon, fried crisp and crumbled
6 thin slices Genoa salami, cut in thin shreds
Notes: The success of chopped salads depends on suitable ingredients, chopped into similar small size. Each bite of a chopped salad should give a taste of all the ingredients.
• If you plan to make chopped salads regularly, consider buying a mezzaluna, which is a chopping tool with a single or double curved blade that rocks back and forth over the ingredients for quicker chopping
• Don't substitute tender or watery lettuces for the cabbage, romaine and radicchio. The integrity of this salad depends on ingredients that won't wilt and fade.
1. In a large mixing bowl, use tongs or 2 large spoons to toss shredded cabbage, romaine and radicchio with diced zucchini, tomato, onion, olives and beans.
2. Add ¼ of the salad dressing and toss to coat the mixture. Repeat, adding dressing until the mixture is well-coated but not dripping with dressing.
3. Divide greens into fourths and place in a mound on 4 shallow salad bowls. Top each with the basil chiffonade.
4. Sprinkle cheese crumbles evenly over the salad. Repeat with bacon crumbles. Place the salami shreds in a mound on top of the salad.
5. Garnish with a whole pepperoncini set off to the side of the salad.
Per serving: 351 calories; 24g fat; 9g saturated fat; 45mg cholesterol; 17g protein; 20g carbohydrate; 9g sugar; 5g fiber; 1,136mg sodium; 223mg calcium
Charlie Gitto's Tomato Salad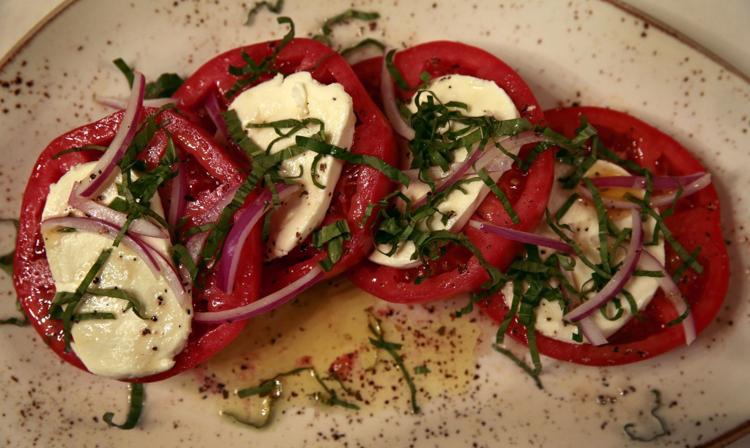 1 large homegrown or locally grown slicing tomato, 16 to 18 ounces
3 (2-ounce) slices fresh mozzarella
1 ounce red onion cut in thin shreds
3 medium basil leaves, cut in a fine chiffonade
3 tablespoons extra-virgin olive oil
1 tablespoon white balsamic vinegar
Coarsely ground black pepper to taste
Notes: This simple salad depends on outstanding ingredients and good timing. The tomatoes should be homegrown or farm-grown, vine-ripened. Buy just before using and do not refrigerate. Leave them on the counter. Use good-quality mozzarella, olive oil and balsamic vinegar.
• Prepare this salad just before serving, not longer than 30 minutes ahead of the time you plan to eat it.
• You may substitute vinaigrette dressing for the olive oil and white balsamic vinegar if desired. You may use regular balsamic vinegar, but it will show up as dark spots on the tomatoes and mozzarella.
1. Rinse tomato under cool water. Remove the core.
2. Slice each large tomato into 3 thick slices.
3. Place the tomatoes on the plate, then shingle in the mozzarella, one piece on top of each tomato slice.
4. Top with onion shreds and basil chiffonade, nicely arranged.
5. Drizzle with olive oil, then with balsamic vinegar.
6. Add salt and pepper to taste.
Per serving: 897 calories; 73g fat; 24g saturated fat; 112mg cholesterol; 36g protein; 23g carbohydrate; 15g sugar; 6g fiber; 1,072mg sodium; 779mg calcium
Recipe adapted for home kitchens by the Post-Dispatch.
Pumpkin Gelato at Charlie Gitto's on the Hill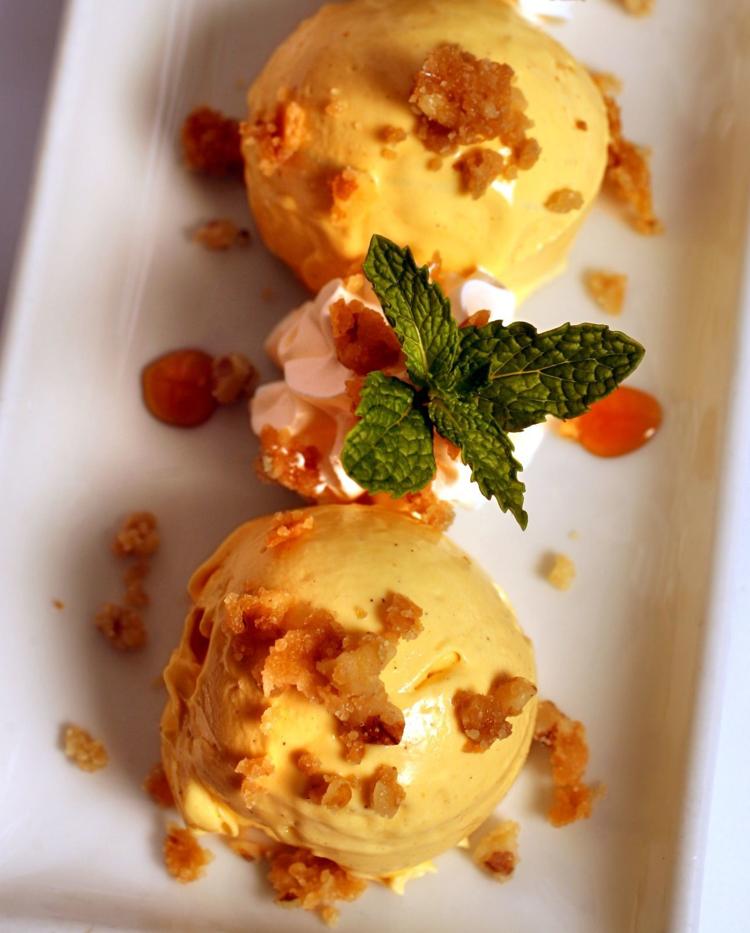 This recipe ran originally in 2009.
1 cup heavy (whipping) cream
1/4 cup canned pumpkin pie filling (see note)
1 teaspoon ground cinnamon
1 teaspoon ground allspice1. In a heavy medium saucepan, bring milk and cream to a simmer over medium heat. Remove from heat.
2. In a mixing bowl, stir together yolks and sugar; beat until foamy. Gradually pour the warm milk into yolk mixture, whisking constantly.
3. Return the mixture to the pan and cook over medium heat, stirring with a wooden spoon until the mixture thickens and coats the back of the spoon. Pour through a sieve or fine strainer into a bowl. Cover and chill completely.
4. Stir in pumpkin and spices: mix until well incorporated. Pour into an ice cream maker and freeze according to manufacturer's directions. Transfer to a container, cover and freeze until firm.
Tester's note: If you can't find pumpkin pie filling, substitute canned pumpkin.
Per 1/2-cup serving: 230 calories; 15g fat; 9g saturated fat; 150mg cholesterol; 4g protein; 19g carbohydrate; 16g sugar; 1g fiber; 60mg sodium; 100mg calcium.
Chocolate Sauce > Charlie Gitto's on the Hill
1 1/2 cups heavy (whipping) cream
6 ounces semi-sweet chocolate chips (see note)
1. In a saucepan over medium heat, bring cream just to a boil. Immediately remove from heat.
2. Add chocolate chips; stir until chocolate melts completely. Pour into a bowl and cool.
Note: For a thicker ganache, increase the amount of chocolate as desired, up to 14 ounces.
Per serving: 270 calories; 23g fat; 14g saturated fat; 60mg cholesterol; 2g protein; 15g carbohydrate; 12g sugar; 1g fiber; 20mg sodium; 40mg calcium.
Charlie Gitto's on the Hill
Penne Borghese from Charlie Gitto's on the Hill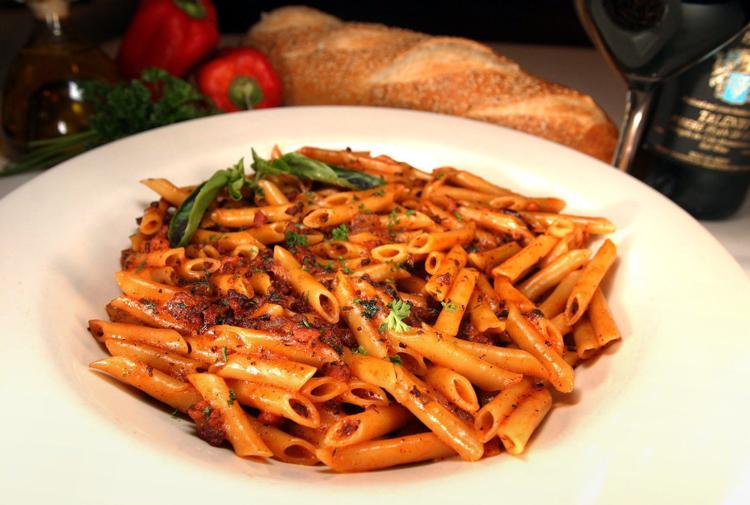 This recipe originally ran in 2004. 
Yield: 4 servings (about 10 cups)
1/4 cup extra-virgin olive oil>
1/2 cup finely diced yellow onion>
1 cup finely diced prosciutto (about >6 ounces)>
1/2 cup chopped fresh parsley>
1/4 cup cognac or brandy>
1/4 teaspoon salt or to taste>
1/8 teaspoon ground black pepper or >to taste>
1 pound penne, cooked according to >package directions and drained>
1/2 cup freshly grated Parmigiano >cheese, for garnish>
Heat oil in a large saute pan or Dutch oven; add onion, prosciutto and parsley. Cook until onion is translucent, about 2 minutes.
Remove the pan from the heat; add cognac, scraping the bottom of the pan with a wooden spoon to loosen any brown bits. Return the pan to the heat.
Add tomato sauce and cream, stirring until well incorporated; cook to reduce slightly. Add salt and pepper. Add cooked penne; simmer, tossing, until pasta is hot and thoroughly coated. Pour onto a platter and serve immediately, garnished with Parmigiano.
PER SERVING:> 1,386 calories; 90.5g fat (59 percent calories from fat); 47g saturated fat; 290mg cholesterol; 35.5g protein; 104g carbohydrate; 13g sugar; 5.5g fiber; 1,581mg sodium; 287mg calcium; 545mg potassium.
Stay up-to-date on what's happening
Receive the latest in local entertainment news in your inbox weekly!