A conveyor belt intended for tires now carries sacks of green coffee to the second floor of Coffeestamp. The belt isn't the most obvious clue that this Fox Park cafe and micro roastery used to be an auto shop. For one, a large garage stands adjacent to its South Jefferson Avenue storefront. But the belt is certainly the most memorable vestige of the address's previous occupants — and one of the most telling details about Coffeestamp itself. Here brothers Patrick and Spencer Clapp are making their own unique path into the St. Louis coffee scene.
The first floor was still home to an auto-detailing and window-tinting business when the Clapps established Coffeestamp on the second floor three years ago. They roasted the coffee there to sell at Soulard Farmers Market.
Last August, they debuted the cafe on the first floor. As with most events that happened in 2020, the pandemic loomed over the opening. After working on their business plan over that winter, the Clapps had signed off on their Small Business Administration loan on March 14, days before the initial shutdown of dining rooms in the region.
The brothers wondered what they would do, but Patrick says there was only one answer: "Like water, you have to flow forward, and that's what we did."
Patrick, 31, and Spencer, 35, came to the United States from Tegucigalpa, Honduras, in 2012. They worked as union carpenters in New Orleans, and carpentry jobs brought them to St Louis in 2016.
Honduras is one of the world's biggest producers of coffee. While the Clapps' family isn't involved in coffee farming, the brothers' childhood friend Miguel Girón owns Finca La Alondra in the Honduran municipality of Lepaterique. Patrick says he had already been saving money toward starting his own business when a conversation with Girón about getting their coffee into the U.S. market inspired him to learn how to roast.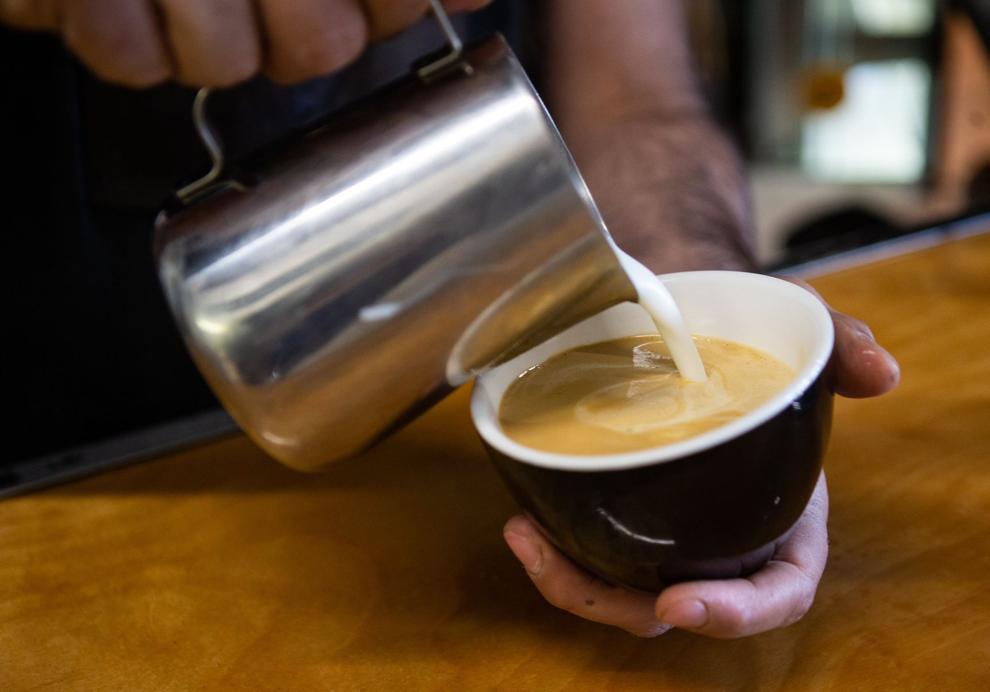 With coffee, Patrick says, "we know the process(ing) and the growing part, but getting the knowledge on the commercial roasting part in the United States … was a completely new experience for us."
Coffeestamp sources coffees from around the world. Selections as I write this include beans from Peru, Rwanda, Colombia and (my recent purchase) a lovely, fruity coffee from Kateshi Estate in Zambia. Patrick says his goal is to have a direct relationship with every producer whose coffee they offer.
The brothers also hope someday to grow their own coffee in Honduras under the guidance of Girón. Patrick describes Girón, an agricultural engineer, as a "visionary."
"But that's a five-year process," Patrick says. "It takes three years to grow coffee to be able to produce actually some cherries."
Coffeestamp's beverage and food menus look to both the cuisines of Latin American and the traditions of U.S. coffeeshops. Alongside the list of coffees, espresso drinks and teas, you'll find horchata; sharing space with the muffins in the pastry case are various flavors of the sandwich cookie alfajor.
Savory options include a wide variety of empanadas, from Argentinian (ground beef, black olive and hard-boiled egg) to breakfast (bacon, egg and white cheddar) to the Napolitana (roasted cherry tomatoes, basil and mozzarella).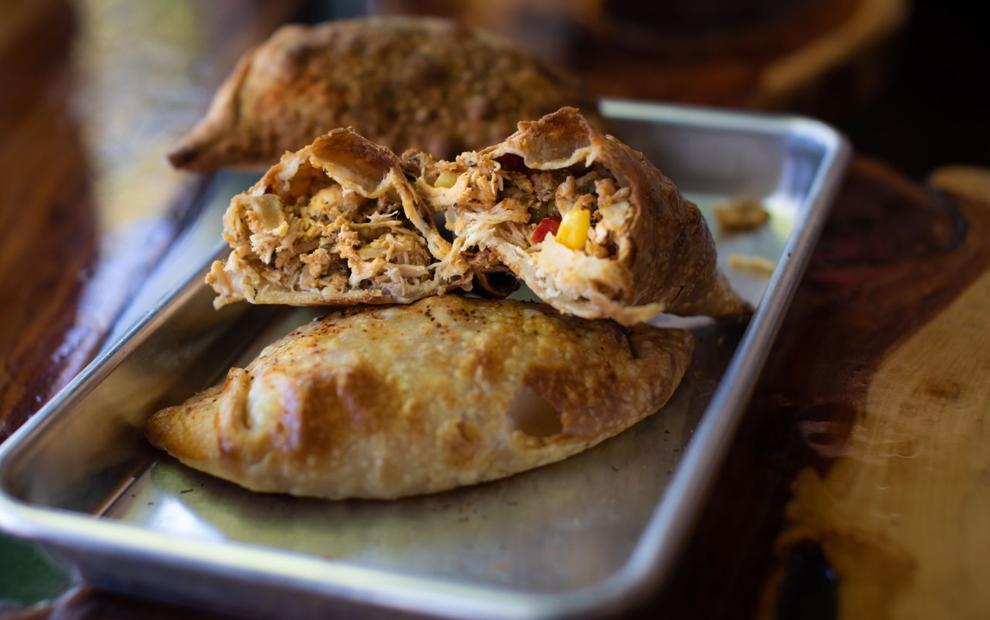 Patrick's fascination with empanadas bloomed while he lived in Chile for three years while attending college. He compares the empanada's cultural role there to the hamburger's here — "that was pretty much our main lunch daily," he says — and he thinks it makes for an ideal handheld savory dish to pair with coffee.
More generally, Patrick says, he's been cooking since he was 5 years old: "I just love being in the kitchen and getting creative, mixing ingredients."
Now, I didn't approach Coffeestamp as I would have for a formal restaurant review, but I've eaten several different versions of its empanadas in recent months, and I'd vouch for any of them.
I also recommend two sandwiches, the Moyete and the Choripan, both served on toasted French bread. The former makes for a light, even refreshing lunch, with slices of avocado, baked red beans, goat cheese and crema. The latter is heftier: plump Honduran-style chorizo and a piquant chimichurri with cilantro, onion and mayonnaise.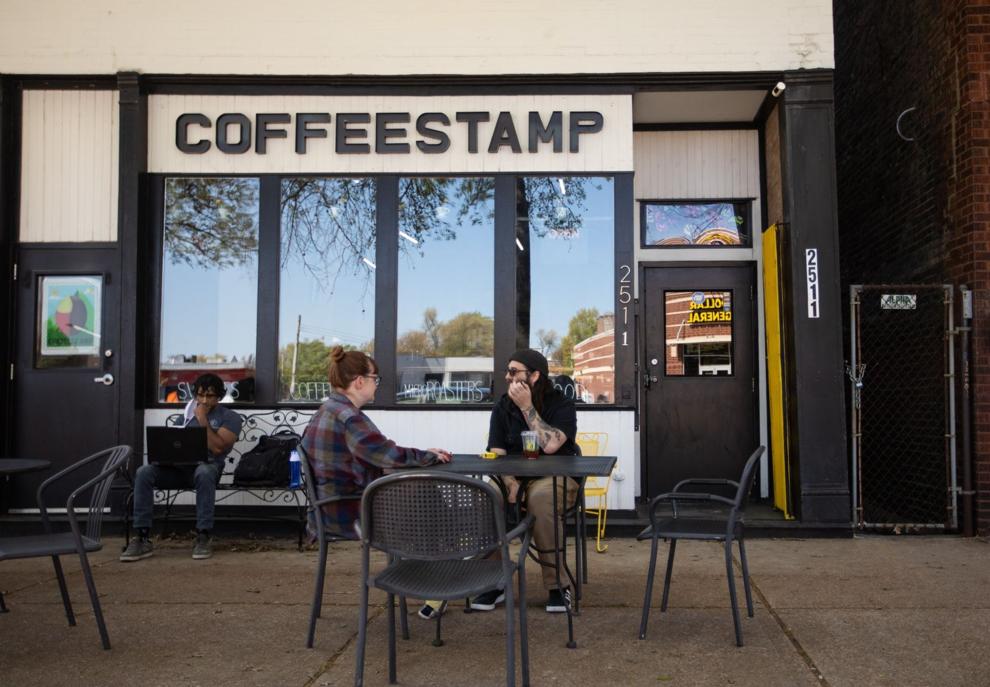 Patrick is excited for Coffeestamp's future in Fox Park.
"We couldn't choose any better place to begin our journey as brick and mortar," he says.
In fact, he just moved to the neighborhood a few months ago.
"We're a business committed to our society around us, you know, our neighborhood, our roots in Honduras," Patrick says. "That's the goal."
Where Coffeestamp, 2511 South Jefferson Avenue • More info 314-797-8113; coffeestamp.com • Menu Coffee, espresso drinks, pastries, empanadas and other savory fare • Current services Dine-in; takeout • Hours 8 a.m.-4 p.m. Monday-Saturday, 9 a.m.-4 p.m. Sunday