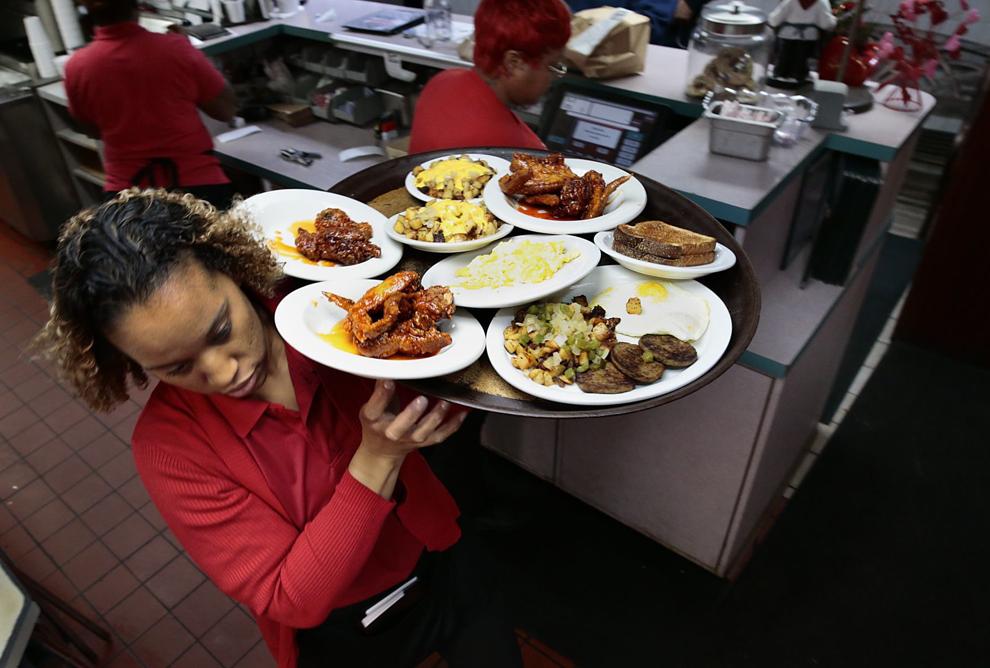 For a few decades, diners dotted the major roads across America.
You could always be sure to get a decent bowl of chili at one, or a hamburger. They served the needs of both travelers and local residents alike.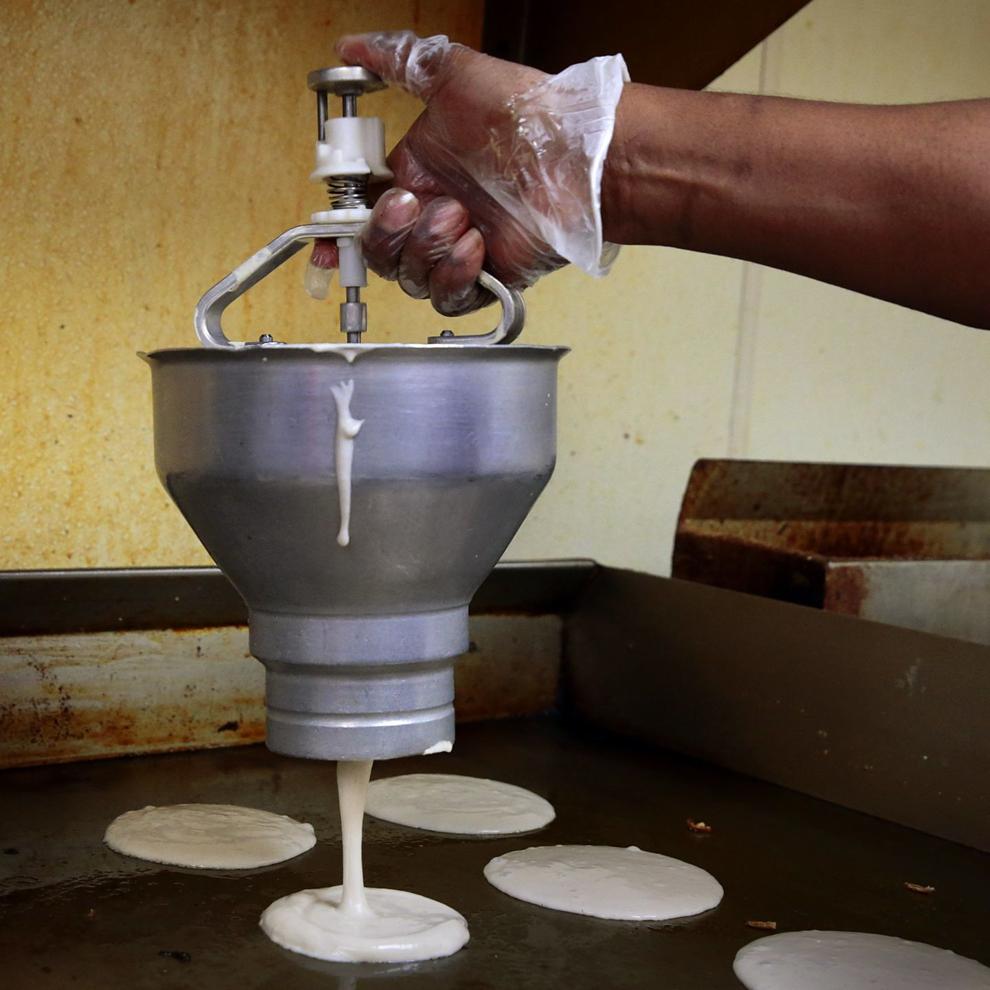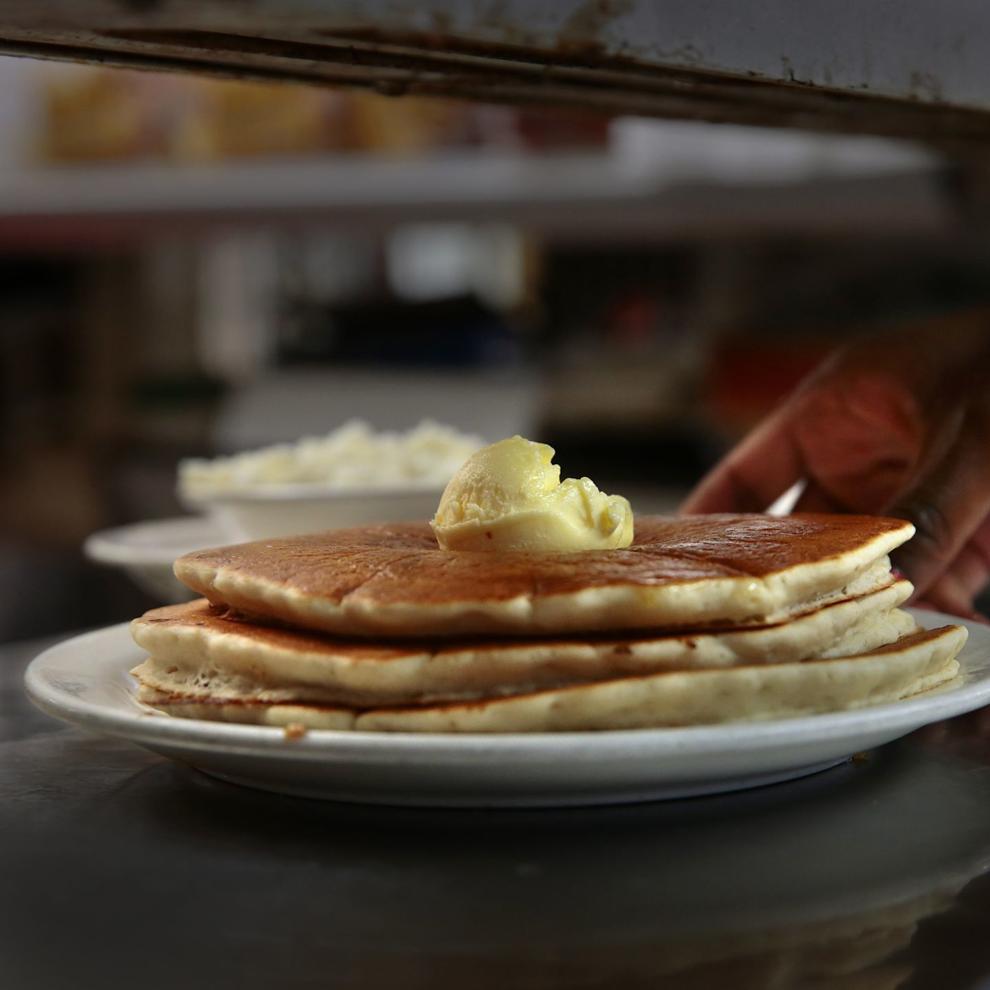 Expressways killed off most of the diners. No longer could travelers pull off the road at any random spot; now they were relegated to specific interchanges where chain restaurants clustered.
But the great American diner is resilient. It is part of our nation's soul. It will never go away entirely. No matter how sophisticated our country's palate gets, there will always be a need for a decent bowl of chili or a hamburger.
Still, a distinction needs to be made between the diners of the Midwest and those of the Northeast.
In the area including New York, New Jersey and Pennsylvania, diners are big, family-run affairs (the families are often Greek). Their multi-age menus are enormous, often with more than 100 dishes — all of which you can be sure will be great. And you can't leave without an enormously high slice of pie, which are invariably on display near the checkout counter.
Midwestern diners are more ordinary, less flamboyant. All they need is a counter with stools.
Breakfasts are a vital part of diners, and around these parts, that should ideally include slingers. Diners should also offer corned beef hash, but you can't have everything (and when you do, all too often it is from a can).
It's a plus if they're open 24 hours, too.
The St. Louis region is blessed to have, frankly, more than our share of diners. We looked at several, going wherever our stomach led us. No family restaurants, no chains, nothing corporate and certainly nothing inside a casino made the cut.
Now serving: More than 30 St. Louis-area diners
Affton Diner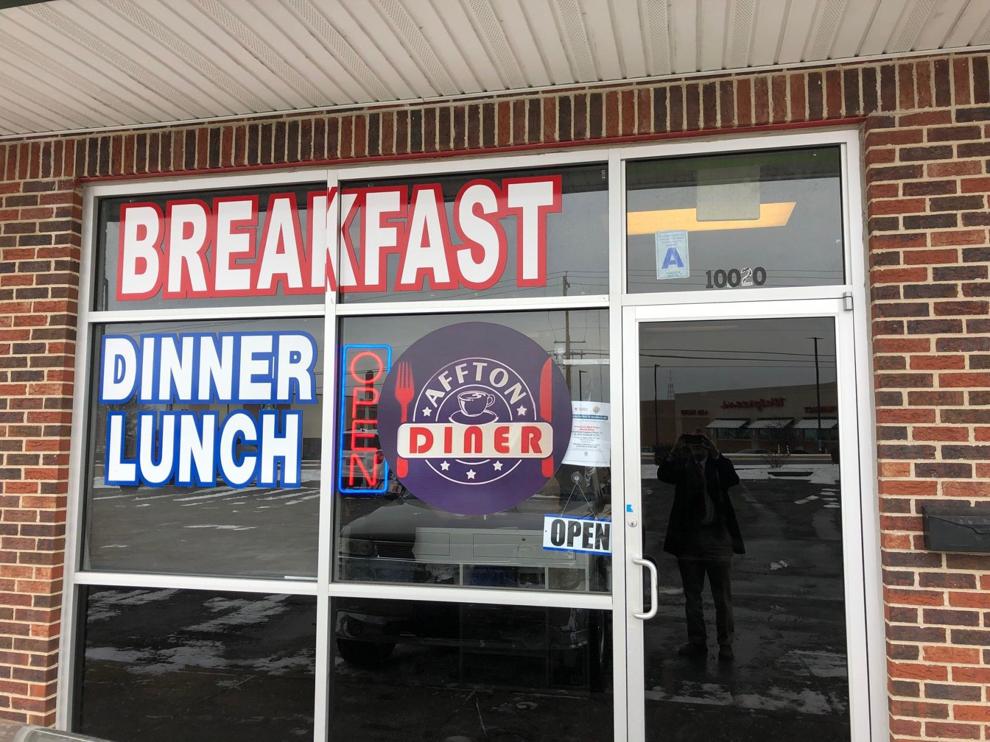 Where 10020 Gravois Road, Affton • Hours 6:30 a.m.-3:30 p.m. daily (except Christmas) • More info 314-631-1911; afftondiner.com
The portions are big and the prices are small at Affton Diner, manager Jonathan Aka says. For instance, the massive omelets are made with four eggs, plus fillings, for just $6.89.
Located in an unassuming strip mall, the diner draws crowds from across the region and travelers from across the nation, Aka says. It is known for its signature French toast, its burgers (including teriyaki burgers and Hawaiian burgers along with the more common mushroom-Swiss and chili burgers) and such down-home diner fare as meatloaf, liver and onions, and country-fried steak.
Allin's Diner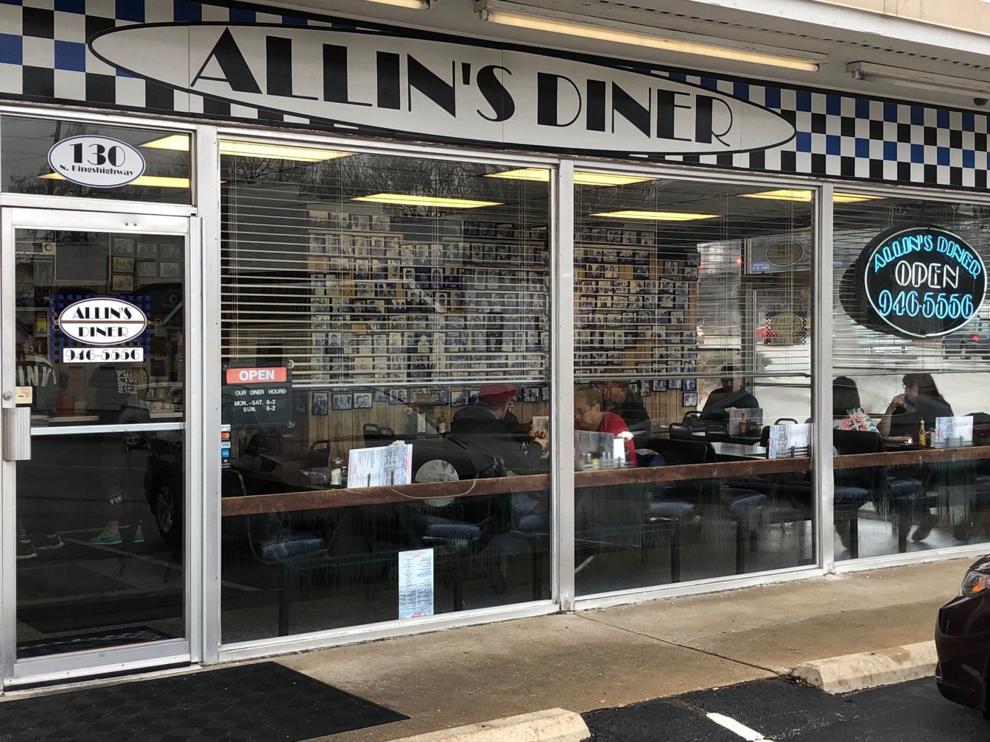 Where 130 North Kingshighway Street, St. Charles • Hours 6 a.m.-3 p.m. Monday-Saturday, 6 a.m.-2 p.m. Sunday • More info 636-946-5556
The décor is unique at this favorite spot for neighbors as well as nearby Lindenwood University students: The walls are covered with photographs of customers, employees, family and friends.
Also unusual is the No. 1 seller, according to 10-year employee Morgan Noah — the breakfast quesadilla. The homemade buttermilk pancakes are big, too, as is, naturally, the slinger.
At lunch, it's the homemade soups that draw attention, often paired with a grilled cheese sandwich, and the made-to-order hamburgers are hand-pattied from 100 percent Angus beef.
Want dessert? The gooey butter cake is homemade, too.
Break-N-Egg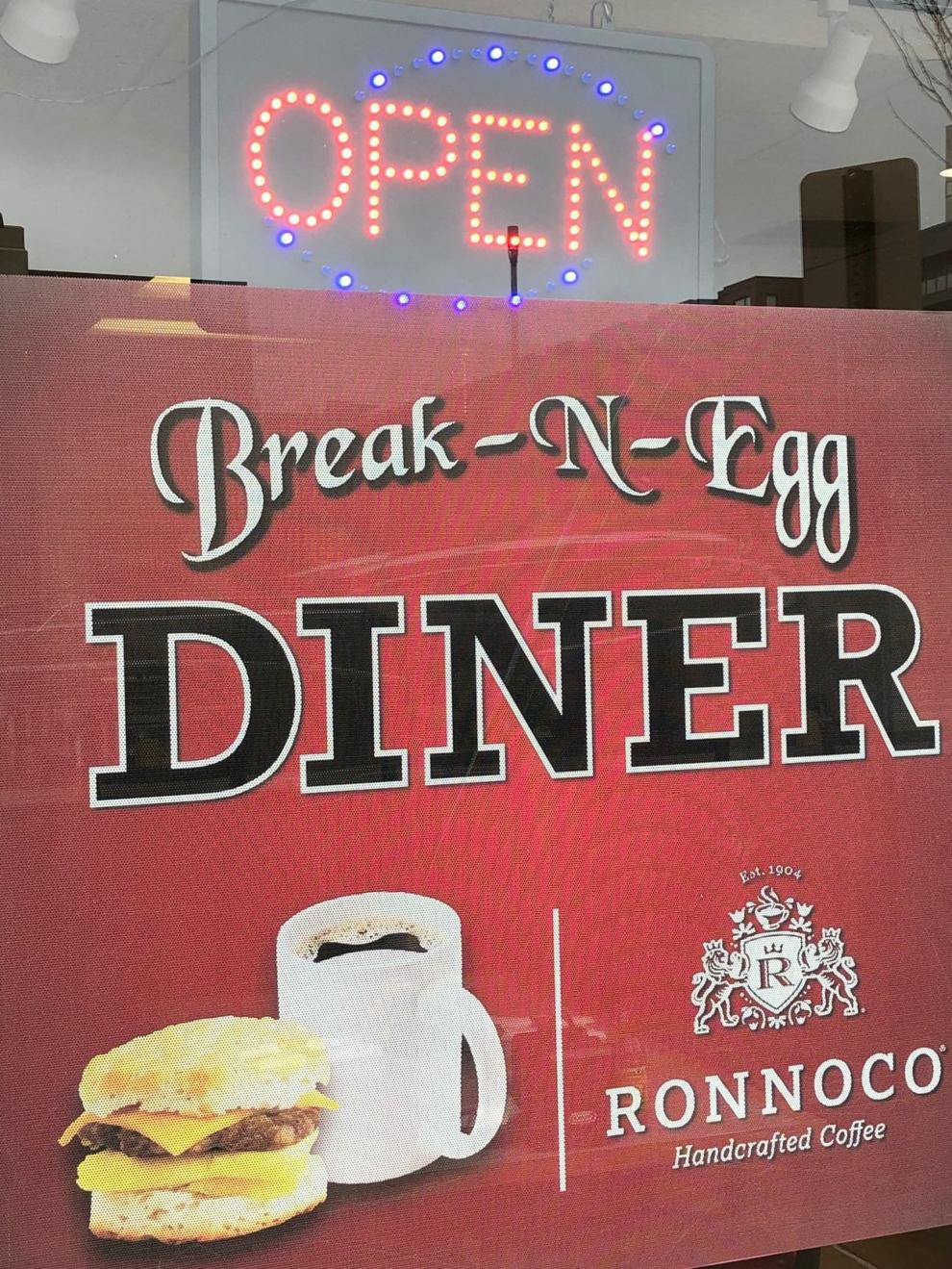 Where 7814 Forsyth Boulevard, Clayton • Hours 6 a.m.-2 p.m. Monday-Friday, 7 a.m.-2 p.m. Saturday-Sunday • More info 314-725-6337
Even during lunch hours, 60 percent to 70 percent of this quiet diner's customers order breakfast, such as omelets and hefty platters, says owner Ruhi Sirkeci. Those who do order lunch food often get gyros and hamburgers.
Sirkeci, a native of Turkey, first became involved in the bar business, he says. He partied every night at the bar, and things got pretty wild. But after he married, some Turkish friends who owned diners suggested he try a more sedate kind of establishment.
"They said theirs was better. They got home at 2 or 3 (p.m.), put on pj's and watched the 5 o'clock news," he says. "If I'd stayed in the bar business longer, I would get in trouble."
The Buttery Restaurant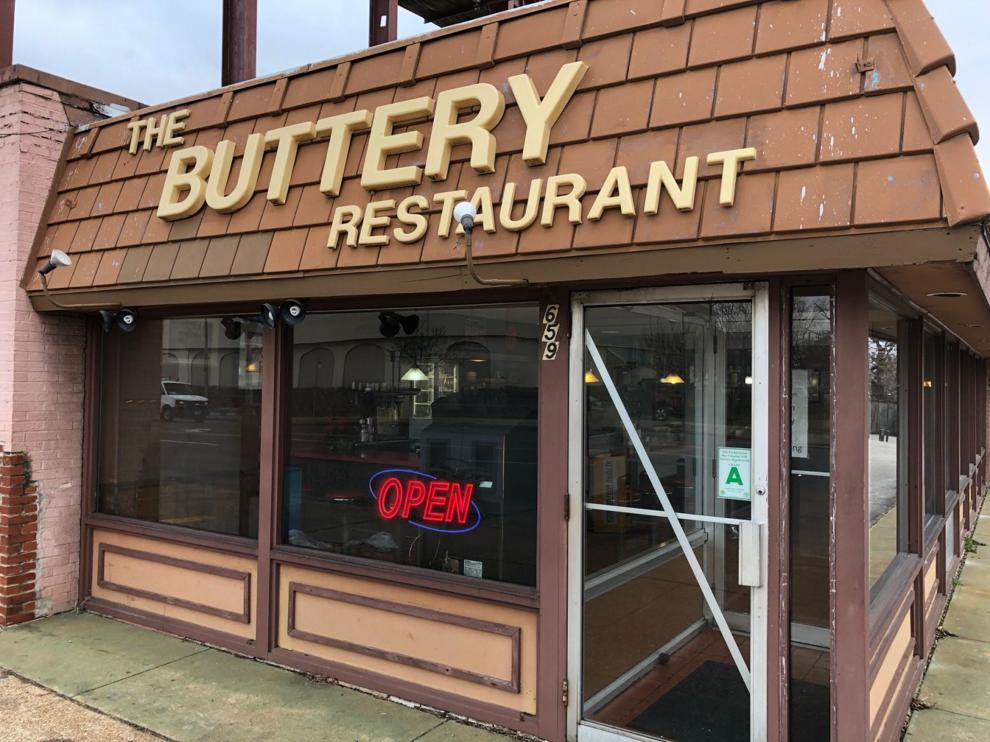 Where 3569 South Grand Boulevard • Hours 24 hours • More info 314-771-4443
Customers at the Buttery may come for the food, but they come back for the staff.
It's not just that the workers put on a show, good-naturedly ribbing and teasing one another. It's also their attitude toward their customers: "I've raised a lot of kids in here," says cook Dottie Liszewski, who has worked at the South Grand staple for more than 40 years.
The breakfast crowd starts pouring in around 7 a.m., ordering pancakes, eggs and bacon. Breakfast, which is served all day, outsells such lunch and dinner items as hamburgers and pork chops, but these have their fans, too.
It's a different clientele that comes in for breakfasts and for heartier fare, says Ed O'Day. "It's like two different restaurants."
Café Manhattan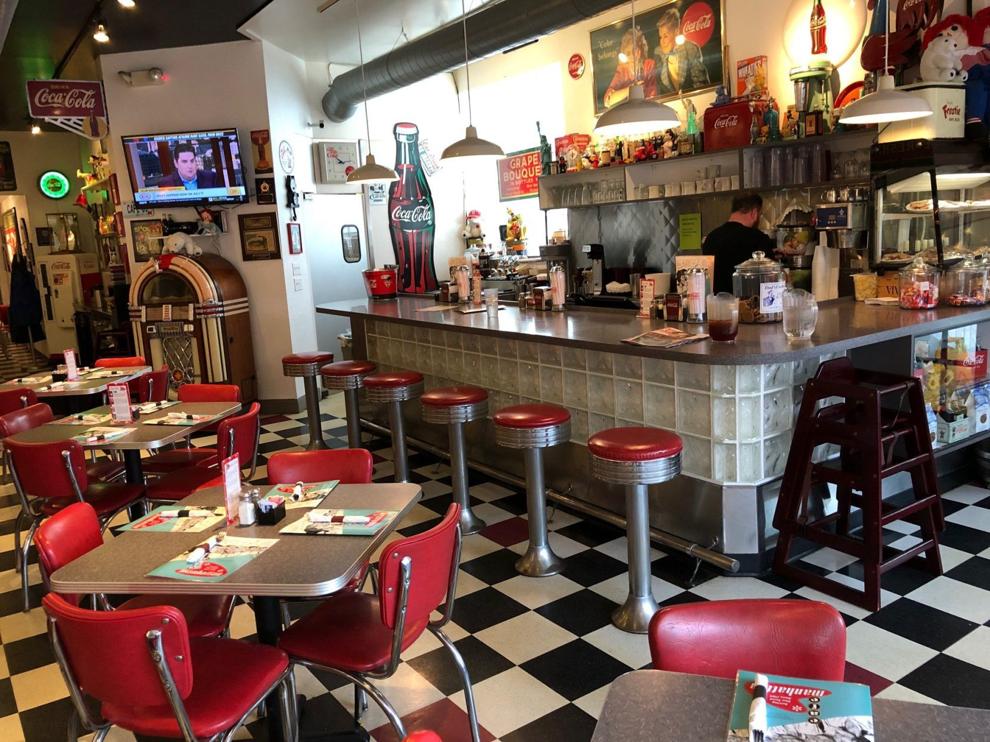 Where 505 South Hanley Road, Clayton • Hours 11 a.m.-9 p.m. Sunday-Thursday, 8 a.m.-10 p.m. Friday-Saturday • More info 314-863-5695; cafemanhattan.net
Although it has the diner/malt shop look down pat, Café Manhattan is new to breakfast; it has only been serving it for a month — and just on weekends. So far, it's served a fair number of omelets, bagels and lox, French toast and pancakes.
It's the St. Louis-style pizza that moves the most in the later hours, according to manager Mike Dreher, with a choice of Provel or mozzarella. Café Manhattan is also known for a couple of unusual sandwiches, the Wall Street (smoked turkey, spinach, white cheddar, tomato and bacon on grilled sourdough with lemon-pepper mayo) and the Manhattan club (Braunschweiger on a baguette, with bacon, lettuce, tomatoes, red onions and a special dressing).
Alcohol is available, but it isn't a big seller. "We're family friendly," Dreher says.
Chili Mac's Diner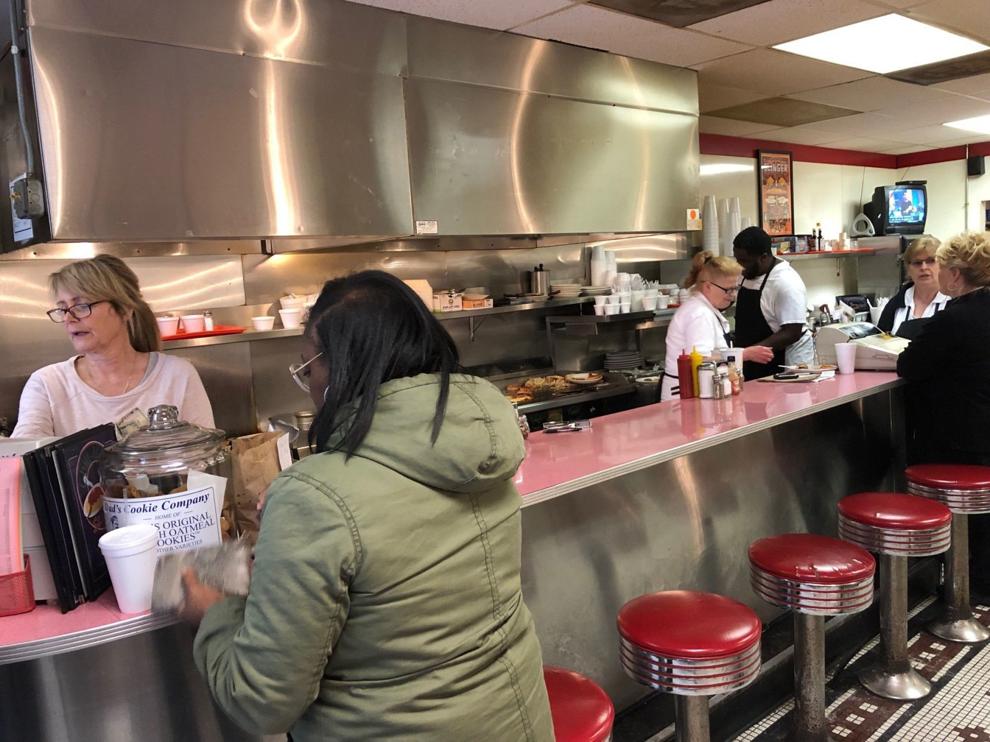 Where 510 Pine Street • Hours 5:30 a.m.-2 p.m. Monday-Friday • More info 314-421-9040
The region's oldest diner has operated under many names and locations since it was founded by O.T. Hodge at the 1904 World's Fair. "We've been kicked around all downtown for progress," says current owner Kris Schneidewind, who has run the diner for almost 15 years, "but guess who's still here?"
With a name like Chili Mac's, the red-and-white diner sells a lot of chili macs, but what it sells the most of are slingers (they were featured on the Travel Channel) and double cheeseburgers, Schneidewind says.
When she first bought the place, Schneidewind says, she had no experience in running a diner. She credits the consistent crowds to the staff, most of whom have been working there for more than 30 years.
City Diner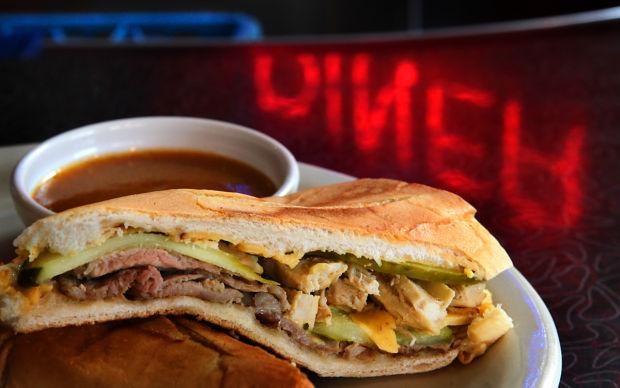 Where 3139 South Grand Boulevard • Hours 7 a.m.-10 p.m. Sunday-Thursday, 7 a.m.-midnight Friday, 7 a.m.-1 a.m. Saturday • More info 314-772-6100; citydinerstl.com
City Diner is the closest thing St. Louis has to a New York-style diner, with an expansive menu featuring many pages of breakfasts served all day (pancakes, omelets, house-made corned-beef hash, slingers), appetizers, soups and salads, burgers, sandwiches (Cuban, turkey club, open-faced roast beef), house specialties (St. Louis ribs, eggplant Parmesan, seafood pasta), dinner plates (country-fried steak, meatloaf, tilapia) and desserts.
There's also a full bar. At City Diner, you can drink and have a slinger at the same time.
Owner Meytham Ali highlights the size of his smoked pork steaks — 16 ounces — and notes that the baby-back ribs are also smoked. He says the customers particularly look forward to the specials, such as prime rib. But the most popular dish is the Southsider: two eggs and hash browns, served with homemade biscuits and homemade sausage gravy.
And of course they also serve chili. "What kind of diner doesn't have chili?" he says.
Courtesy Diner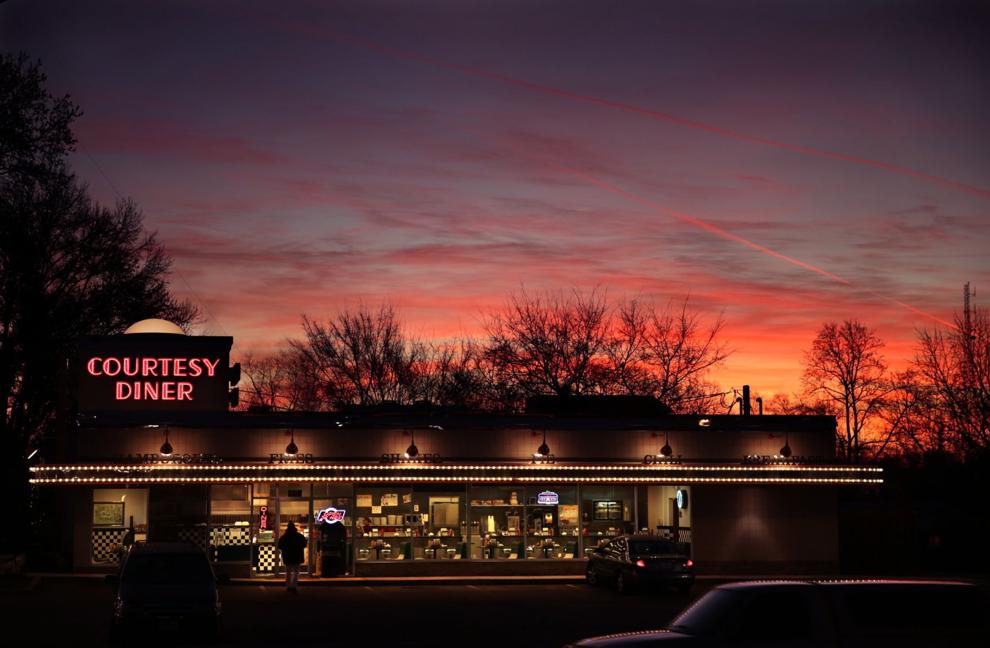 Where 3155 South Kingshighway (314-776-9059); 1121 Hampton Avenue (314-644-2600); 8000 South Laclede Station Road (314-553-9900) • Hours 24 hours • More info courtesydiner.com
Since 1935, this small local chain — at one time, it boasted a dozen outlets across the country — has been dishing out sizzling hamburgers, fresh eggs and bowls of chili.
For Savannah Weems, who works at the Kingshighway location, the secret to the diner's success is the people: "Everybody that comes in here has been coming in here for so long. They're so friendly. It's like we're all friends," she says.
But it's also the food, such as the best-selling slinger, which she calls "one hell of a meal. It's piled. It's awesome."
The crowds can get raucous late at night, when the bars close, and patrons have been known to sing and dance along with the well-stocked jukebox.
There's nothing fancy or pretentious about Courtesy Diner.
"It's very simple, but it's classic," Weems says.
Dave's Diner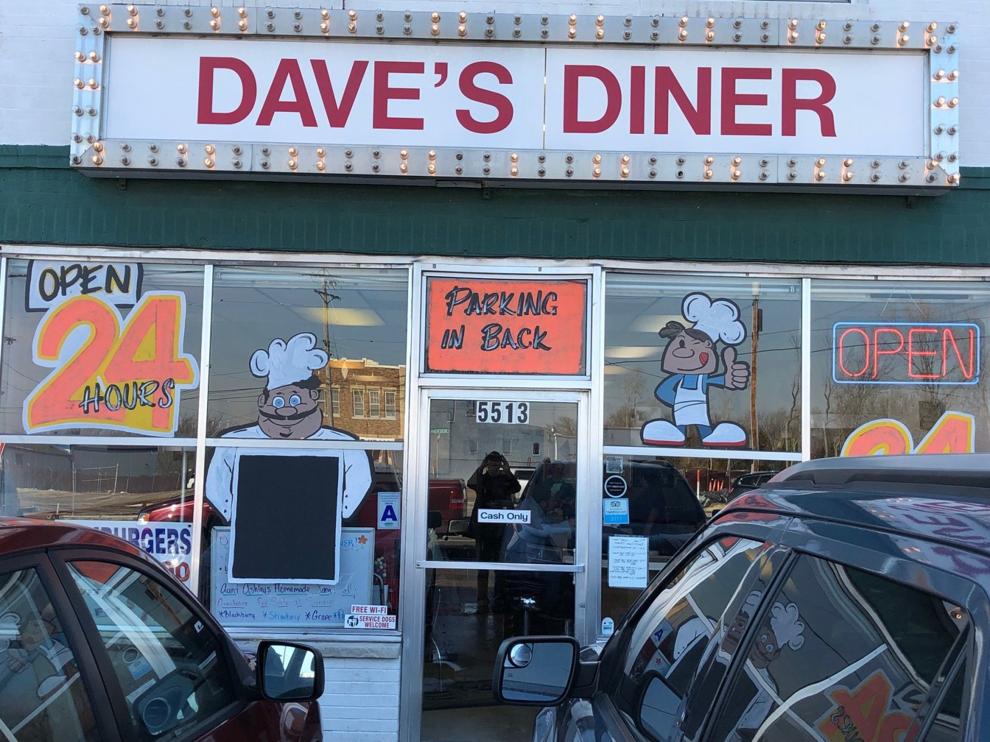 Where 5513 South Lindbergh Boulevard, Affton • Hours 24 hours • More info 314-842-1514
Open on the strip-mall site of a former Eat-Rite diner (and owned by a former Eat-Rite cook and manager), Dave's has been the home of homemade meats for about seven years.
That means homemade roast beef for open-face sandwiches. Even better, it means homemade corned beef hash.
As with a lot of diners, Dave's is busiest on weekend mornings, when it sells a flock of slingers. According to employee Ashley Cavenaugh, the overnight crowd tends to be younger until early breakfast begins for people working the 4 a.m. shift.
The Diner
Where 401 Monsanto Boulevard, Sauget • Hours 6 a.m.-3 p.m. Monday-Friday; 6 a.m.-1 p.m. Saturday-Sunday • More info 618-482-3850; thesaugetdiner.com
They used to say that truck drivers always knew the best places to eat on the road. The Diner draws plenty of truckers, cops and crowds of nearby workers during the busy lunchtime crush.
Burgers — including patty melts and the Big Burger, with chili, cheddar cheese and an onion ring — come flowing out of the kitchen, along with sandwiches, salads and such breakfast items as a hearty, chili-covered omelet. The Diner also offers daily specials, a children's menu and hand-dipped milkshakes.
The hard-working wait- and kitchen staff keep up a steady stream of banter, prompting one regular to say that he loves the food, but he really comes for the show.
Downtown Diner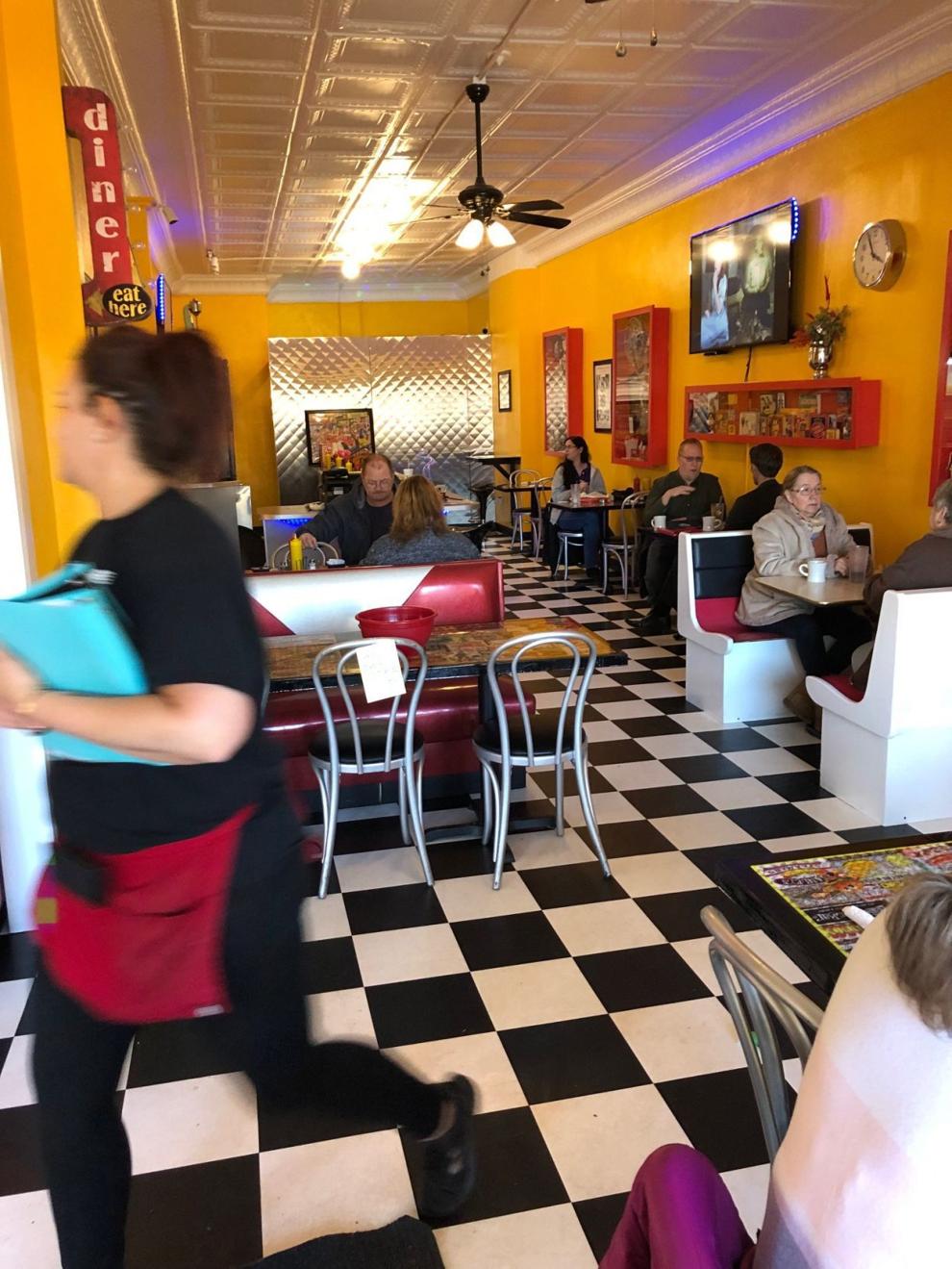 Where 1318 Niedringhaus Avenue, Granite City • Hours 24 hours • More info 618-501-1680
Only open since October, this cheerfully decorated diner has already made a splash in Granite City. It does a steady business all day long.
Owner Brenda Whitaker says all the memorabilia lining the walls (including some of her old girlhood toys and a working 10-cent pay phone) has a purpose: "For those of a certain age, I hope it's a trip down memory lane, but for a younger generation, I hope it's something new and exciting for them to see."
The nostalgia extends to the classic diner menu, which includes some dishes Whitaker recalls being served as a student at School District No. 9 in Granite City. The Tuna Bumstead is a tuna melt served on a hot dog bun with melted cheese. And the Chili and Peanut Butter Sandwich is a bowl of chili and a peanut butter sandwich, just like they used to serve at school. A lot of customers dunk the sandwich in the chili, she says.
Eat-Rite Diner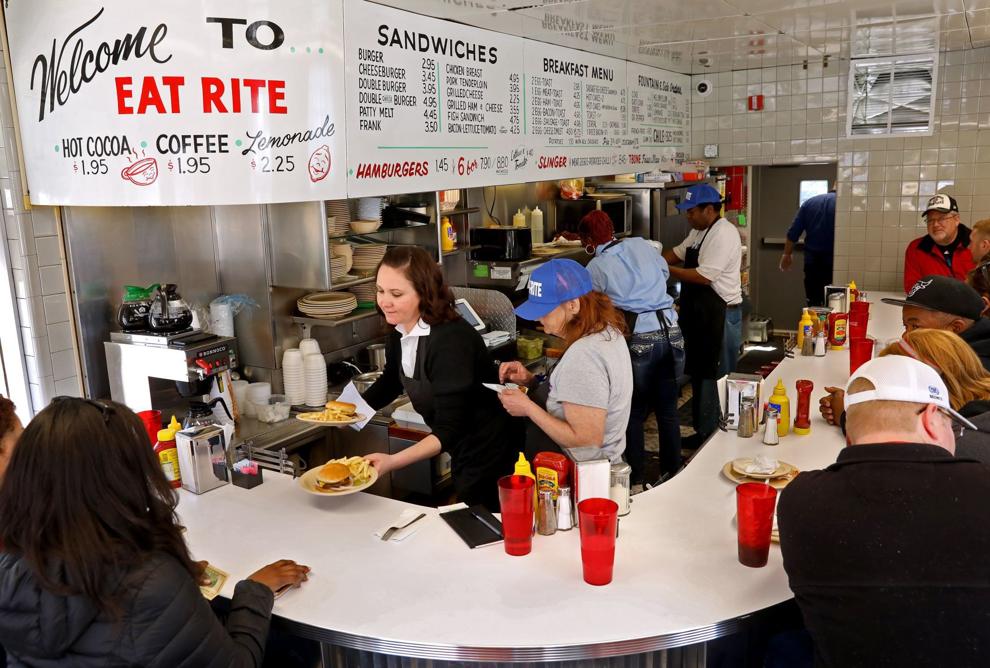 Where 622 Chouteau Avenue • Hours 6 a.m.-midnight Monday-Saturday, 8 a.m.-4 p.m. Sunday • More info 314-621-9621
The Eat-Rite is a diner's diner and perhaps the most iconic eatery in St. Louis. Co-owner Joel Holtman says the little white-brick building constructed to be a doughnut shop in 1939 has "been there longer than both Busch Stadiums, it's been there longer than the Arch, it's been there longer than many other St. Louis monuments."
Although the slinger is reputed to have been invented at a now-closed Eat-Rite location, the biggest seller is now the double cheeseburger, Holtman says. The burgers use fresh meat and are hand-pattied every day.
(Allegedly) true story: A guy is sitting at the counter, when a British customer orders takeout next to him. Brit asks if American likes music. American says yes, and when asked what kind says he likes the Rolling Stones. "So do I," says British guy, who gets his food and leaves. Only then does the cook tell American guy, "That was Keith Richards." The Stones were playing at Busch Stadium that night.
Florissant City Diner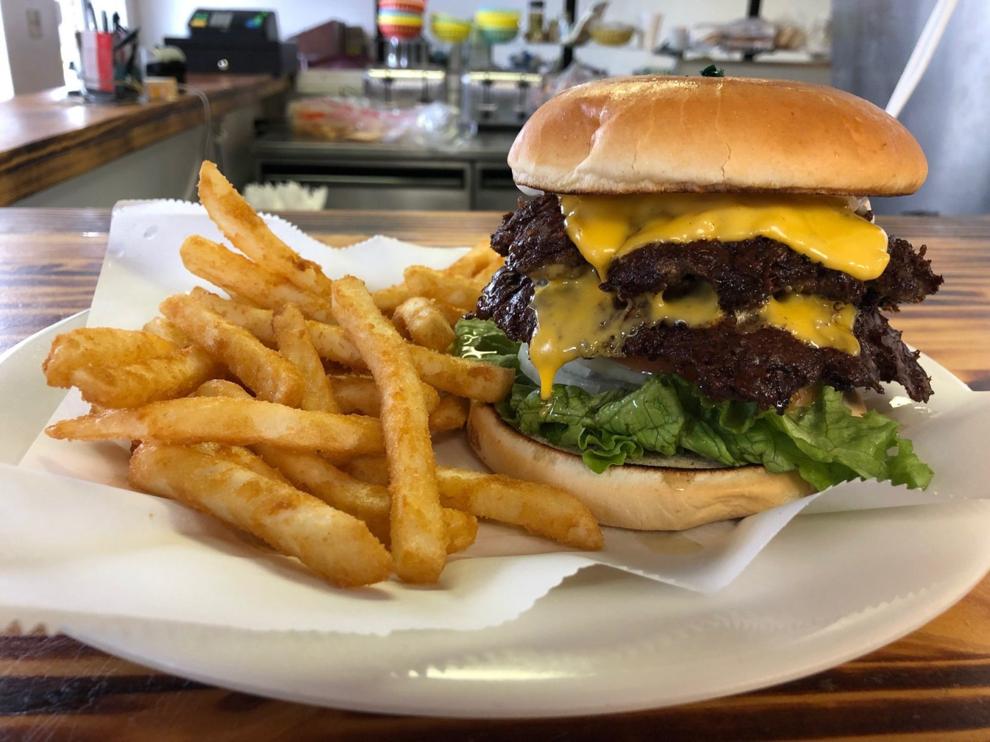 Where 1060 St. Francois Street, Florissant • Hours 7 a.m.-2:30 p.m. daily • More info 314-831-4375
Florissant City Diner, which has been in business for 14 years, sometimes does things its own way. What everyone else in town calls a slinger, it calls a Fiesta Skillet. The best-selling handmade hamburgers come piled so high they resemble small mountains.
And then there is the apparently unique pancake sandwich, in which a slice of baked ham is surrounded by two large pancakes and topped with two eggs.
Server Nichol Barnes says the restaurant draws a mostly older clientele, with a fair sprinkling of youngsters, and it includes many of the most familiar faces in Florissant.
"It's like family," she says. "We treat people like family. It's a lighthearted, fun atmosphere."
G/B Grill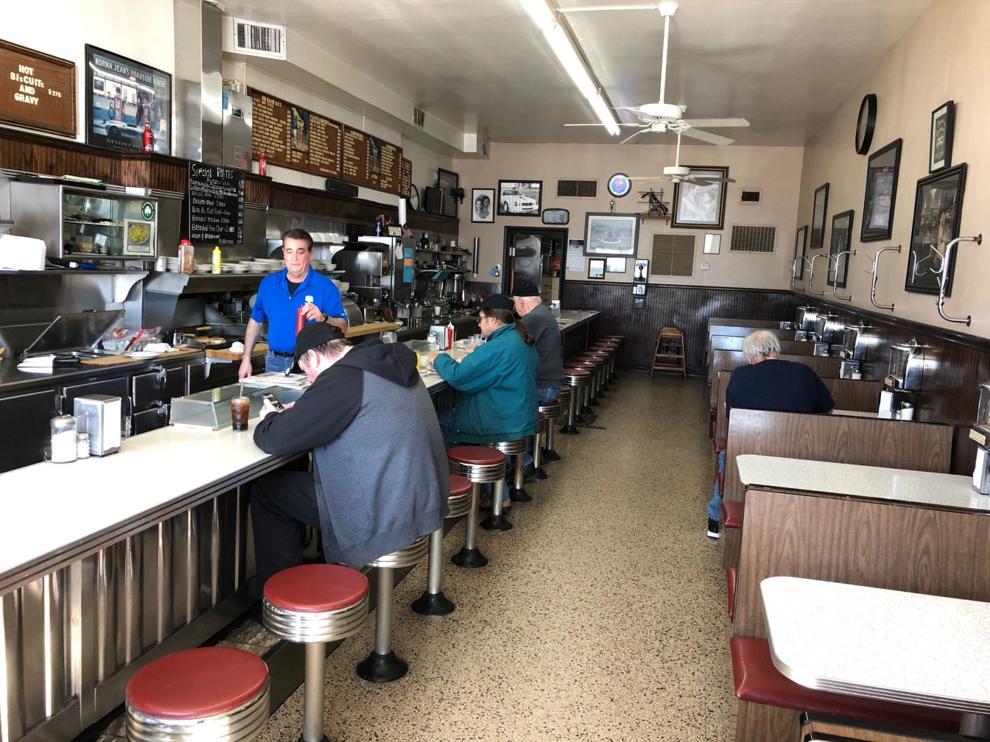 Where 1858 East Broadway, Alton • Hours 6 a.m.-3 p.m. Wednesday-Saturday • More info 618-465-9896
A man walks into this old-school diner (it's been owned by the same family since 1910) and is asked "What do you want?" His answer: "What do you think?"
The G/B Grill is like that — the regulars come in and know exactly what they want to order, from the Vegas omelet (with ham, cheese, green pepper and onion) to the biscuits and gravy. Some of the regulars even bus their own dishes; that's how much they feel like family.
Angelo Boukas, son of owner Jim (who has been there since 1968), proudly points out that the diner is the only restaurant in Madison County to receive nothing but a 100 rating from the health department in its history.
For people who don't get breakfast, the daily specials are particularly popular. Friday is chicken and dumplings. Get the chicken and dumplings.
George's Diner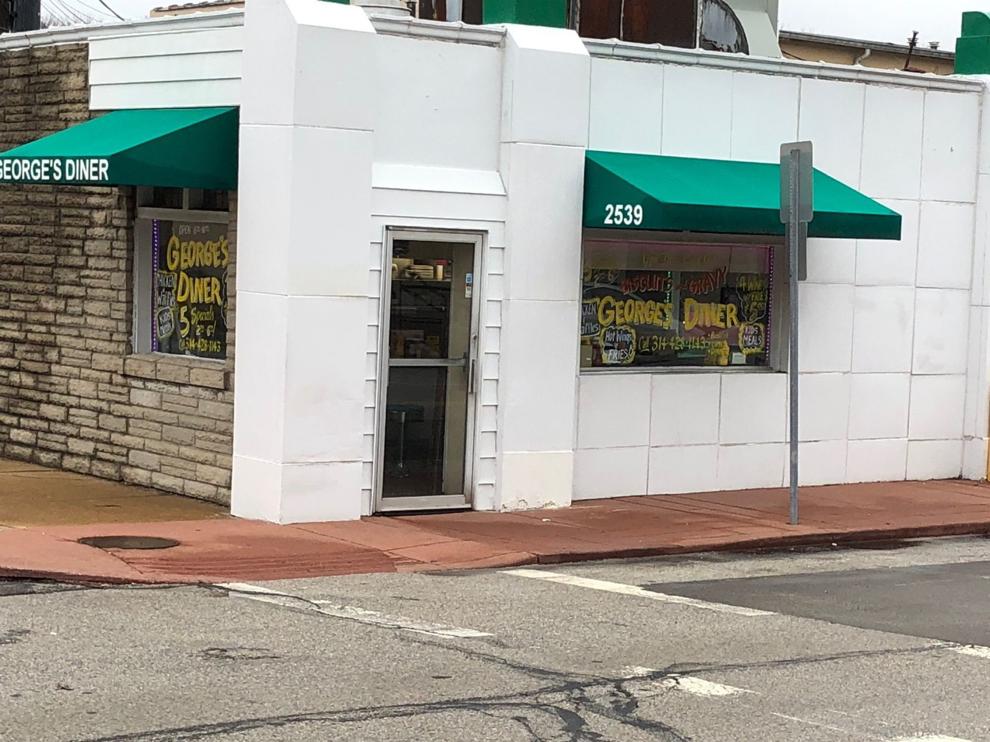 Where 2539 Woodson Road, Overland • Hours 6 a.m.-10 p.m. Monday-Saturday, 6 a.m.-2 p.m. Sunday • More info 314-428-1143
Overland's distinctive corner diner has been around since 1931 or so, with few changes. Last summer, it was bought by America's Choice for Realty, but the new owners are keeping everything the same.
Actually, the hours have expanded, but the recipes all go back at least to the George of the name, two owners ago. Everything is homemade, from the biscuits to the hash browns to the pancakes.
Goody Goody Diner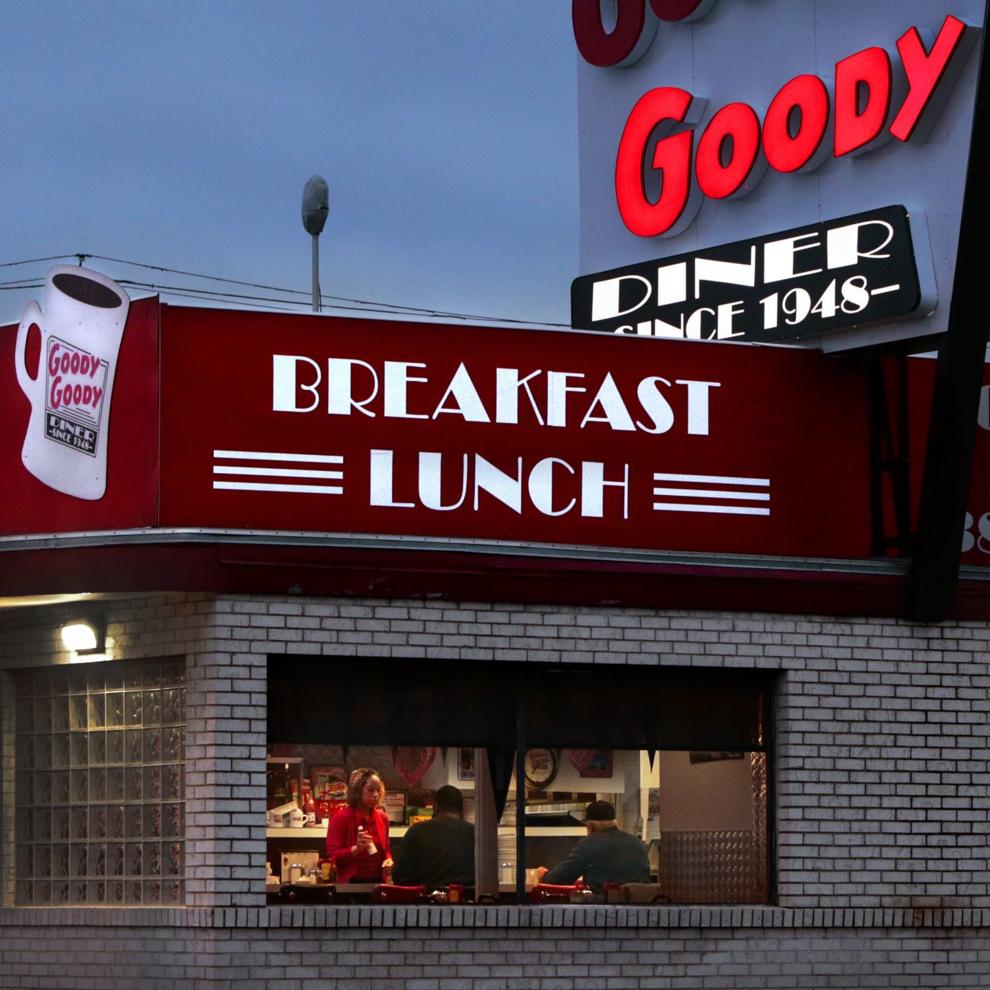 Where 5900 Natural Bridge Avenue • Hours 7 a.m.-2 p.m. Monday-Saturday, 8 a.m.-2 p.m. Sunday • More info 314-383-3333; goodygoodydiner.com
Built up from an old A&W Root Beer stand in 1948, this north city landmark has many things you would expect to find in an older diner: chrome accents, a red-and-black color scheme, breakfast served all day. But it also boasts a couple of things that make it unique.
One is what is arguably the best fried chicken and waffles in the area, if not the nation. With a specially seasoned breading, and a special glaze to make the breading stick to the chicken, it's the No. 1 seller by far.
The other ace in the hole is host Sly Bell, who has been greeting guests and bidding them farewell with his own inspiring poems since 2010. So popular have his poems become that he is publishing a book of 30 of them, called "Believe to Achieve," next month; 300 copies have been ordered already.
Hilary's Roadhouse
Hilary's Roadhouse had a fire last week and is currently closed. According to the restaurant's Facebook page, it plans to "get our beloved Hilary's back up and running as fast as possible."
Itty Bitty Restaurant
Where 512 East Chain of Rocks Road, Granite City • Hours 7 a.m.-8 p.m. daily • More info 618-797-1337; ittybittyrestaurant.com
As its name suggests, the Itty Bitty is not large. But it is full of faithful regulars who chow down on hand-pattied burgers and especially the cheeseburgers (your choice, American or Swiss cheese). Biscuits and gravy are also big at breakfast, which is of course served all day.
The Itty Bitty has something few if any other diners in the area offer: its own delivery. Customers call or order online — or make reservations. When a place is itty bitty, a reservation can be key.
Jenny's Diner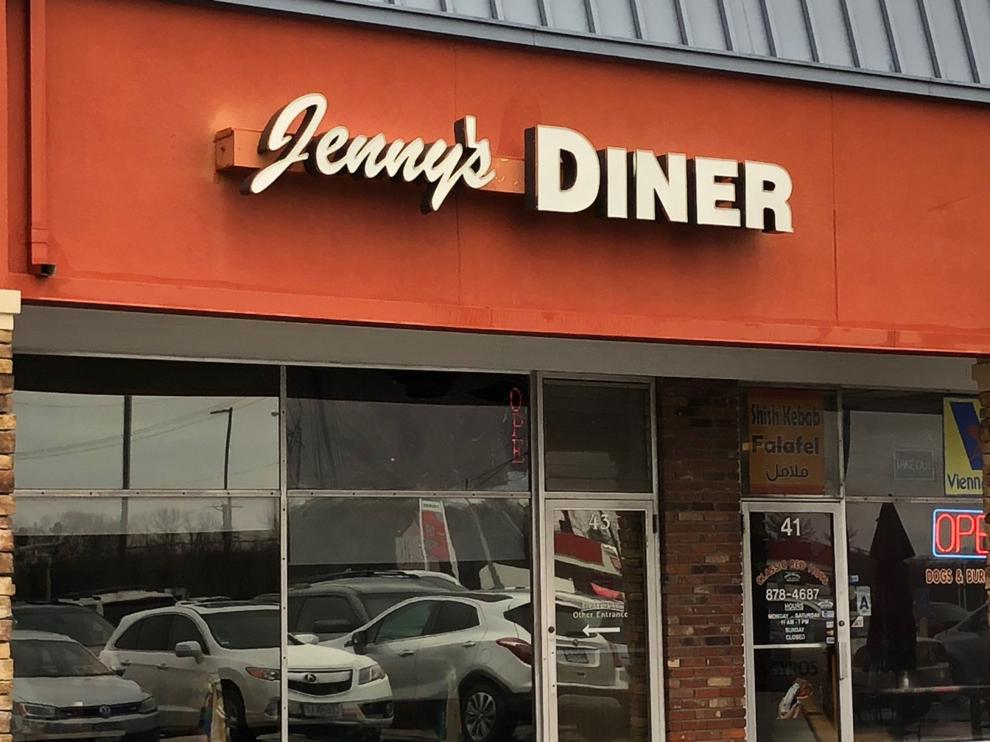 Where 45 Forum Shopping Center, Chesterfield • Hours 6:30 a.m.-2:30 p.m. Tuesday-Sunday • More info 314-548-1001
Jenny's has been plating breakfasts and lunches for seven years, especially the "country fresh" egg platters featuring a choice of one, two or three eggs, plus hash browns and toast and a choice of meat. The half-pound hand-pattied burgers and patty melts are popular lunch items, too.
New owner Betty Phiri bought the restaurant from the original Jenny in November, but she plans to keep it just the way it was. After all, she has been a big part of the restaurant's family for several years and knows all the regulars.
"I worked here as a waitress. I left for three years, and when I came back it was all the same faces," Phiri says.
Jojo's Diner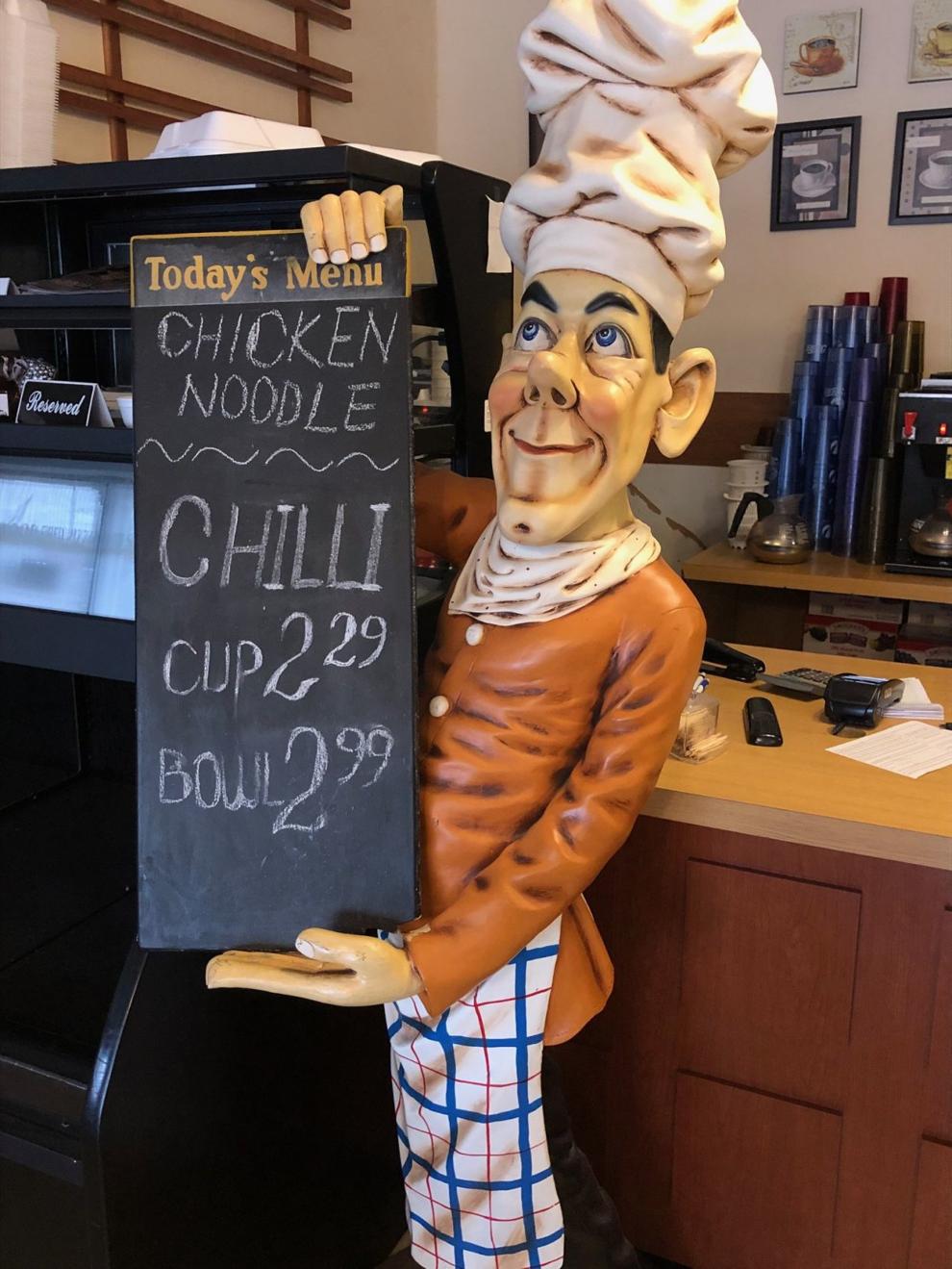 Where 6849 Howdershell Road, Hazelwood • Hours 7 a.m.-2 p.m. Monday-Friday, 6:30 a.m.-2 p.m. Saturday-Sunday • More info 314-895-1400
About 70 to 75 percent of the customers are regulars, says employee Tiffany McGuirk, and a lot of them are retirees. That's why the breakfast crush usually begins around 9 a.m. on weekdays and 8 a.m. on Saturdays. On Sundays, she says, the faithful come in after church.
Breakfast is the most popular meal, especially the plates offering one, two or three eggs along with home fries, toast and a choice of meat. French toast is also a big seller, McGuirk says.
It's the kind of home away from home where "all the regulars know each other," she says.
Kingside Diner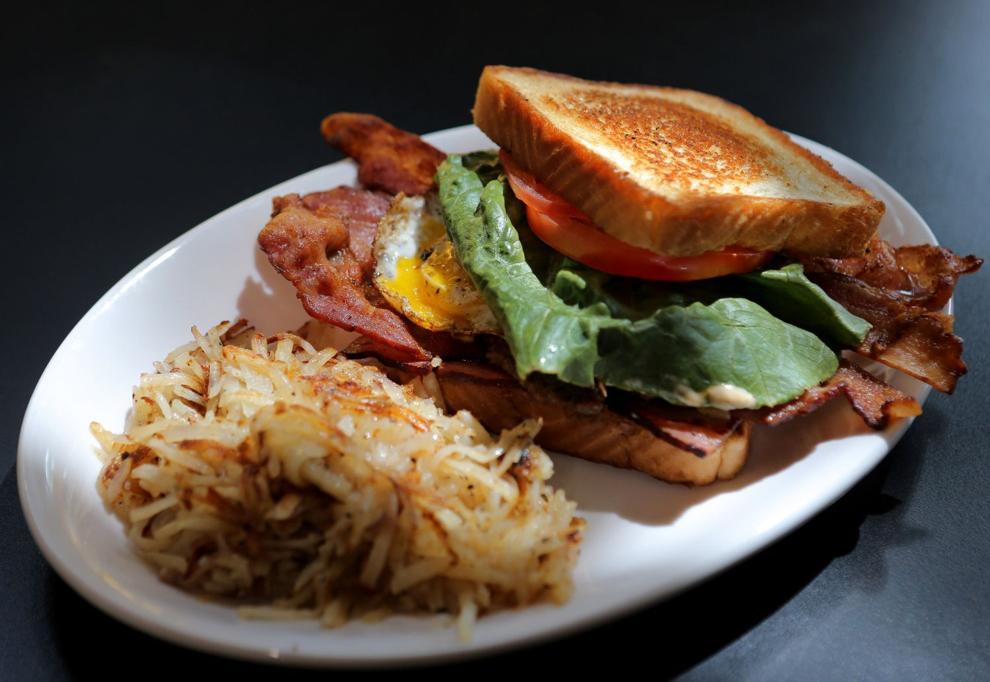 Where 4651 Maryland Avenue (314-454-3957); 8025 Bonhomme Avenue, Clayton (314-230-9020) • Hours 6 a.m.-2 p.m. daily; Clayton location also open 4 p.m.-midnight Thursday-Saturday • More info kingsidediner.com
As befits its well-appointed locations in the Central West End and Clayton, Kingside is an upscale diner featuring such items as avocado toast, French toast with a honey mascarpone glaze and an omelet made with Romesco sauce.
The restaurants have a chess theme because the Central West End location is next to the St. Louis Chess Club and across the street from the World Chess Hall of Fame. During major tournaments, parts of the restaurant are used for broadcasting and other tournament activities.
Lady Di's Diner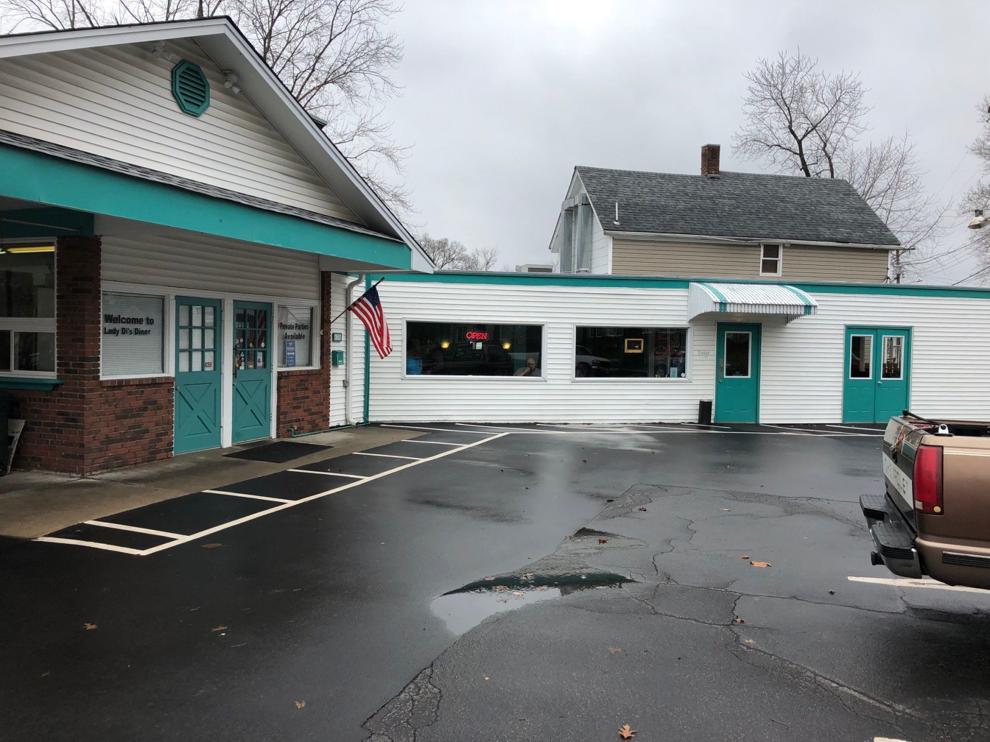 Where 630 North Kingshighway Street, St. Charles • Hours 5 a.m.-1:30 p.m. Monday-Friday, 7 a.m.-1:30 p.m. Saturday-Sunday • More info 636-916-4442; ladydisdiner.com
If you go home hungry from Lady Di's, you're doing something wrong. This is the home of the 10-egg omelet (and some people do order it — with two pancakes) and the tsunami: eggs scrambled in hash browns with bacon, ham and sausage, topped with cheese and gravy, with toast.
Owner Diane Sago, who opened the diner 23 years ago, points out that most of the menu is made from scratch, including a large selection of daily specials, soups and desserts. In the summer, most of the produce comes from local farmers.
Regulars often are treated to a tune from Denise, the singing waitress, but they also come in for the friendly insults flung their way by Sago. It's all part of the Lady Di's experience.
North Main Diner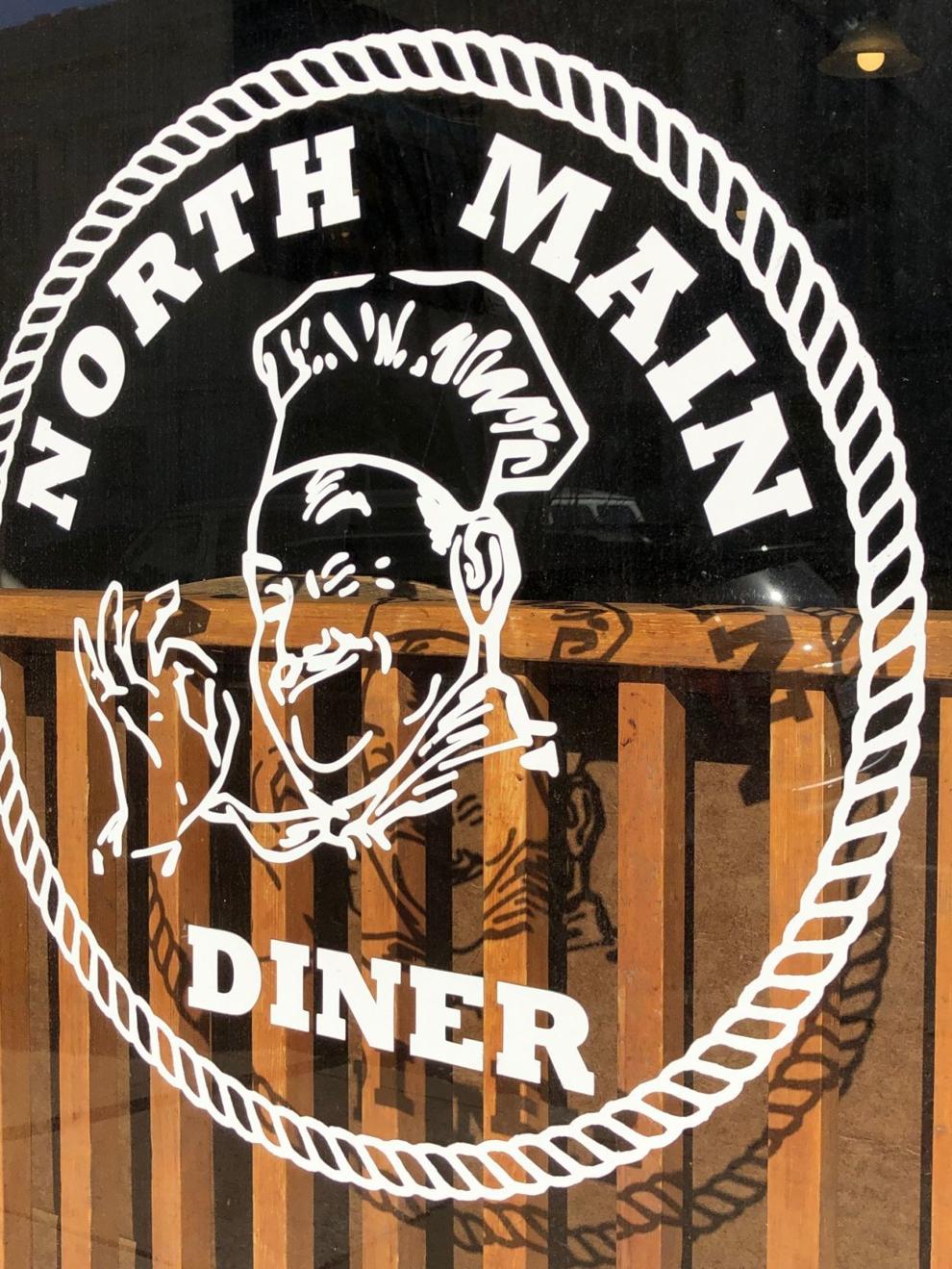 Where 146 North Main Street, Edwardsville • Hours 7 a.m.-3 p.m. daily • More info 618-659-8688
The waitresses wear T-shirts that read "I'm a people greeting, hunger treating, food serving, tip deserving, smile bringing, egg slinging, multi-tasking, never slacking server."
Hard-working owner and cook Becky Hamiti (all three of her daughters work there on the weekends) opened this family-style diner across from the Edwardsville Courthouse, where she serves a steady diet of breakfasts, including omelets, skillets, French toast, pancakes and waffles.
For lunch, she says, the diner is famous for its homemade chicken strips.
Don't miss the nature and animal photographs on the wall, which not only add decoration to the place, but are also for sale.
Olivette Diner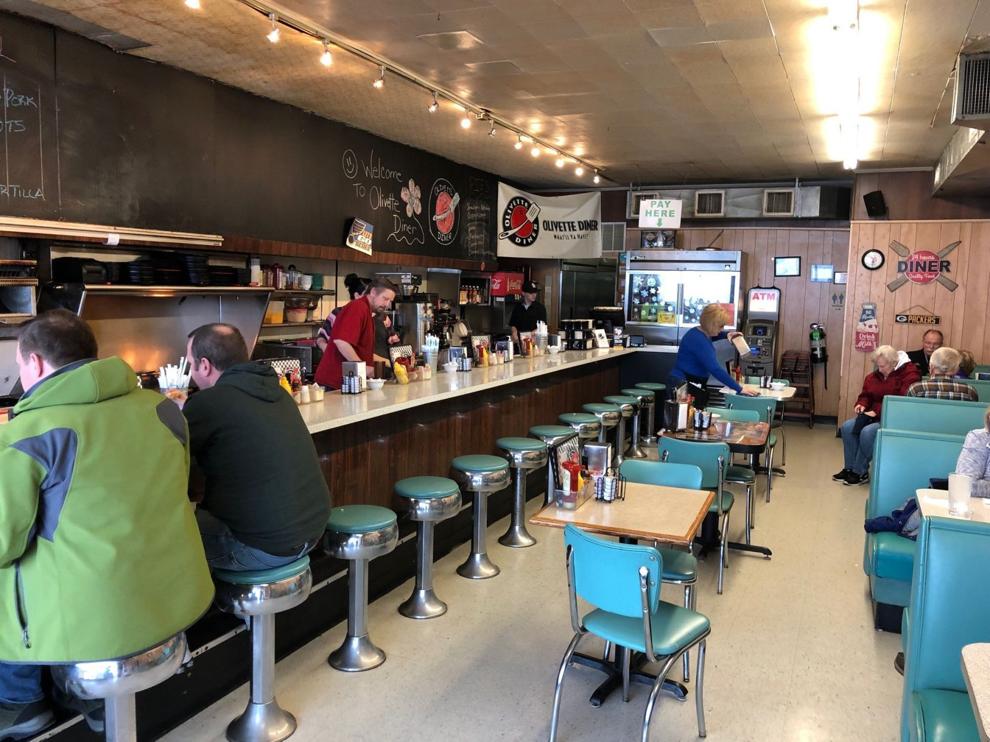 Where 9638 Olive Boulevard, Olivette • Hours 6 a.m.-2 p.m. Monday-Friday, 7 a.m.-2 p.m. Saturday-Sunday • More info 314-995-9945
Don't let the suburban strip-mall location fool you: The Olivette Diner has been there for 60 years, when it was called the Rite-Way Diner. It's the sort of place where they make their own hollandaise sauce, which then finds its way onto several breakfast items, including the popular Hot Hash & Holly — hash browns, diced onions, green peppers, two eggs, cheddar cheese and the hollandaise.
Owner Vince DeBlasi says that regular customers come in every day — and sometimes more than once. Loyalty to the diner can go on for generations.
"We've had people come here, and their kids, and their kids, and their kids," he said.
Fans of local music will note that the band Head East shot an album cover at the diner, back when it was still the Rite-Way.
Peacock Loop Diner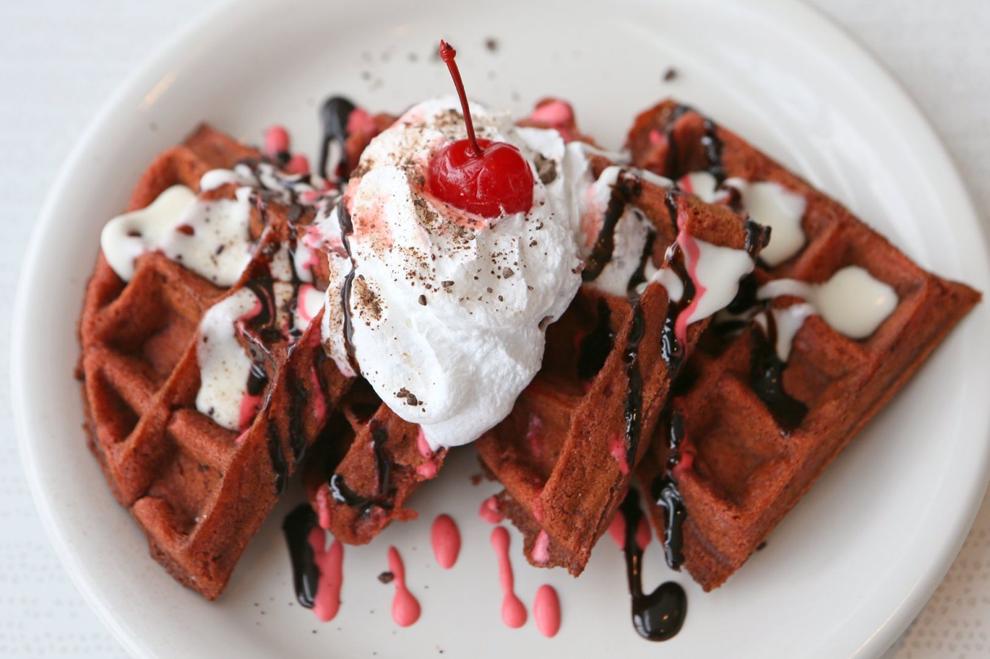 Where 6261 Delmar Boulevard, University City • Hours 8 a.m.-midnight, Sunday-Thursday; open 24 hours Friday-Saturday • More info 314-721-5555; peacockloopdiner.com
The diner concept gets a little hipper at this brightly lighted Delmar Loop hot spot for tourists, Washington University students (many of whom live in the lofts upstairs) and music fans. According to manager Tyler Mohesky, the biggest crowds visit late at night after concerts end at the nearby Pageant and Delmar Hall.
Fans love the diner for its splashy aesthetic (collectible kitsch in display cases, color-changing lights around the counters, Skee-Ball) as for its popular Spicy Shrimp Nachos, burgers and bar.
Don't miss the Peacock's signature snack, the Olive You Cracker. That's a Triscuit with spray cheese and a large, pimento-stuffed olive. It's only 50 cents, and it may change your life.
Sixth Street Diner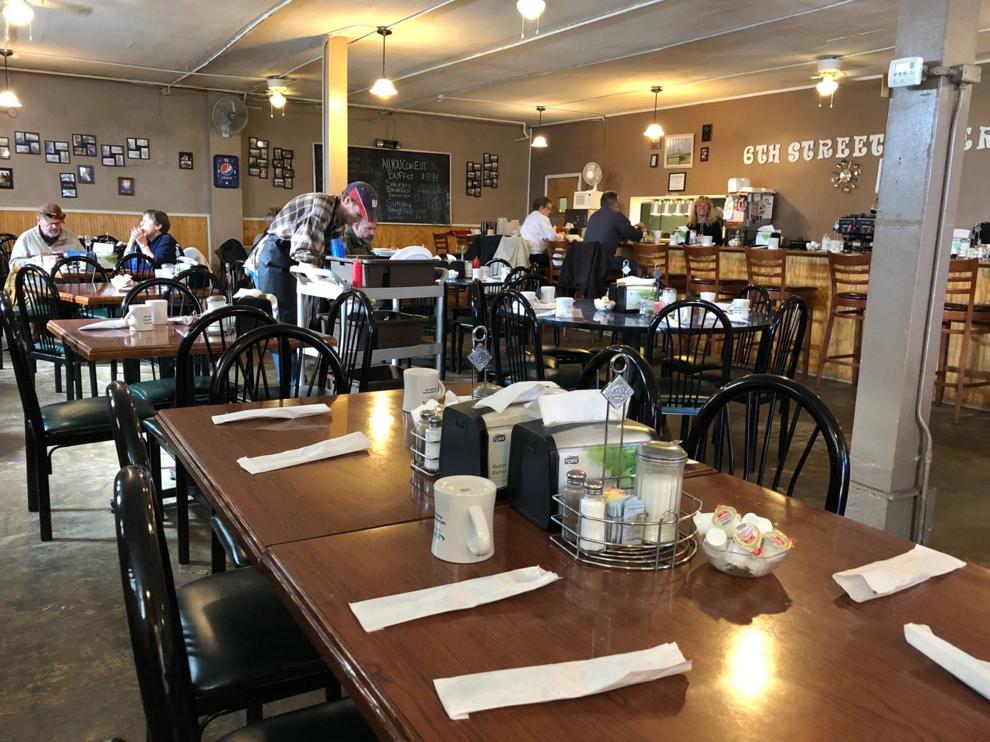 Where 300 South Sixth Street, Wood River • Hours 5:30 a.m.-2 p.m. Monday-Saturday, 7 a.m.-2 p.m. Sunday • More info 618-251-8286
Here's something unusual for a diner: an all-you-can-eat breakfast buffet on Saturdays and buffets for both breakfast and lunch on Sundays. Here's something else that is unusual: The food is cooked with butter.
The dining room is larger than most, but co-owner Kim Bock says it gets packed on weekends. People love the Western potatoes, she says, which are potatoes with ham, cheese, green peppers, onions and tomatoes.
Waitress Sheila Huggins calls the atmosphere laid-back and easygoing. "If you've got a smile, you're in here," she says.
South Main Diner
Where 421 South Main Street, Caseyville • Hours 5:30 a.m.-9 p.m. Monday-Saturday, 5:30 a.m.-8 p.m. Sunday • More info 618-344-4005
At one recent lunch, all of the customers were regulars, and they all knew one another just from the diner. "Everybody knows everybody here," says employee Erica Tegtmeier.
Breakfast is big at the South Main Diner, especially on weekends. Skillets are popular, Tegtmeier says, as are omelets and the Early Bird Special (two pancakes, two eggs and a choice of bacon, sausage or ham), which, despite its name, is served all day.
Plus, there are video slots, of course. It's Illinois.
Customers come from as far as Cahokia and St. Louis to eat there, Tegtmeier says. As customer Susan Maliszewski put it, "it's a hidden gem."
Southwest Diner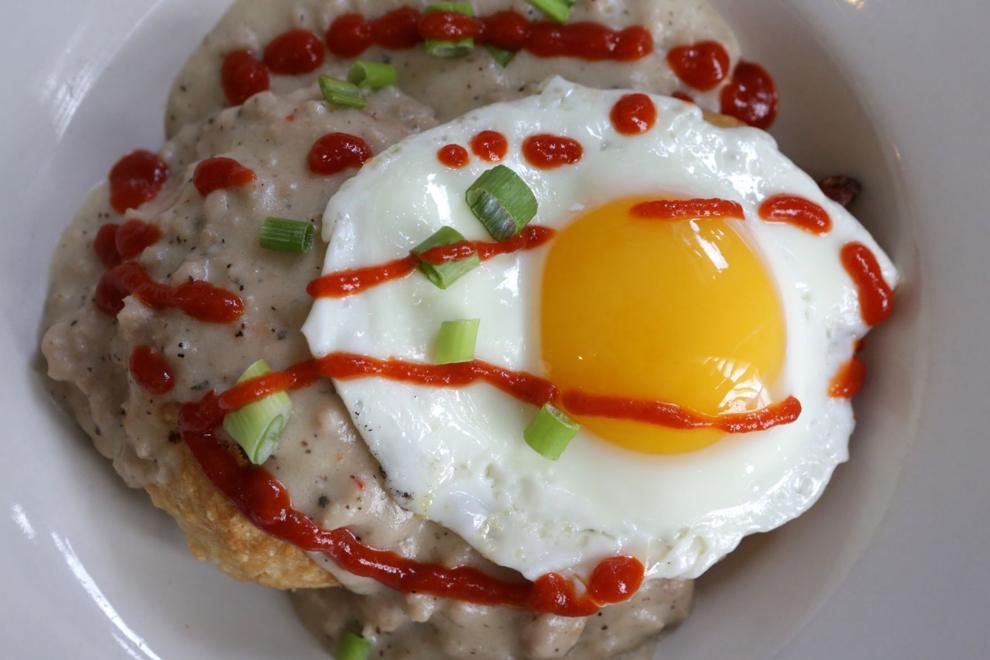 Where 6803 Southwest Avenue • Hours 7 a.m.-2 p.m. Monday-Friday, 8 a.m.-2 p.m. Saturday-Sunday • More info 314-260-7244; southwestdinerstl.com
Co-owners Jonathan Jones and Anna Sidel envisioned their funky Ellendale diner to be like the places Jones remembered from visiting New Mexico. And so their best-selling breakfast burrito is made with green chile sauce made from New Mexico chiles, and their carne adovada — pork shoulder — is braised in red chile sauce.
New Mexican spice can be found on much of the menu (Jonathan's Famous Fiery Scramble, posole and even a green chile cheeseburger). But it's a diner, so you can also find French toast, BLTs, Greek omelets and more.
"I like to look at a diner as a place where everyone feels welcome," Jones says. "It's defined by familiar comfort food. Not a lot of pretense as far as style or service. It's a casual style of service."
Spencer's Grill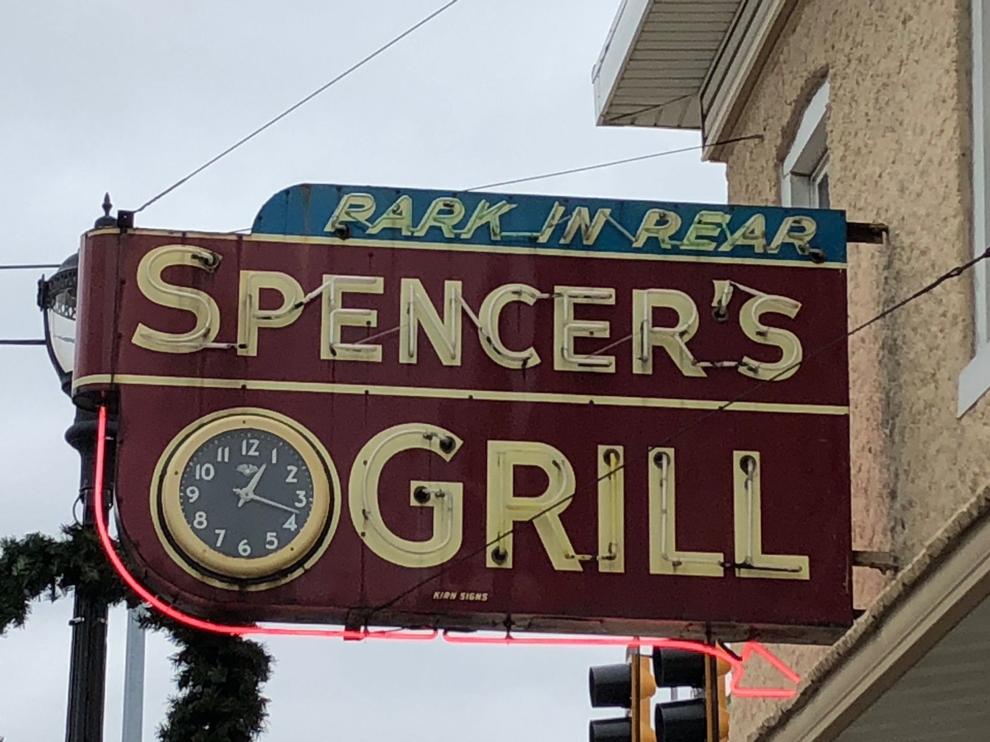 Where 223 South Kirkwood Road, Kirkwood • Hours 6 a.m.-2 p.m. daily • More info 314-821-2601
Employee April Bretscher says that Spencer's Grill is best known for its crispy pancakes cooked in plenty of butter on a hot griddle, but everyone else thinks it is best known for the sign that has announced its location on Kirkwood Road since 1948.
It's the oldest original clock diner sign in the United States, and it was added one year after the diner opened.
"It's an old-school diner," Bretscher says, citing the hand-dipped milkshakes, the fresh-ground coffee and a sandwich called the Isabel: grilled turkey breast, bacon, fried egg, lettuce and tomato on toast.
The Kirkwood landmark draws local residents and tourists alike, she says, and everyone comes for the down-home ambience. "Even though we're in St. Louis, you still get that small-town feel."
Tiffany's Original Diner
Where 7402 Manchester Road, Maplewood • Hours 24 hours (except Sundays, when it is closed from 3 to 7 p.m.) • More info 314-644-0929; tiffanysdiner.com
Tiffany's small menu offers just the basics, but "it's very old-school, home-cooked food," says employee Audrey Segrue. That means hand-cured corned beef, homemade roast beef, homemade chili, pancakes, waffles and a blue plate special Mondays through Wednesdays.
The biggest sellers, Segrue says, are slingers and Tobeys — slingers with sausage gravy instead of chili.
The overnight vibe is relaxed and calm, she says, though the diner does pick up some of the after-bar crowd. The small, intimate space has just 18 stools at the counter and no tables — but it does have room for a small library, for something to read while you eat.
White Knight Diner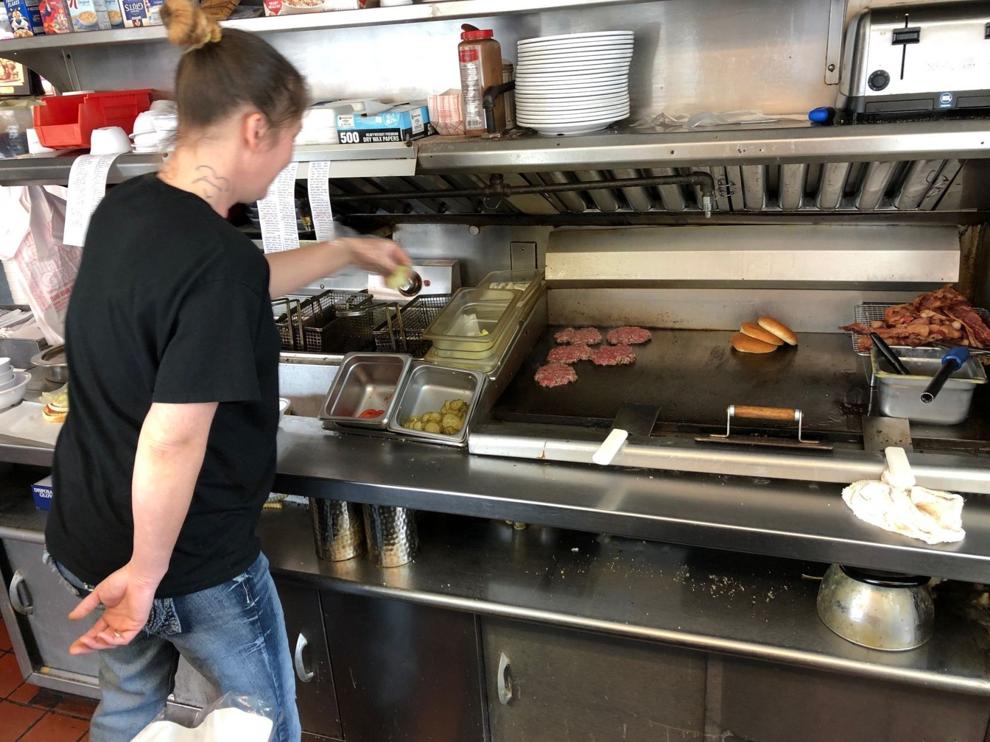 Where 1801 Olive Street • Hours 6 a.m.-2 p.m. Monday-Friday, 6 a.m.-1:30 p.m. Saturday • More info 314-621-5949
Still somewhat famous for being a major location in the 1990 film "White Palace," the cozy White Knight has been serving hand-pattied burgers, chili (using locally made Edmond's chili with Brooks beans) and breakfasts since the 1950s.
There are no waffles (everybody asks), but the kitchen adds green peppers and onions to what it calls a super slinger, the most popular item, manager Cristy Davis says.
The secret to the White Knight's food: No seasoning is used, Davis says. Cooks begin the day by frying bacon on the griddle, and everything else on the griddle adds a bit more flavor to whatever comes next.
It's a method that works for customer Tina Brown, who has been eating there for 25 years. "It reminds me of making a burger and fries at home," Brown says.