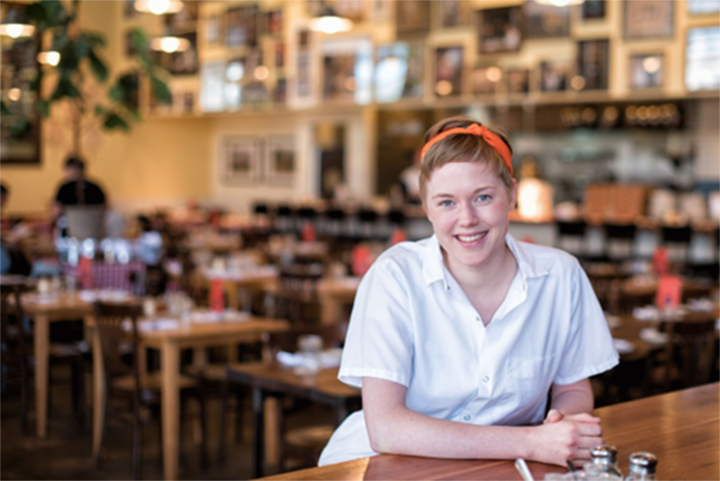 Ashley Shelton, whose work for Gerard Craft's Niche Food Group has won both local acclaim and national notice, will leave her role as executive chef of Pastaria to become the chef de cuisine at Annie Gunn's.
Shelton's final day at Pastaria will be March 23. She will start at Annie Gunn's on April 2.
"I don't know how to not work," Shelton tells Off the Menu.
The move is a culinary homecoming for Shelton, who first cooked at Annie Gunn's under chef Lou Rook III while she was a high-school student. More recently, Shelton worked for Annie Gunn's for the year before Craft named her Pastaria's executive chef in 2015.
For Ashley Shelton, the bucatini all'amatriciana explained everything.
After four years of focusing on Italian cuisine at Pastaria — including a year and a half when she was also executive chef at Craft's adjacent, Italian-influenced Sardella) — Shelton will move to a restaurant with a broader selection of both upscale modern American and classic chophouse fare.
"It's what's enticing for me," Shelton says of Annie Gunn's menu.
What's more, Shelton says, Rook and Annie Gunn's owner Thom Sehnert know she understands from her stints there what the restaurant is.
"I'm the perfect person to lead it into the future," Shelton says.
Sehnert tells Off the Menu he and his wife, Jane, and the entire Annie Gunn's operation is excited to welcome Shelton, who he describes as "so gifted."
"It bodes really well for our customers," Sehnert says.
As for leaving Pastaria, Shelton says, "I cry about it every day. I'm happy, but I'm sad at the same time. Niche Food Group has been great to me."
"We're super sad," Craft tells Off the Menu, though he notes Shelton will always be "family."
"Leaving (Pastaria) is going to be hard," Shelton says. "The team here is fantastic. I can't wait to see what they do on their own."
This post has been updated with comment from Annie Gunn's owner Thom Sehnert and Pastaria owner Gerard Craft.