At Alta Calle, the Mexican restaurant that opened in July in Tower Grove South, you might not notice the black-bean hummus. On the menu, this hummus is listed after the sort of appetizers you might reflexively order without further browsing: the exceptionally creamy queso blanco ($5) drizzled with a Christmas arrangement of red guajillo and green chive oils, or the mint-kissed, pepitas-studded guacamole that justifies its market-price billing ($10 on my visit).
Or maybe you opt instead for the electric scallop ceviche ($12), small, tender bay scallops with cucumber, avocado, radish, orange and chiles in a puckering, blistering aguachile I would sip by itself as an apertif. Meanwhile, the menu murmurs, the black-bean hummus comes with chips and vegetables.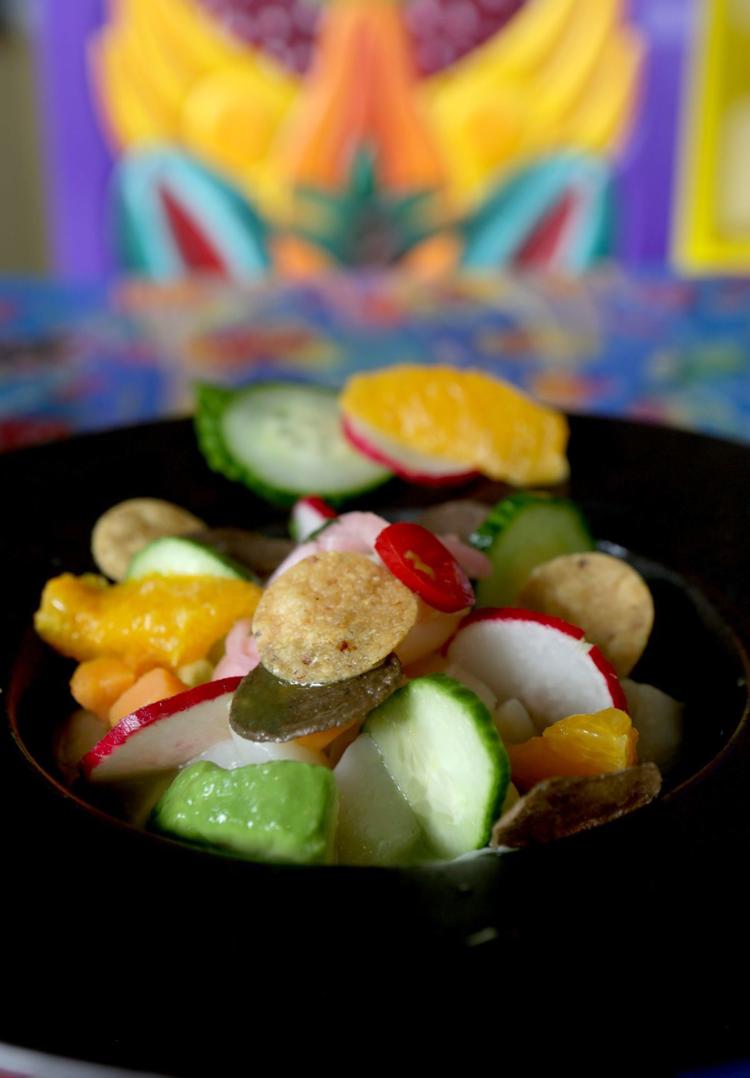 But if you do order the black-bean hummus ($6), you still might not notice the hummus itself — not at first. A ring of hummus encircles an artfully messy spill of tomato, cucumber, radish, chile and pickled zucchini, shallot and enoki mushrooms, all of it dotted with a guajillo chile sauce and showered with fresh herbs, pico de gallo and housemade queso fresco.
Though obscured from view, the black-bean hummus is vital to the dish, the savor to balance so much garden splendor. Scooped onto tortilla chips, the hummus and its garnishes make for nachos far more interesting than any meat-larded version.
The black-bean hummus is the most dramatic example of what the team behind Alta Calle — sisters Veroncia and Dulce Morales and chef Steve Suarez, Veronica's son — intend for the restaurant. The name, high street, is a reference to the Morales' hilly hometown of El Caracol in the Mexican state of Michoacán. You can also read it as an attempt to distinguish the restaurant's creativity from other Mexican establishments in town.
Veronica Morales is no stranger to the St. Louis dining scene. In the 1990s, she and her then-husband founded the original location of the Mexican restaurant Las Palmas in Woodson Terrace. She and Suarez currently operate the Las Palmas in Maplewood.
Alta Calle has taken over the skinny South Grand storefront previously occupied by the Vietnamese restaurant Mekong. Here, too, the many threads of St. Louis dining intertwine. The Tran family, which ran Mekong, still owns the building. As the Morales sisters and Suarez were planning Alta Calle, the Trans' daughter, Bay Tran, who operates the South Grand vegetarian restaurant Tree House, told Veronica she should talk to veteran St. Louis chef Tello Carreón.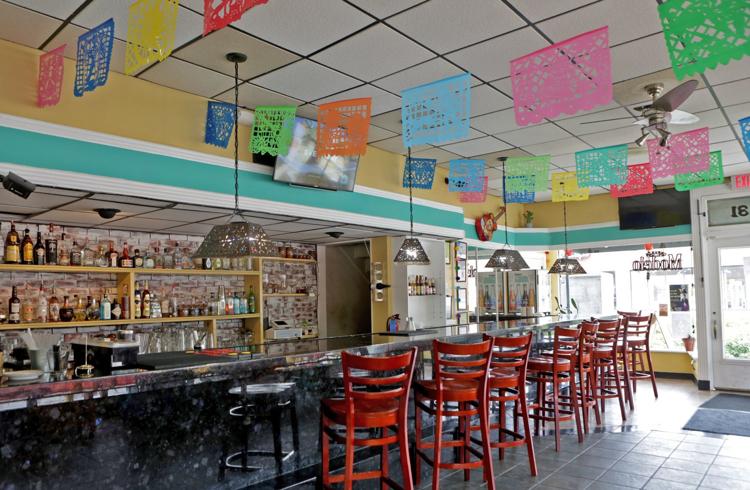 Carreón, of course, set a new standard for Mexican dining in St. Louis when he and Ben Poremba opened Nixta in late 2016. (Carreón left the restaurant a year later.) When the Alta Calle team first contacted him, Dulce Morales told me in a phone interview, they realized he and Veronica had worked together at the restaurant Crazy Fish back in the 1990s.
Carreón served as a consultant at Alta Calle, developing the menu with Suarez. He is no longer at the restaurant, but I can feel his impact, either direct or by osmosis, in the brilliant and sometimes shockingly verdant flavors of the ceviche, the hummus and another standout dish, flautas de hongos organico ($10). Much like the hummus, the crisp cigars filled with a mix of crimini and oyster mushrooms with onion and potato act as a savory backbone against a crisp, tangy slaw, a garnish of chiles, pickled shallots, herbs and queso fresco and the smoky, persistent hum of the house guajillo chile sauce.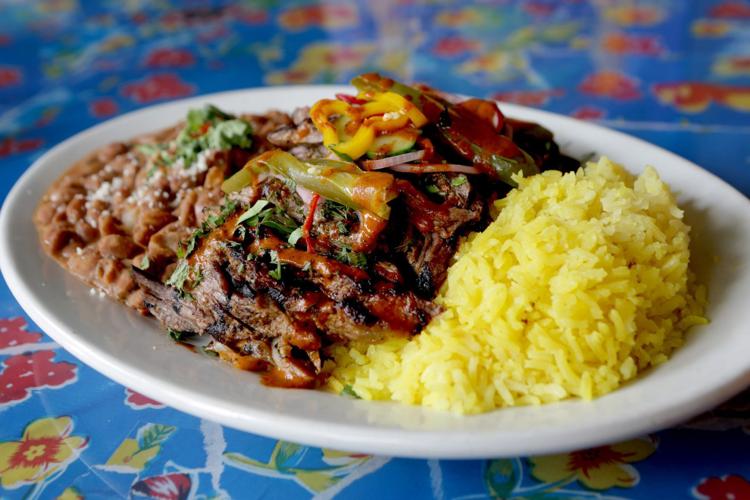 Alta Calle doesn't eschew meat. The Torta Carnicera ($12) with carnitas is brawny and luscious. The carne asada ($22) delivers a pleasant, flavorful chew. You can sample both meats as part of the Los Cuatro ($12) taco platter, with a pineapple-bright taco al pastor and a somewhat dull tofu taco, a rare misfire from a restaurant otherwise laudably considerate of the meat-averse. (You can mix and match the platter's four tacos however you like.)
For tacos, though, I'll return first for the shrimp ($10) marinated in a thinner version of the guajillo sauce and served with pineapple pico and poblano crema in a tortilla slicked with seared Chihuahua and Jack cheese — or for the generously portioned fish tacos ($12), crisp in their beer-batter jackets and spiked with chipotle mayo. For meat, I'll return for the pollo alto ($22), half a chicken cooked sous-vide and then flash-fried to order for crisp skin and flesh juicy to the bone, all of it smothered in a bright, prickly pepián mole verde.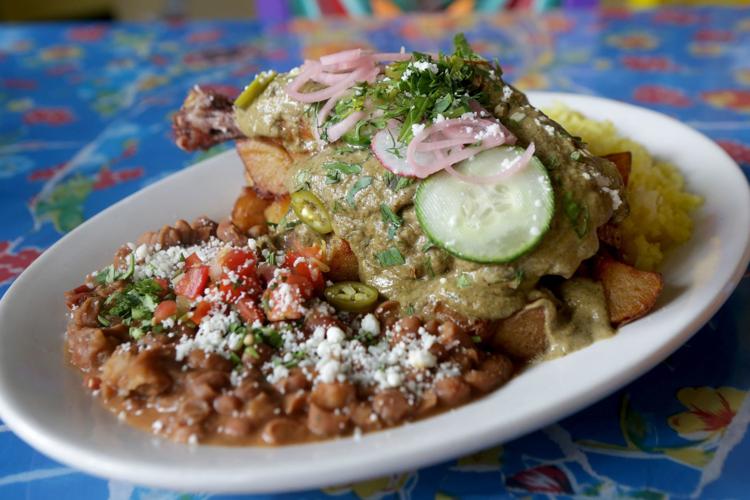 Alta Calle serves a refreshing paloma ($9) and a lovely, tart margarita made with hisbiscus-infused tequila ($11). The house margarita, the Calle Marg ($9), is distinguished by a salt foam instead of the traditional salted rim. A gimmick? Maybe. But while you might not see the salt foam once you are sipping the cocktail and idly swirling the foam away, you will still notice its quenching bite.
Where Alta Calle, 3131 South Grand Boulevard • 2½ stars out of four • More info 314-282-0840 • Menu Mexican cuisine • Hours Lunch and dinner Tuesday-Saturday (closed Sunday-Monday)
Stay up-to-date on what's happening
Receive the latest in local entertainment news in your inbox weekly!