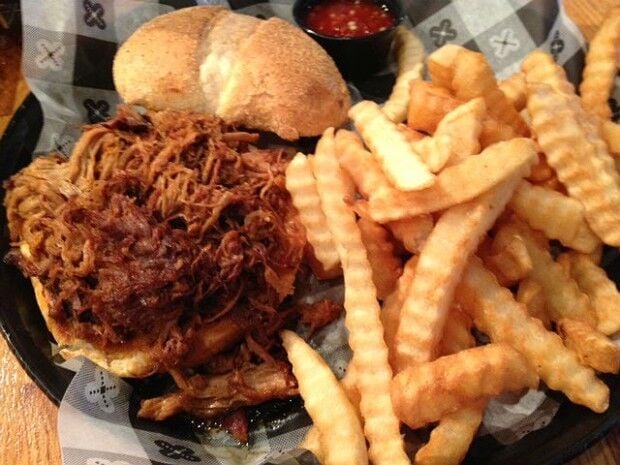 On your first visit to Cafe Telegraph, which opened this spring along Telegraph Road in south St. Louis County, be sure to note the large smoker outside the building. While this restaurant is not a traditional barbecue joint -- in fact, its menu includes pizza, pasta, steak, burgers and more -- you should find the lure of meat smoked over white oak difficult to resist.
For dinner, Cafe Telegraph serves a rotating selection of smoked meats: meatloaf on Monday and Thursday, pork steak on Tuesday and Friday, dry-rubbed ribs on Wednesday and Saturday and chicken on Sunday.
Other smoked meats are available daily as sandwiches. On a recent lunch visit, I ordered the St. Andrews Pulled Pork ($9.49). The meat is exceptionally tender -- more so than at many "true" barbecue spots in town -- and deeply imbued with the flavor of woodsmoke.
You choose which sauce will accompany the sandwich (on the side, so you can add to your liking). The Tishie Tail-Twister sauce, besides being a tongue twister for customer and server alike, adds heat but not much additional flavor.
Not that you need more flavor with pork as tasty as this.