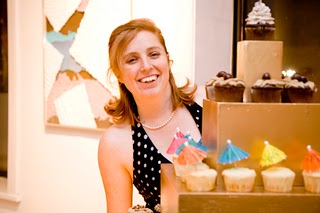 Stefani Pollack's food-blogging career started when she offered to make cupcakes for a wedding. Preparing for the big day, she made a different recipe each week for 9 months and documented her efforts at Cupcake Project.
Today, almost 5 years later, her blog is thriving and she is featured in Cupcakes: 150 Sweet Recipes ($9.99), a special publication from Better Homes and Gardens that will be on sale from until June 21.
The original publication date was in February, so with the Super Bowl in mind, Pollack contributed a recipe for Beer-Cheese Football Cupcakes, made with bacon, sharp Cheddar cheese and brown sugar. Like many of her creations, the cupcakes combine savory and sweet.
"Just this week, I did cheesecake cupcakes – with quince, manchego cheese, a homemade Ritz cracker crust," she said. The cheescake filling and quince paste are sweet, while the melted manchego on top adds a savory note. The idea came to her as she read an alphabet book to her son: Quince represented the letter "Q." The cracker recipe is posted on her blog , and she promises the cupcake recipe will be there soon.
Pollack posts about two or three recipes a week, with photos contributed by her husband, Jonathan, a professional photographer. She estimates that she's created and posted more than 150 cupcake recipes and quite a few other recipes. Ideas come from everywhere: someone asked about okra cupcakes on her Facebook page, and now she's brainstorming recipes. She's also on Twitter.