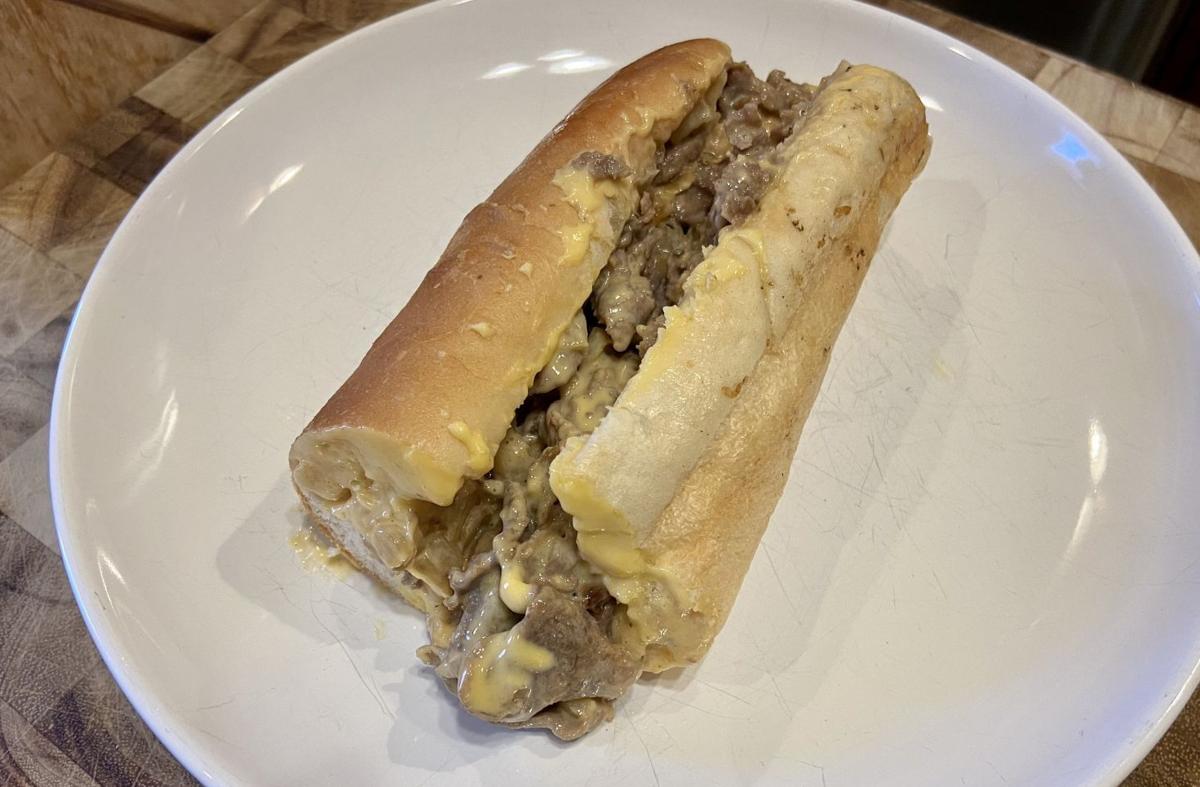 St. Louis can sate your desire for any number of sandwiches, from hot salami to banh mi to, lately, overwhelmingly, fried chicken, but cheesesteak lovers are perpetually on the hunt. Two years ago, the lure of an unapologetically messy cheesesteak Whiz wit' compelled me to drive to Crystal City to try Gordon's Cheese Steaks, the tiny walk-up stand spun off from Gordon's Stoplight Drive In. I have been seeking something comparable ever since.
So when Phillies Cheesesteaks opened in October in University City, its name was a homing beacon broadcast directly into my hypothalamus. Its compact menu includes variations on a theme — a Buffalo-chicken Philly, a chicken-teriyaki Philly, a sort of mashup of cheesesteak and po'boy — but there is also the thing itself, the boldly named Phillies Authentic Steak: top sirloin, Cheese Whiz, onion.
Phillies is a takeout-only operation, a small storefront in a squat shopping strip just east of Heman Park. (The space was previously the Indian and Pakistani restaurant Spice-n-Grill.) The sharp logo of checkered flags and the Phillies name in red against a banana-candy-yellow background suggests an established chain, but this is the restaurant's first and only location.
In fact, this is owner Mel Harlston's debut as a restaurateur. (He also operates a business providing pressure-washing services to car dealerships in St. Louis and Arizona.) Harlston grew up in University City with his mother and maternal grandparents. The kitchen was his family's gathering place, he told me in a phone interview, and his family had a passion for sandwiches.
"My grandfather, rest in peace, … when he would pick me up from school, he would always take me to get a sandwich," he said.
Harlston makes no claim to Philadelphia itself. He has never visited the city. The cheesesteak is his favorite sandwich, and he saw an opening in the St. Louis market because no one made a cheesesteak to his liking.
His approach should win fans. Its name notwithstanding, the Phillies Authentic Steak succeeds not because it follows a checklist of cheesesteak "authenticity." If such a checklist could exist, I would not claim to possess it.
Instead, it captures a vibe, a ferocious simplicity: a crusty Fazio's hoagie roll overloaded with tender steak slicked with tangy, palate-coating melted Cheez Whiz and dotted here and there with pops of sauteed onion. You will go through a handful of napkins just transferring it from its takeout wrapper to a plate.
That vibe carries over to the sandwiches that might push past your definition of cheesesteak. The chicken cheesesteaks feature juicy breast meat fortified with generous portions of melted St. Louis-style pizza cheese. The sauces I tried, moderately spicy Buffalo and whisperingly sweet teriyaki, accent the sandwiches without distracting from the alchemy of meat and cheese, peppers and onions.
I will be back to try the other variations on Phillies' menu, though not before another round of the Phillies Authentic Steak. After all these years of cheesesteak hunting, neither my hope nor my hunger have diminished.
Where Phillies Cheesesteaks, 6800 Olive Boulevard, Unit F, University City • More info 314-925-8676; philliescheesesteaks.com •  Menu Cheesesteaks with steak or chicken • Current services Takeout; delivery • Hours 11 a.m.-8 p.m. Tuesday-Saturday (closed Sunday-Monday)
This recommendation is based on takeout meals. Restaurant operations are in flux during the coronavirus pandemic. Please contact the restaurant directly for the latest hours and services. Delivery may be provided by a third-party service.