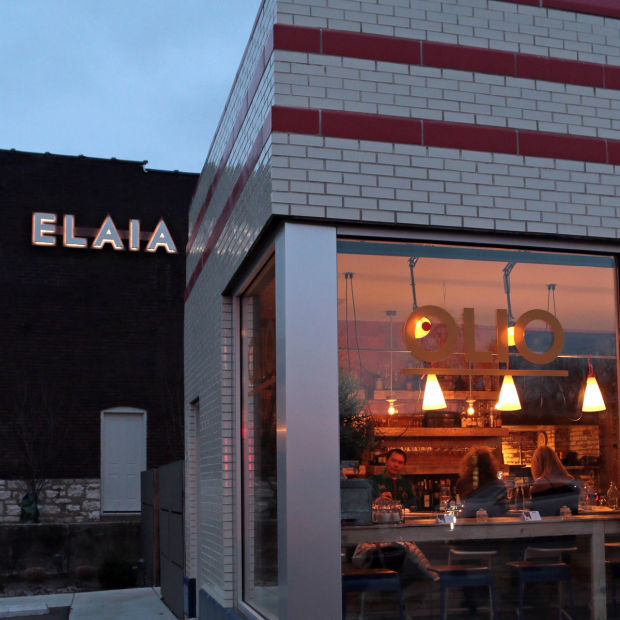 Ben Poremba has announced a change in executive chefs at his upscale flagship restaurant Elaia and its adjacent wine bar Olio. Aaron Martinez succeeds Ben Grupe, whose departure Poremba tells Off the Menu is "very amicable." In fact, Poremba says, Grupe is remaining with the restaurants over the next month to help with the transition.
"I can't thank (Grupe) enough for what he's done for us," Poremba says.
Martinez has worked at acclaimed restaurants in the United States and abroad. He was sous chef at Addison in San Diego, worked at In die Wulf in Dranouter, Belgium, and was chef de cuisine at two Bay Area restaurants, Quince in San Francisco and Commis in Oakland.
Poremba cites both Addison, under chef William Bradley, and Quince, under chef Michael Tusk as inspirations for his own restaurants. When he read Martinez's resume, he says, "I thought someone was playing a prank on me."
Poremba says Martinez will bring an evolution of new ideas to both Elaia and Olio, including a greater use of the latter restaurant's wood-burning oven.
"I think he'll make his name in St. Louis very quickly," Poremba says. "I'm really excited."
Off the Menu was unable to contact Grupe for comment on Friday (Sept. 28).
Grupe joined Elaia and Olio in 2016. Among his plaudits, he retained Elaia's No. 2 ranking in the STL 100 and was a semifinalist for "Best Chef: Midwest" in last year's James Beard Awards. He was also the runner-up to represent the United States in the 2019 edition of the prestigious Bocuse d'Or culinary competition.
More as Off the Menu learns it.
Editor's Note: The location of Commis has been corrected from San Francisco to Oakland.
Search Ian Froeb's top 100 by location, price or cuisine.