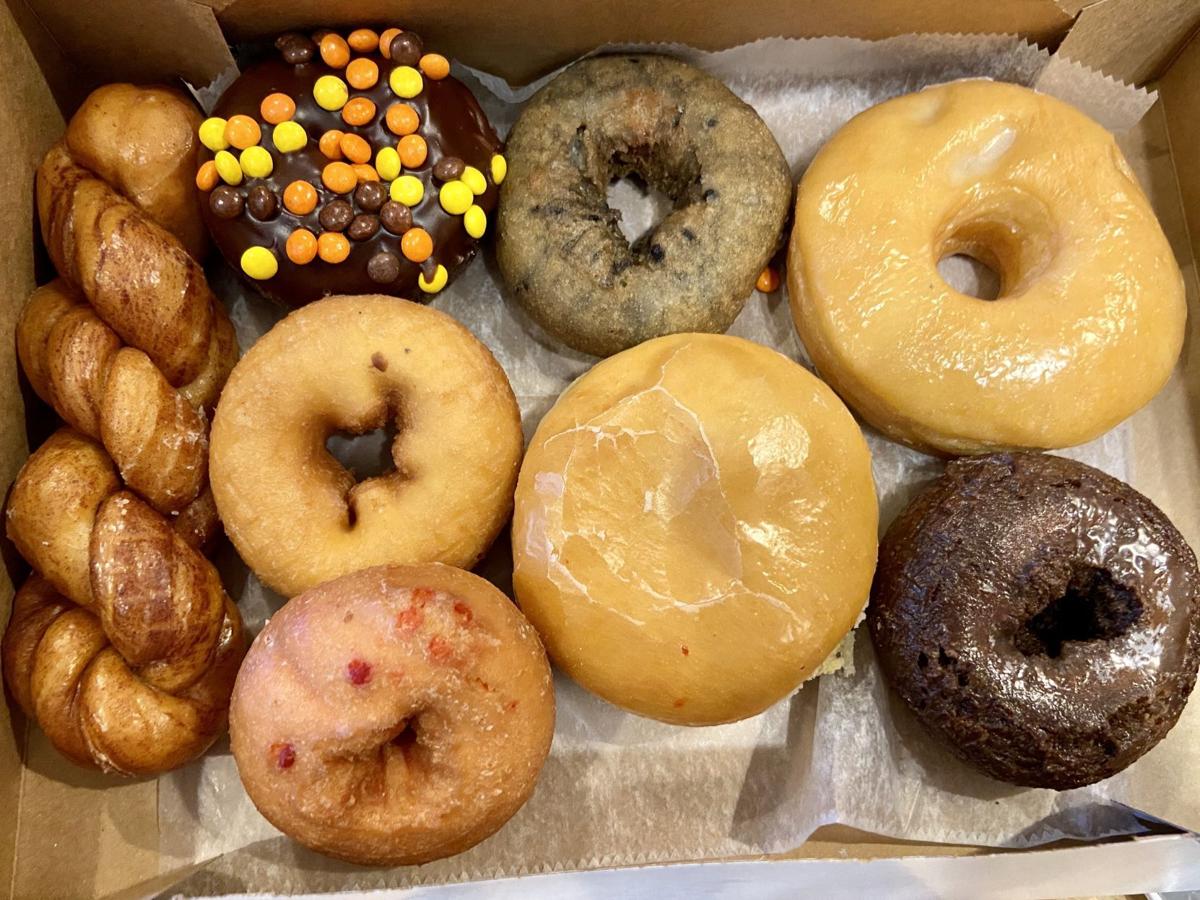 Maybe someday St. Louis will be a bagel town. Not necessarily a great bagel town like New York or Montreal — I'm not delusional — but a better bagel town than it is now.
(Wipe away that towering schmear of cream cheese and stare into your bagel-loving heart: You know I'm right.)
Jamil Jabbar tried. He went to New York to learn the techniques of bagel-making. He returned to St. Louis and tried to sell his bagels in the minimart of his brother's gas station.
One problem: Nobody wanted bagels. Eventually, Jabbar says, "I was just giving them out for free."
St. Louis isn't a bagel town. It's a doughnut town. It's the best doughnut town.
"Even in gas stations and (places) like that, wherever I go, I see people always reaching for a doughnut," Jabbar says.
"So I'm like, man, you know what, let me learn how to make these doughnuts."
The restaurant • Jabbar opened Boogyz Donuts at the end of January in University City. The storefront is narrow, but it commands your attention, from the name (based on Jabbar's own nickname) to the sign, with B, G, Y and Z in "Simpsons"-esque yellow flanking doughnut O's.
Boogyz debuted about a month and a half before the coronavirus pandemic disrupted restaurant operations throughout St. Louis. The shop lacks a dining room to close or operate at reduced capacity. Still, Jabbar says he tries to get customers in and out quickly.
"It's a roller coaster ride, man," he says. "One hell of a year, I can tell you that."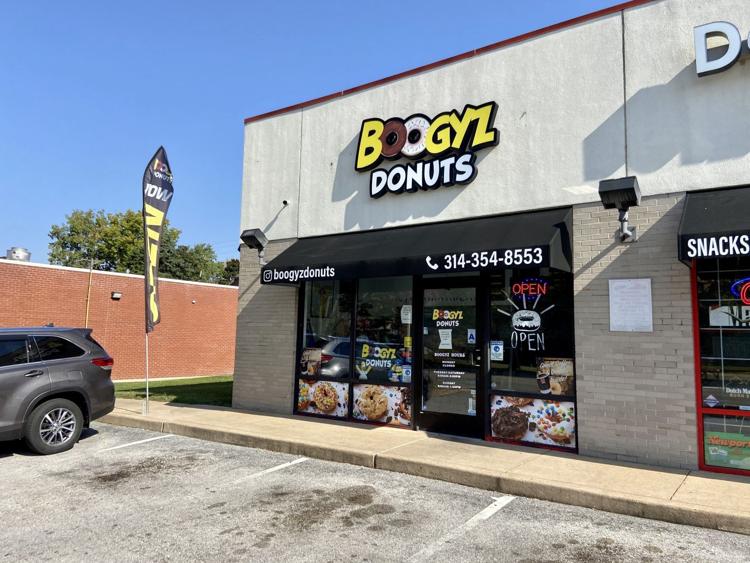 The takeout • Jabbar describes his doughnut recipes as "light and right."
"I don't overly sweeten them," he says. "Because you can eat a doughnut and (be) like, 'Damn, that's a sugar rush,' you know?"
(Jabbar studied doughnut-making with an internship at Kelly's Donuts in Hazelwood under its previous ownership.)
You might find that difficult to believe when you visit Boogyz and see the trays of doughnuts not merely frosted but spangled with M&M's or Reese's Pieces. You might find that difficult to believe when you look at the candy-coated doughnut in the photo that accompanies this column.
Yes, that doughnut was sweet, but not cloyingly so. And the Boogyz doughnuts I sampled generally hewed to Jabbar's light-and-right philosophy.
My doughnut benchmark is usually a plain glazed, and Boogyz delivers a fine, airy example. But I found myself even more impressed by the cake doughnuts. These were moist throughout, and the strawberry and blueberry varieties were suffused with fruit flavor.
I asked Jabbar whether he preferred yeast or cake doughnuts. I expected a politic, virtues-of-both answer.
He didn't hesitate: "Oh, no, I love blueberry cake doughnuts."
Vegans welcome • The blueberry cake doughnut deserves to become the signature offering at Boogyz. Equally distinctive, though, is the restaurant's Tuesday special: vegan doughnuts.
The idea to serve vegan doughnuts followed from the process Jabbar employs at his shop, which is open Tuesday through Sunday.
"A lot of people recycle their grease, and you can taste the difference in the quality of the doughnut," he says. "So I throw all my grease away every single Sunday. There's not one drop of grease (left). And then I wash and clean my fryer."
When the shop reopens the following Tuesday, Jabbar does not have to worry about cross-contamination affecting whether the doughnuts are truly vegan.
"Nobody has to deal with that question because they know that it's Tuesday," he says.
The takeaway • Boogyz Donuts has not meant the end of Jabbar's bagel aspirations, though you shouldn't count on bagels being available whenever the shop is open. Tired of throwing his bagels away, he makes only 15 or so a day.
"I individually wrap my bagels, and I set them out," he says. "If they sell? Boom."
(Jabbar also takes bulk orders for bagels; this past weekend, for example, he fulfilled an order for 60.)
The unpredictability of sales isn't limited to bagels, Jabbar has learned.
"Even on doughnuts, you can't predict what you're going to make that day," he says.
He recalls one vegan-doughnut Tuesday that was, simply, a bad day.
"So I'm just like, OK, this is not what I had planned," he says.
"But you win some, you lose some, you know?"
Where Boogyz Donuts, 6951 Olive Boulevard, University City • More info 314-354-8553; facebook.com/boogyzdonuts • Menu Doughnuts and bagels • Current services Takeout; delivery • Hours 5-a.m.-2 p.m. Tuesday-Saturday, 6 a.m.-1 p.m. Sunday (closed Monday); contact the restaurant for the latest hours, services and other information, which may vary during the pandemic
Pastrami is the signature dish at the restaurant inside Tamm Avenue Bar.
"My dad basically forced me to cook," Coria Griggs says. "I didn't want to learn as a kid."
Plum, Blueberry Donut, Tomato Sorbet — landing on a successful flavor takes some trial and error, says Whisk owner Kaylen Wissinger.
Maplewood restaurant's skeleton crew pivots to provide delivery and takeout during period of industry uncertainty.
Restaurant critic Ian Froeb recommends a dish from his recent takeout dining and learns more about owner Jimmy Trinh and his Delmar Loop restaurant.
"It's a roller coaster ride, man. One hell of a year, I can tell you that."

Jamil Jabbar
Stay up-to-date on what's happening
Receive the latest in local entertainment news in your inbox weekly!