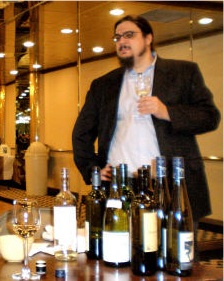 Parseliti previously was a buyer at New York's PJ Wine, one of the highest-volume and top-rated wine shops in the country. A fiction writer in his spare time, Parseliti earned a masters degree in fine arts-fiction from Washington University.
At Little Country Gentleman, Parseliti will oversee a strictly old-world wine list — meaning, don't expect to order a flight of California chardonnay or Oregon pinot noir.
"Dan has such a deep knowledge and passion for wine," Randolph says. "He can find a range of Italian, Spanish or French wines to pair with our tasting menus, or he can come out of left field with a fantastic German pinot noir. We hope our customers will want to explore stuff like that and put themselves in Dan's hands to find something special."
Medianoche's last evening will be Aug. 18. Randolph expects to have Little Country Gentleman open for service the following weekend.