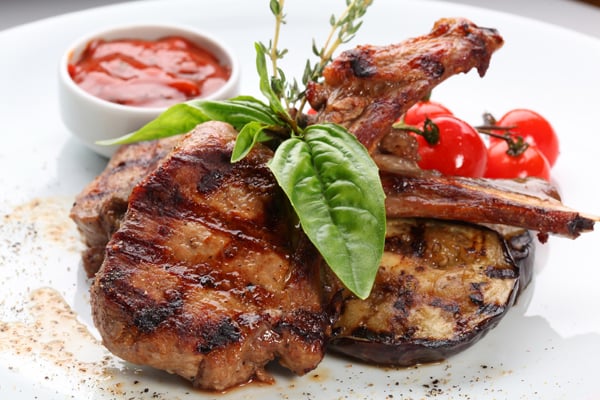 The alert foodsters in our Eat at Joe's forum get the credit for this tidbit: A new steak-and-seafood restaurant called Craft Chophouse appears to be close to opening at 210 South Buchanan Street in Edwardsville.
The restaurant's website mentions Chophouse's design elements (dim tangerine bulbs, mahogany wine racks, an open "show" kitchen) as well as food concept: "Craft Chophouse focuses on the finest house-butchered steaks, chops and the freshest seafood with emphasis on seasonal, vibrant produce to create a culinary euphoria."
Lunch and brunch menus are posted now, with dinner options and wine list to come. Lunch focuses on classic American fare like iceberg wedge salad with bacon and blue cheese ($8), ham-and-turkey club sandwich ($9) and crab cake "Reuben" with dill havarti cheese on rye bread ($11).
The restaurant is owned by Adam Washburn and his fiancee, Megan Pashea. Washburn is an Edwardsville Senior High and New England Culinary Institute graduate who has served as chef de cuisine at Sunset Hills Country Club and sous chef at Whitmoor Country Club in St. Charles, according to his LinkedIn profile. He will be executive chef of Craft Chophouse.
Someone asked St. Louis chef-restaurateur Gerard Craft (Niche, Brasserie, Taste) on Twitter whether he was involved in the Craft Chophouse project.
Colicchio is the "Top Chef" head judge and chef-restaurateur who owns Craft restaurants in New York, Los Angeles and Dallas. He, also, has no involvement with Craft Chophouse.
Colicchio this year forced a Madison, Wis., craft beer bar to change its name from Craft Table & Tap to Craftsman Table & Tap, according to Eater.com. His "people" successfully argued that Colicchio has "an incontestable trademark on the word craft as it relates to restaurants."
Will he ... um ... suggest that Washburn and Pashea remove the Craft from Craft Chophouse?