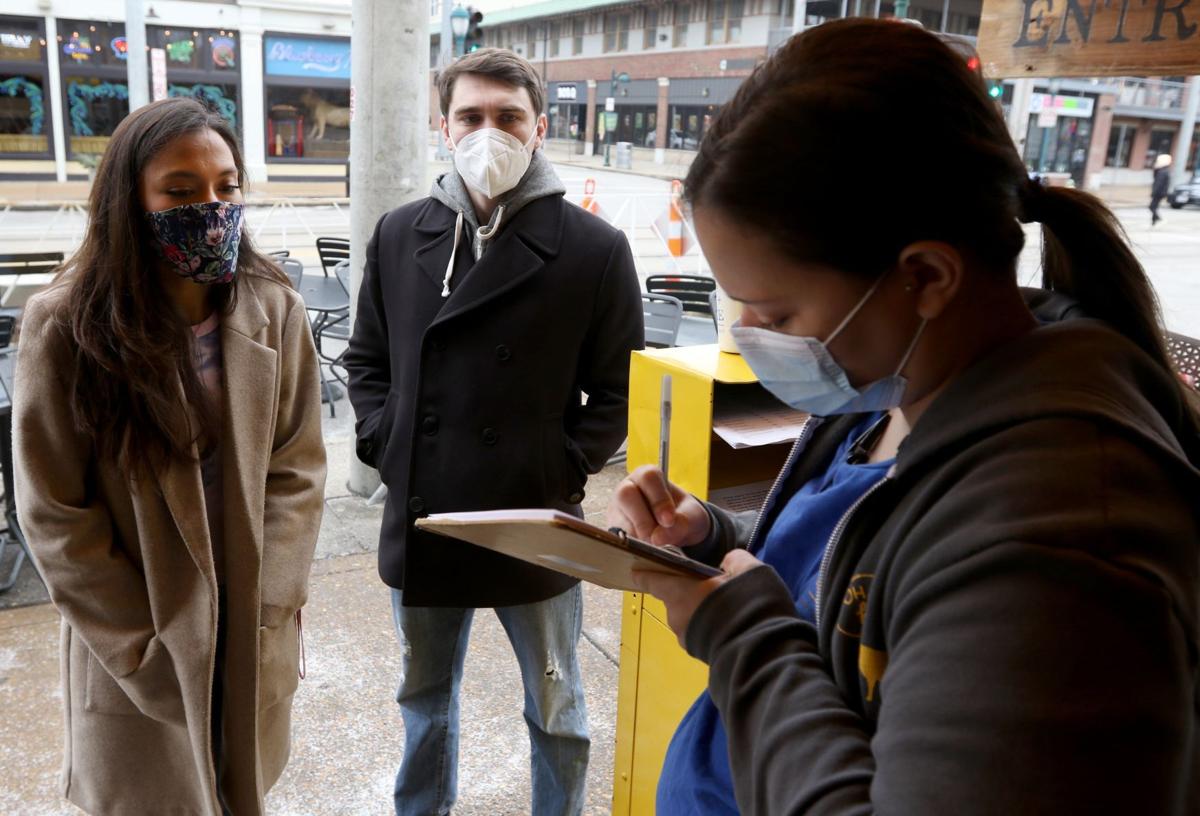 A month has passed since restaurants in St. Louis County could resume indoor dining after a seven-week shutdown. At one South County restaurant, a front-of-house employee told me, a "solid 80%" of customers still make nasty comments about County Executive Sam Page and complain about providing personal information for potential contact tracing.
The employee's anecdote did not surprise me. Contact tracing, like wearing a mask, washing your hands and caring for fellow human beings, is an essential part of any pandemic-mitigation strategy, which in today's America renders it grist for inane controversy and partisan point-scoring.
"Diners have to provide their name to dine inside at restaurants?" County Councilman Tim Fitch, R-3rd District, tweeted after the county announced its reopening guidelines. "I'm wondering how often 'Sam Page' will be be (sic) signing in at county restaurants."
What caught my attention among the county's reopening guidelines was not the contract-tracing provision, but a rule that diners must wear a mask when interacting with or being served by a restaurant employee. Here was a bold, necessary step beyond what had been in place before the fall surge in COVID-19 cases that had precipitated the indoor-dining shutdown.
I have not dined inside a restaurant since March. I wish the federal relief enacted last year had both allowed restaurant owners to suspend operations or pivot to takeout-only without suffering devastating financial consequences and given their employees robust, ongoing unemployment benefits or direct payments.
That did not happen. Restaurants here started reopening their dining rooms in May, and some people are sitting in them. If you are one of these people, you owe it to restaurant employees to minimize the risk you present to them. You should wear a mask when they are at your table.
(You should probably wear a mask except when you are literally putting a bite of food or a sip of liquid in your mouth, but we are apparently baby-stepping our way through this nightmare.)
I wish the county did not have to codify this as a regulation, but I am glad it did. Will it work?
I asked on social media if any front-of-house employees from county restaurants would be willing to discuss their experiences with the new mask rule. I did not anticipate a comprehensive survey, and indeed I heard from a few employees and fewer still who agreed to a phone interview.
(We were able to verify their employment, but we're keeping them anonymous.)
An employee of a restaurant in an inner-ring municipality wrote to me that, when it comes to diners putting their masks back on, "they do not want to do that at all."
Once a diner is sitting at the table, she continued, the mask "pretty much stays off. A few people will put (it) up when you walk up, but not many."
More generally, this employee said in a follow-up phone interview, diners' tolerance for pandemic regulations has been dwindling.
"I definitely feel it's (become) more and more lax as we've moved forward," she said.
At first, diners were much nicer and accommodating of such inconveniences as ketchup bottles no longer being on tables.
"Now, it's kind of like, 'Where's my ketchup?'" she said.
When I first heard from the employee of the South County restaurant in January, he wrote to me that "not one person put the mask back on when I would approach the table."
In general, he said in a phone interview, the safety precautions felt no different from those in place before the shutdown.
"I feel like it's essentially the same," he said. "But I feel like we're doing the best we can, you know. Our tables are all distanced. Our whole staff, everybody's very good."
This employee said the restaurant's management and owners have his (or any employee's) back, should he need to tell diners they are not welcome to return.
I also heard from an employee of a restaurant in the city, and while I was focusing on county restaurants, this employee spoke about diners and masks in a way that will, I suspect, resonate with many restaurant employees.
This employee is relatively young and describes her physical presence as "not very intimidating." Yet she is in a position where she is expected to tell a diner to put on a mask.
"Like, they just walk by me most of the time, which is not good," she said.
More than once, diners have told her masks do not work, she said, "And then they curse me out. And it's not a fun experience."
She said she has encountered fewer issues lately because, she thinks, as diners go out more, they are becoming more aware of what restaurants expect.
Restaurant owners can be proactive about diners and masks. The Central West End restaurant Vicia is not bound by the county's requirement that diners wear masks when employees are at the table, but owners Tara and Michael Gallina have instituted the policy on their own. In fact, they did so back in the fall.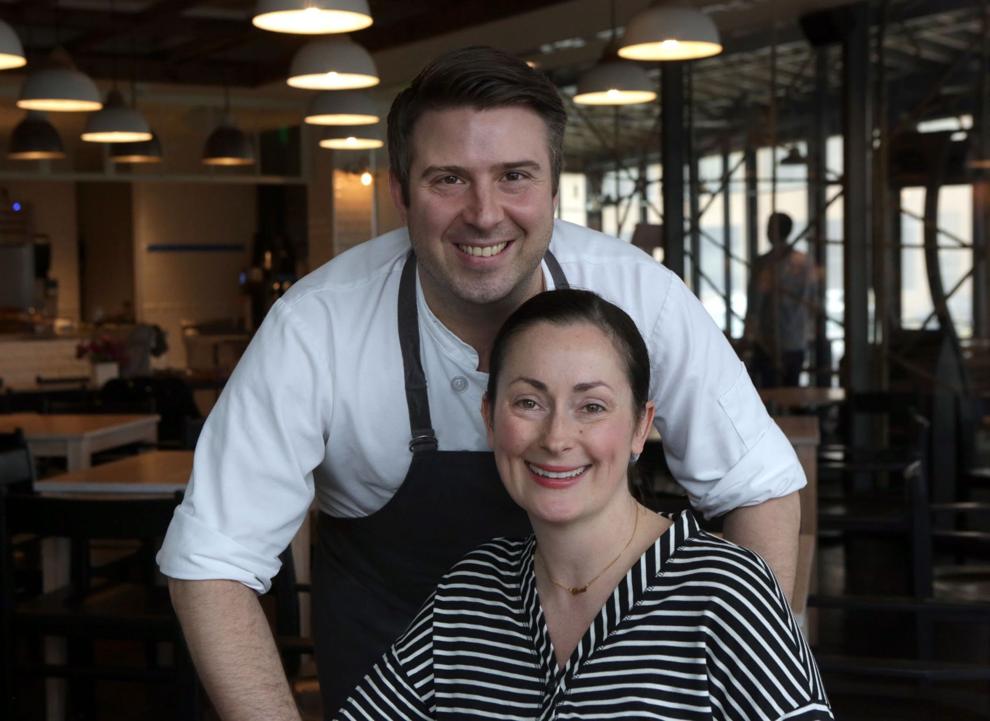 Tara Gallina told me she found it "so weird" that, in all the talk about masks and dining, the matter of diners wearing them when employees came to the table never really came up "because if we've learned anything, for (masks) to be effective, everyone has to be wearing one, not just one half of the equation."
When the Vicia team reopened their dining room, they decided to do so on their own terms. Diners are told about the policy when they make a reservation and again in an overview of the rules at the beginning of the meal.
"And if people want to come and dine with us, we'll be transparent about what our expectations are," Gallina said. "And, you know, if they care not to do that, they can certainly make choices to go someplace else."
Vicia has also modified its service to reduce the number of times an employee has to interact with a table.
Gallina says masks and diners is "a perfect snapshot of the whole problem of the last year and how it was managed, you know. From the federal level on down to our little restaurant, you know, everything was just like 'you figure it out yourself.'
"And I think that it's really hard to ask servers to be getting into any kind of confrontation with customers."
Meanwhile, when I checked in last week with the employee of a South County restaurant, he said — grumbling about Page and contact tracing aside — diners are generally behaving better. There is, for example, no "performative" mask removal.
Are they putting those masks back on when he approaches their tables?
"Oh, that doesn't happen," he said. "Ever."