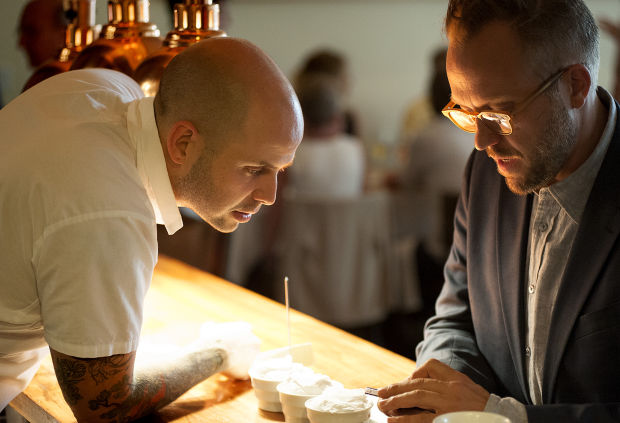 Welcome to Ian Eats STL, a new stlEXTRA! exclusive featuring reviews, restaurant guides and more from Post-Dispatch restaurant critic Ian Froeb.
As you likely know by now, St. Louis must wait another year to claim its first James Beard Foundation Restaurant and Chef award. Justin Aprahamian of the Milwaukee restaurant Sanford won "Best Chef: Midwest" Monday at the awards gala — and was it ever a gala, with a black-tie dress code and a red-carpet entrance — beating out five-time nominee Gerard Craft of Niche and first-time nominee Kevin Nashan of Sidney Street Cafe as well as three chefs from the Twin Cities.
Some thoughts about the awards ...
• First, a necessary disclaimer: I sit on the foundation's Restaurant and Chef Awards Committee. I can't discuss much of the committee's business, but for Monday's awards know that I was but one of (potentially) several hundred judges eligible to vote for "Best Chef: Midwest" and the other categories, and I didn't know the winners until each was announced.
• For St. Louis boosters, a fifth miss for Craft is tough to accept. The temptation to take it personally is strong, and if you're inclined to delve into the Kremlinology of the awards, rooting out conspiracies against certain chefs or in favor of others, I'm sure there are food writers who will oblige you.
I take a more pragmatic view. The chefs who reach the finals in each category have been winnowed down from the group of 20 (and sometimes even more) semifinalists, and those semifinalists were drawn from a pool of hundreds of candidates. Whoever wins, odds are he or she is an extremely talented chef running an excellent restaurant.
• I believe St. Louis' time will come. Sometimes a chef wins a Beard Award his or her first year on the ballot. Most chefs, though, must wait. The 2013 "Best Chef: Midwest," Colby Garrelts of Bluestem in Kansas City, won on his seventh try. This year saw Daniel Patterson of San Francisco's Coi, which holds two Michelin stars and just cracked the World's 50 Best Restaurants list, win on his sixth attempt. (If you're wondering, this was Aprahamian's third nomination.)
• I use quotation marks whenever I refer to the Beard Awards as the "Oscars of the food world," partly because someone else (no idea who) coined the phrase, partly to be ironic. I mean, these awards can't be that fancy, right? Wrong. This was a capital-S Scene, with such mere mortals as this rental-tux-wearing critic stepping out of the way of Thomas Keller, David Chang and other luminaries. The quotes will remain around "Oscars of the food world." The irony won't.
• If you needed more evidence how passionate St. Louis has become about food and restaurants, consider our local media's presence at the awards. Over the course of Monday, I ran into Feast publisher and editor Catherine Neville, Sauce publisher and founder Allyson Mace and executive editor Ligaya Figueras and Alive publisher and co-founder Elizabeth Tucker.
The awards ceremony was actually just the capstone to a weekend in which I tried to visit as many restaurants as my stomach could handle. I'll detail those visits in next week's edition of Ian Eats STL.
Stay up-to-date on what's happening
Receive the latest in local entertainment news in your inbox weekly!