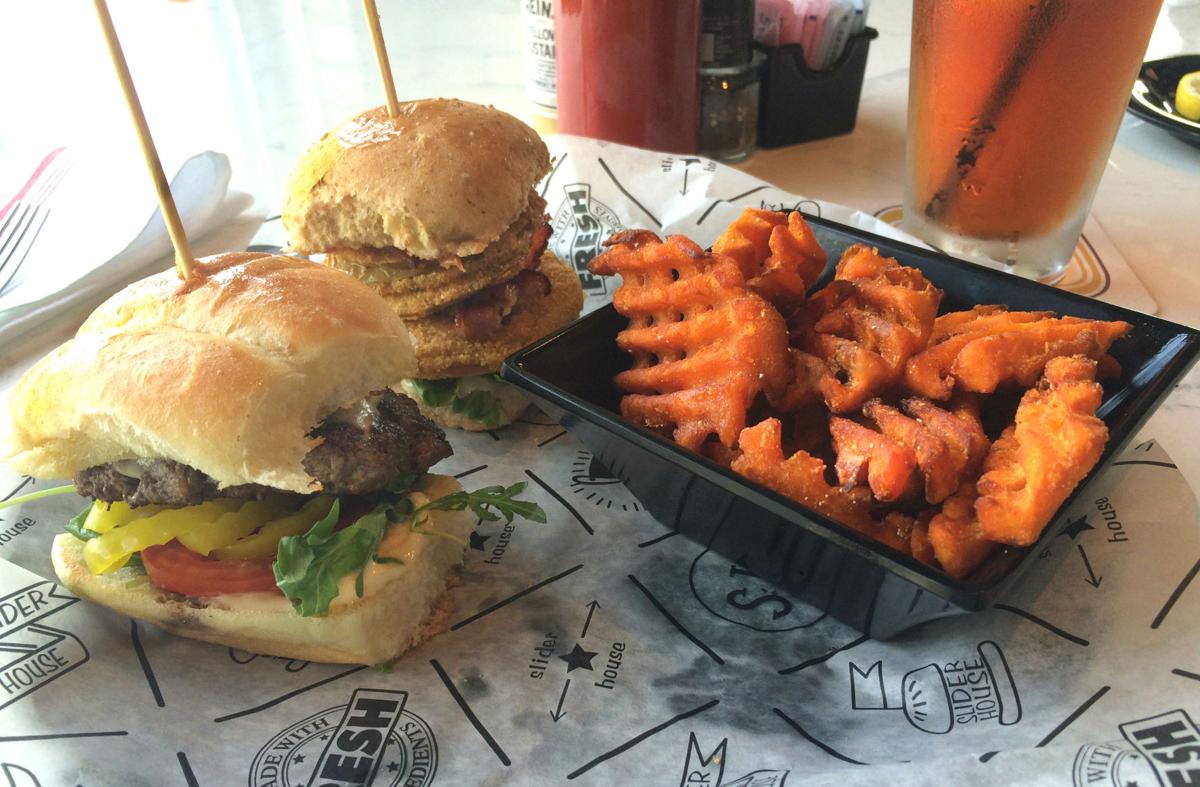 I love Nashville. Specifically, I love dining in Nashville. If I could, I'd return from my next trip there with one of its stellar restaurants — Husk, City House, Rolf & Daughters, the Catbird Seat, Prince's Hot Chicken Shack, Pinewood Social, etc., etc. — purloined in my pocket.
So I greeted the news that a Nashville restaurant called the Slider House would open a location in Rock Hill with cautious optimism. Maybe that Music City magic could resuscitate as played-out a trend as sliders?
But the problem with sliders isn't that over the past few years they've infiltrated the appetizer menus of casual and even upscale restaurants (all too often with questionable claims of Kobe-beefiness). The problem with sliders is that, the White Castle buy-'em-by-the-sack variety notwithstanding, it's really difficult to engineer a miniature burger that conveys the pleasures of the real thing.
The menu at the 2-month-old Slider House dresses up its sliders with the sort of toppings we've come to expect from our better burger joints. The Fast Break features cheddar cheese, maple bacon, something called a "house chip" (more on that in a moment), a fried egg and an aioli with roasted jalapeño and bacon. The Italian Job is topped with salami, Provel, arugula, tomato, banana peppers, and both a roasted-garlic aioli and a balsamic reduction.
In both cases the actual burger is essentially ballast: well-done, but not thin enough to get away with it; grilled, but without much char flavor to show for it. Between the salami and the banana peppers, the Italian Job was flavorful enough to distract me from the bland patty. The Fast Break, though, was a flop. The egg was overcooked, the bacon was flimsy and that house chip — it was as thin as a credit card, and there was something unpleasantly plastic about its texture.
The Slider House also serves non-burger sliders. There's the BLFGT, for example: two thick slices of fried green tomato with bacon, romaine and a roasted-garlic aioli. My tomatoes were wan, not tart, and the bacon was again too flimsy to make much of an impression.
This being a Nashville restaurant, of course there's a hot-chicken slider, though the kitchen must have forgotten to pack the cayenne when they came to Rock Hill. I barely broke a sweat. I can't steal Prince's Hot Chicken Shack away from Nashville. But I can bring an order of its famous chicken to the Slider House to remind them how it's done.
---
Where The Slider House, 9528 Manchester Road, Rock Hill • More info 314-942-6445; thesliderhouse.com • Menu Burgers and other sliders • Hours Lunch and dinner daily