I was a latecomer to the charms of Remy's Kitchen & Wine Bar, which ended its nearly 23-year run in December 2017. This I can explain without embarrassment: Remy's opened several years before I moved to St. Louis. My tardiness outlived the restaurant itself, though. I didn't fully appreciate what owner Tim Mallett and chef Lisa Slay had accomplished in making Remy's a dining destination until now, as I consider a new restaurant at its former Clayton address.
This is the southern fringe of downtown Clayton, closer to the hum of Forest Park Parkway than the buzz of the area's most popular restaurants. If you happen to be walking down this block and you don't work here, you are probably lost, not hoping to stumble upon a place to eat and drink.
Il Palato debuted in March on this unhurried stretch of South Bemiston Avenue. Its challenge is twofold. There is its location, and there is its pitch, yet another Italian restaurant in our glutted market. Neither challenge is insurmountable, and to them Il Palato brings an inherent advantage: owner Michael Del Pietro, a scion of the iconic St. Louis Hills Italian restaurant Del Pietro's and himself the noted restaurateur behind Sugo's Spaghetteria, Babbo's Spaghetteria and Tavolo V.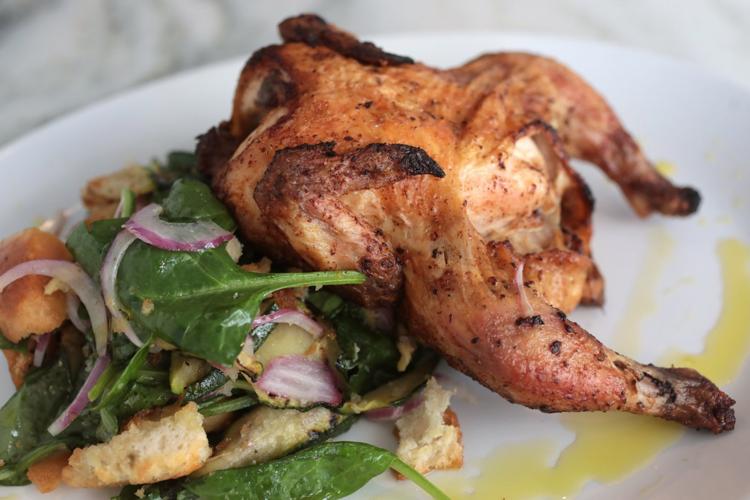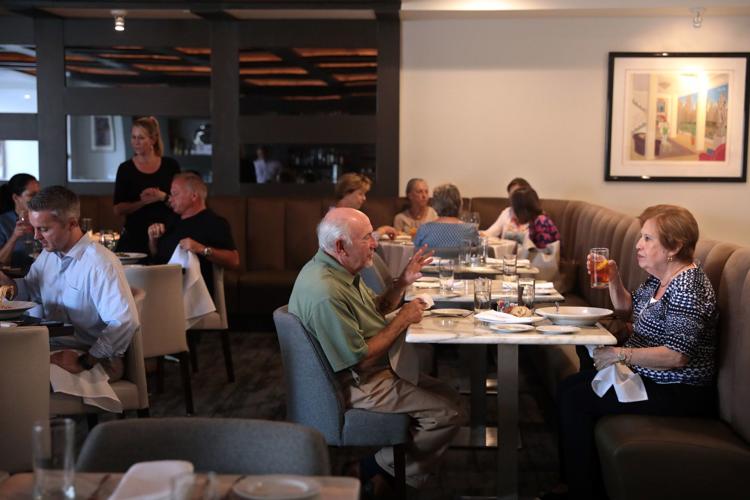 Last year, Del Pietro opened a revival of his parents' restaurant in a new location in Richmond Heights. This updated Del Pietro's is very different in style from Il Palato, but it shows its younger sibling a general path forward. If a new Italian restaurant in St. Louis circa 2019 can't present a wholly original vision, it must at least offer some intriguing variations from the norm.
Del Pietro's follows a narrow thread between the comforts of nostalgia and the expectations of today's diners. Pasta in red sauce means tagliatelle in a beef-pork ragu precision-engineered to be meatier and more tomato-suffused than your favorite Sunday gravy.
Il Palato sets itself apart even before you open the menu. Unlike most new restaurants of any variety, it is clearly cultivating a grown-up audience. The former Remy's space has been made over with marble tables, leather-upholstered chairs and a coffered ceiling. The look is sophisticated, if not luxurious — but also a touch generic. Minus the food, I might have imagined myself in an upscale hotel's lounge.
As for that food, the menu from executive chef Tim Adams tacks toward Italy's south, with an emphasis on seafood. Adams is another inherent advantage for Il Palato. Like Del Pietro, he came up in his parents' restaurant, the late Ricardo's Italian Cafe in Lafayette Square. In addition to Ricardo's, his expansive resume includes Cielo at the Four Seasons Hotel St. Louis, Gerard Craft's Pastaria and the renowned Chicago restaurant Spiaggia.
Il Palato's inaugural menu followed a traditional Italian format: antipasti, pasta listed as primi, main courses listed as secondi. As part of a refreshed menu introduced at the end of June, Del Pietro and Adams have tweaked this format so that you can order any pasta as either a smaller primi or a full secondi portion.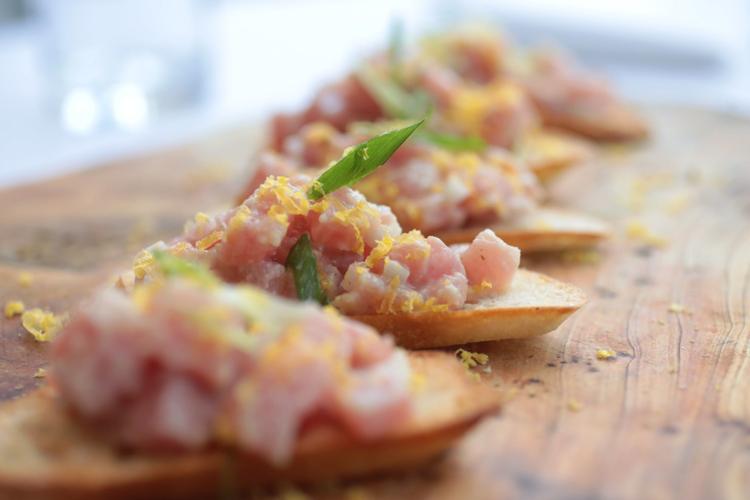 I'd nudge diners toward the primi-sized pastas. The modest portion of tortellini ($13) filled with corn and mascarpone and lightly sauced with a corn brodo delivers a precisely calibrated breeze of summer sweetness. Shiitake mushrooms tossed with the tortellini ground the dish and give it the heft to work as a main course, if you prefer.
Smaller pasta portions also leave more room for the antipasti and main courses — specifically, for the seafood dishes in each category. The best dish I ate at Il Palato was an antipasto of octopus carpaccio ($15), thin discs of tender poached octopus layered over slices of outrageously ripe early-season tomatoes and accented with arugula and a Calabrian-chile vinaigrette. This wasn't a novel dish, exactly, but thanks to the combination of fresh ingredients and exact technique, it crackled with life.
The octopus didn't make the cut in the menu revamp. (Adams told me in a phone interview the quality of the octopus the restaurant was getting was inconsistent.) So I'll point you instead toward the tonno crudo bruschetta ($10). Unlike the hamachi crudo available seemingly everywhere, this doesn't blitz the fish with pungent citrus and chile. The yellowfin tuna is seasoned rather than attacked with a tarragon vinaigrette, and a grating of cured egg yolk gives the dish a savory finish. It's a shock: a crudo that tastes like fish.
A whole grilled branzino ($32) stuffed with lemon, basil and thyme stands out among the main courses. The aroma of the thyme especially lingers over the dish. A lime-basil vinaigrette reinforces the fish's citrus-herb seasoning, and these accents permeate each bite of crisp skin and delicate meat.
You don't need to order seafood at Il Palato. I enjoyed a roasted game hen ($29), both white and dark meat tender beneath its deeply browned skin, served with mushrooms and sauteed cabbage in an intensely concentrated pan jus. (The game hen presentation changed with the new menu, and the cost is now $28.)
Seafood is the clearest way Il Palato will distinguish itself from the Italian-restaurant crowd, though, which underscored a couple of duds. A white-wine broth enlivened with 'nduja enticed me to order the mussels ($10), but the heat and spice of the pork salume didn't register strongly, and at least half a dozen of the mussels hadn't opened. When I ordered a black bass dish ($28), the kitchen substituted trout — I was told ahead of time, so no problem there — but the accompanying celery-root puree blanketed the fish in blandness. The little bit of Swiss chard tucked under the trout couldn't rescue it.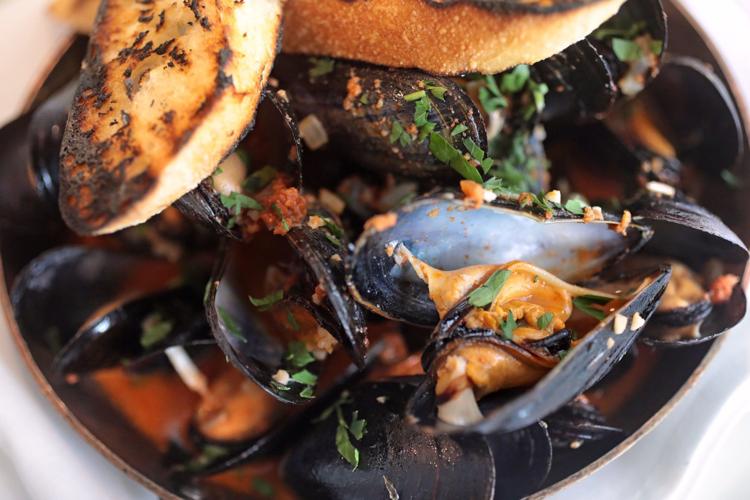 The black bass didn't make it onto the new menu. And the loss of the octopus carpaccio notwithstanding, the recent changes have already made Il Palato a stronger restaurant. If you find it later at its awkward address, after the opening attention has faded, you can credit these early refinements.
Where Il Palato, 222 South Bemiston Avenue, Clayton • 2½ stars out of four • More info 314-224-5331; ilpalatoclayton.com • Menu Italian fare, with an emphasis on seafood • Hours Dinner Monday-Saturday, lunch Monday-Friday