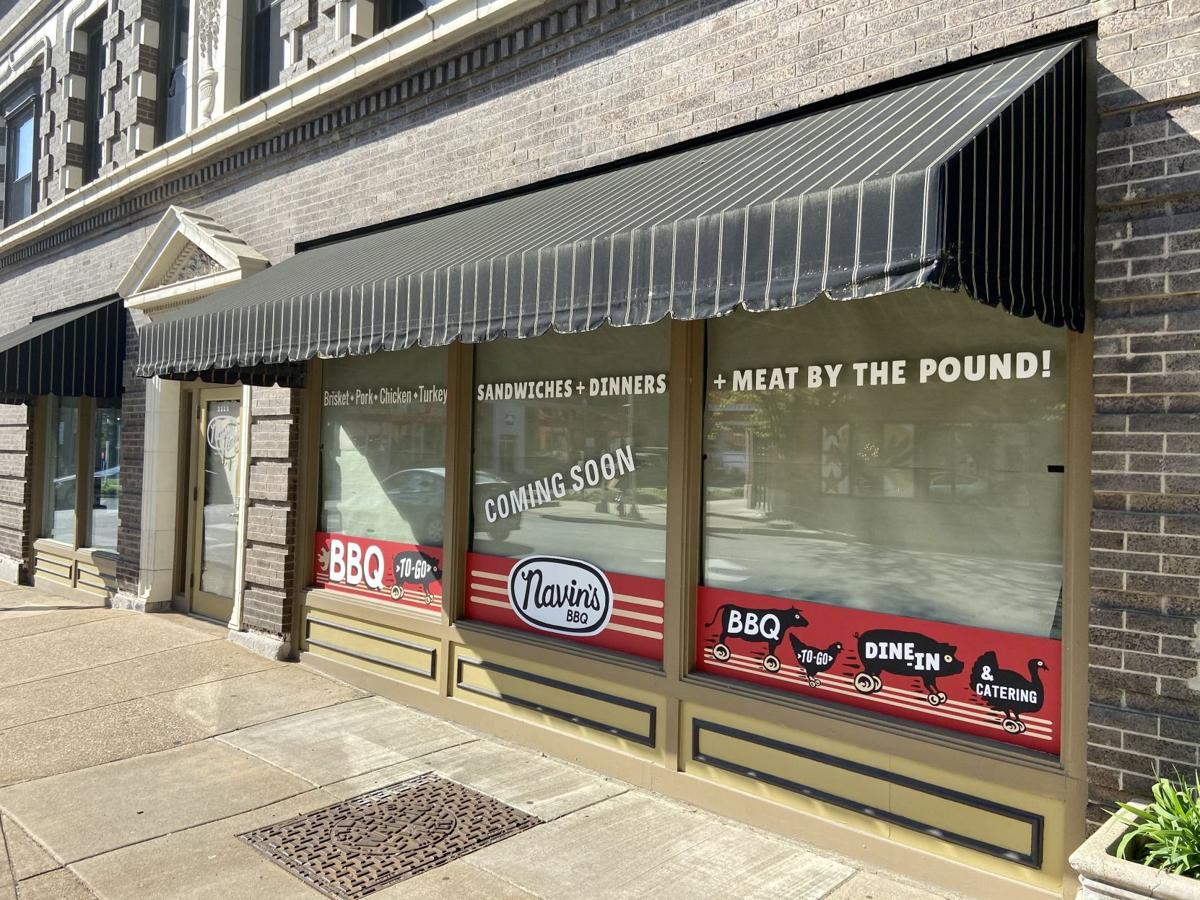 When Navin's BBQ opens later this spring in Tower Grove East, the restaurant won't simply nod to the barbecue traditions of central Texas and Kansas City by serving brisket and burnt ends. Owner Chris Armstrong grew up in both the central Texas and Kansas City regions, and his parents are originally from the latter area.
As Off the Menu reported last week, Navin's BBQ is taking over the former Guerrilla Street Food space at 3559 Arsenal Street, just east of South Grand Boulevard. This is the first restaurant for Armstrong, who previously worked in the beverage industry for about a decade.
Armstrong was furloughed early in the pandemic, brought back to work, furloughed again and then let go — "a rollercoaster," he tells Off the Menu.
"But with the extra time on my hands, so to speak," he says, "I kind of dug back into my barbecue roots."
Barbecue has always been a part of his life, Armstrong says: growing up with both the Central Texas and Kansas City styles, cooking in competitions on his uncle's team, barbecuing in his own spare time.
After being furloughed last year, he began smoking meat every week and experimenting with different recipes. He shared what he cooked with friends and neighbors, and demand soon spread to their friends and family.
"What I can do out of my backyard smoker reached its capacity," he says.
Armstrong saw the opportunity to charge money for his barbecue, but he wanted to do it "the right way," he says, and decided to open a restaurant.
Navin's BBQ will feature barbecue cooked in an offset, wood-only (i.e., no gas assist) smoker. Oak is Armstrong's base wood, with apple and hickory used as a seasoning.
The menu features sandwiches, including the restaurant's signature offering, the Jerk: pulled jerk chicken with bacon, pepper cheese, crisp onion straws, slaw and white barbecue sauce.
(The restaurant takes its name from Steve Martin's character in "The Jerk." As Armstrong reminds Off the Menu, the movie's famous gas-station scene — "He hates these cans!" — was set in St. Louis.)
Other sandwiches include a Hot Brown with smoked turkey and the Lou, with sliced smoked pork steak, Provel, Red Hot Riplets and sweet St. Louis-style barbecue sauce. There will be a gyro-inspired vegan sandwich with smoked portobello mushrooms and also a Rueben-inspired vegetarian sandwich with smoked collard greens.
Meats — chicken, turkey, pulled pork, brisket, brisket burnt ends and pork belly burnt ends — will be available by the pound and as dinner plates with a side and Texas toast.