Elmwood, the highly anticipated new restaurant from Niche alumni Adam Altnether and Chris Kelling, opens tonight (Jan. 22) at 2704 Sutton Boulevard. Altnether and Kelling announced Elmwood back in December 2017, and in the 13 months since then their idea of the restaurant hasn't changed: a place equally suited to be a neighborhood hangout and a special-occasion splurge.
"We want people to be comfortable showing up in jeans," says Kelling, who was the general manager at the late, acclaimed Niche and its successor, Sardella. His resume also includes the Restaurant at Meadowood in St. Helena, Calif., which holds 3 Michelin stars.
The dining room's layout reflects Elmwood's different possible identities. The single large space includes a communal table, a banquette and booths. There are small dining tables along the front window and large, round tables in the back. The bar features seats and standing room.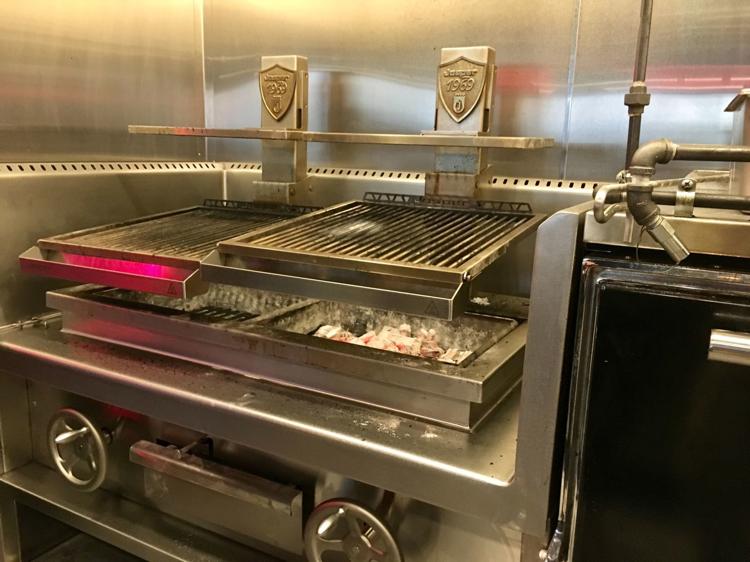 As with Elmwood's design, Altnether's menu is meant to appeal to both casual dining (there will soon be a burger on the menu, of course) and plan-months-ahead visits (a whole grilled fish, a dry-aged rib-eye steak for two). Expect frequent changes.
"What hits the menu is what keeps (us) engaged in the kitchen," Altnether says.
Altnether and Kelling are eager to show off the heart of the kitchen, a Josper-brand charcoal-burning oven and grill from Spain. It features hand cranks to raise and lower the grill beds, and as Altnether notes, there is no electrical or gas assistance. The cooks must start the charcoal burning in a grill chimney just as you would when grilling in your backyard.
Elmwood is open for dinner Tuesday through Saturday. Reservations are available through Tock. The phone number is 314-261-4708.
Editor's note: This post has been updated to clarify that there will be a burger on Elmwood's menu soon rather than when the restaurant opened. The burger is still in research-and-development, Kelling told Off the Menu.
---