This restaurant closed in October 2019.
By coincidence, Oaked was the second upscale restaurant to open in Soulard this winter. It debuted in February across Lynch Street from the Anheuser-Busch brewery and roughly a mile south from where the team behind the popular Soulard restaurant and bar Molly's unveiled 808 Maison in January.
808 Maison, where chef Jon Dreja is cooking excellent versions of classic French dishes, leans into Soulard's scruffier side. Both the decor and the furniture are a hodgepodge, the former charming, the latter uncomfortable. There is the palpable sense, as you savor Dreja's Marseille seafood stew, that you are but a short walk from a Smurf-colored shot and other choices you will regret.
Oaked presents a very different vision of a sophisticated Soulard restaurant circa 2019. It strives to be an oasis in the often rollicking neighborhood — or, rather, to be many oases. Sip a cocktail at the handsome bar or by the piano in the first-floor lounge. Eat on the expansive patio, bar included, or in the second-floor dining room, which between its bric-a-brac and illustrated liquor posters registers as a sort of mashup of private club and French bistro. Store your own bottles of wine in a personal locker, and smoke a cigar on the second-floor deck.
This ambitious project is the first restaurant for founders Anne and John Cochran and Venessa and Christoper Schwarz. The Cochrans and Schwarzes met as transplants to Soulard from the county and San Francisco, respectively. They loved living in the neighborhood but wanted a more sophisticated place to eat and drink wine.
As the Oaked origin story goes, over wine one evening the Cochrans and Venessa Schwarz (Christopher happened to be out of town) discussed in detail what such a sophisticated restaurant and bar would be like. The very next day, they learned that the building at 1031 Lynch that has housed several restaurants over the years (Lynch Street Bistro, Sage Urban American Grill and Fleur de Lillies among them) was available.
A version of this origin story is printed inside Oaked's wine and spirits menu, though it now requires an asterisk: The Schwarzes are no longer involved in the restaurant's day-to-day operations.
Wine is Oaked's greatest asset. Wine director Denise Mueller, a star of the newer generation of St. Louis sommeliers, oversees the list, which favors France and Italy in the old world and California in the new. The list isn't deep — most vintages range from 2013 to 2017 — but almost all of the bottles are available by the glass, encouraging exploration. (As the restaurant's name suggests, another highlight of Oaked's beverage program is the selection of whiskey and single-malt Scotch.)
Stephan Ledbetter, formerly the corporate executive chef for the Gamlin Restaurant Group (Gamlin Whiskey House, Sub Zero Vodka Bar, 1764 Public House), leads Oaked's kitchen. Assisting him is Carl Hazel, a veteran of Gamlin Whiskey House, the Scottish Arms, Eleven Eleven Mississippi, and West End Grill and Pub. At its best the kitchen dispatches gorgeously plated food in the contemporary, seasonal mode.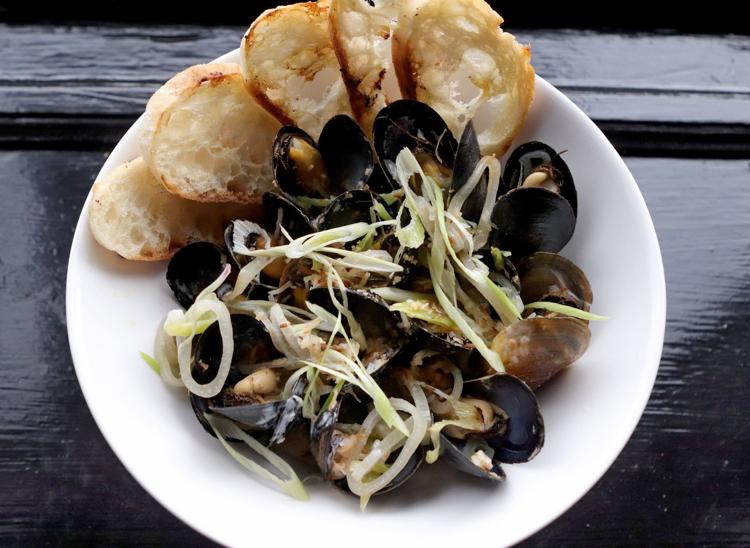 The tomato salad ($12) with feta and basil is a study in tomato textures and flavors: raw and pickled, a jam and a gel. Dots of basil oil and a dusting of pistachio powder enliven a silken soup of celery-root puree and coconut milk ($9). For textural contrast there is a celery-root crisp and bits of apple poached in white wine and simple syrup.
A standout main course delivers three plump scallops ($24) gorgeously browned and served with grapefruit and chimichurri over risotto. The grapefruit does the necessary work of electrifying the buttery richness of the scallops and risotto. As for the chimichurri, it looks vivid against the scallops, but it didn't register as brilliantly as chimichurri should.
The chimichurri is a small (and in the context of its dish moot) example of a larger problem that bedevils Oaked: elegant platings that too often obscure — or even cause — conceptual and structural flaws.
Even more beautiful on the plate than the scallops is a piece of salmon ($23), crisp skin and tender flesh, atop a painterly arrangement of spring: white asparagus, crispy spinach, fava beans and a spinach veloute. Beautiful, but the flavors are subtle, verging on timid — until you come upon the same poached-apple preparation from the soup. Here, with few competing flavors, its sweetness is jarring against the salmon. A sea bass dish from the previous menu iteration (the restaurant switched during the course of my visits) fared better with more direct flavors of green asparagus, snap pea and shishito peppers accenting the fish.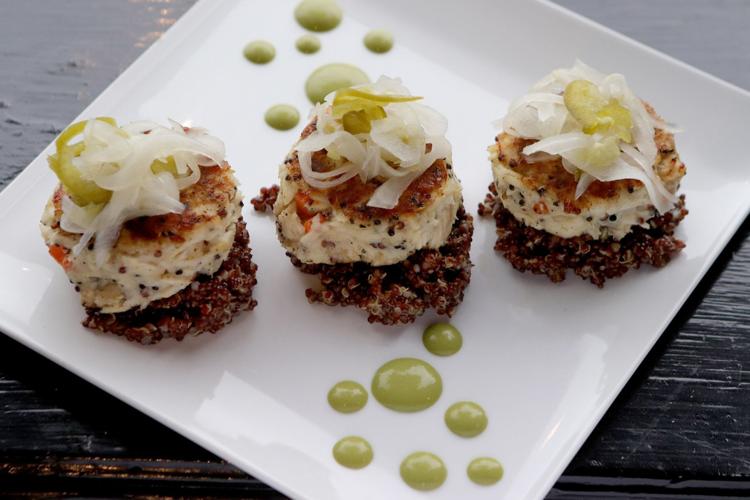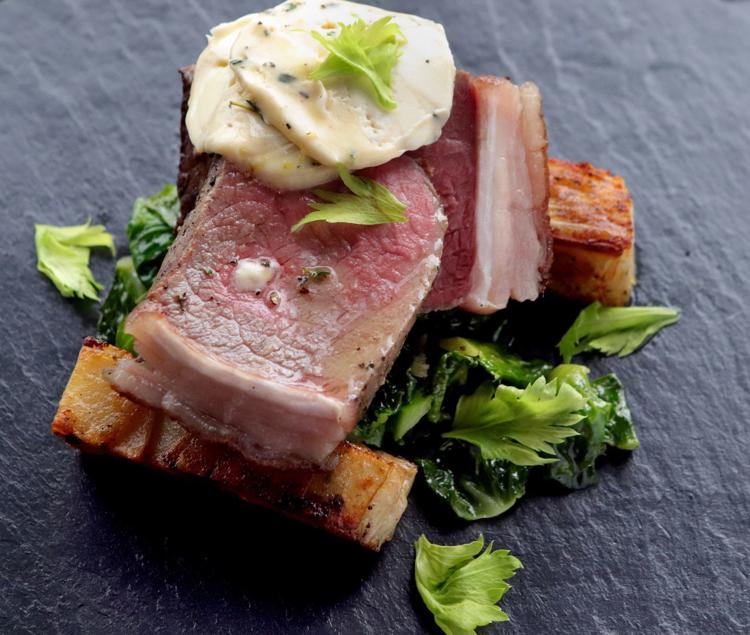 Smoked trout cakes ($13) on a bed of quinoa is visually striking but is an odd juxtaposition of soft and grainy textures. Mussels ($14) arrive as an abundance of shells peeking over the lip of a conical bowl, but their coconut-miso broth shot through with green garlic and lemon grass is trapped in the bowl's narrow base until you have already worked your way through several of the bivalves.
A 10-ounce strip steak ($33) with dollops of melting foie-gras butter should have been a can't-miss indulgence, but the effect was dulled by a dense, underseasoned pave of potato and celery root as well as roasted Brussels sprouts that needed some more time in the oven to develop a fully browned flavor. For meaty comfort, I much preferred another dish from the previous menu, gnudi with pork in a broth based on the pork's braising liquid.
A simple serving of Mexican-style street corn ($6), aioli-slicked and chile-dusted, wasn't my favorite dish here, but I appreciated the unaffected presentation and having to get my hands dirty. It lets a little air and messy life into Oaked's sophistication. It suggests Oaked's oasis could be more than a mirage.
Where Oaked, 1031 Lynch Street • Two stars out of four • More info 314-305-7517; oakedstl.com • Menu Contemporary American fare • Hours Dinner Wednesday-Sunday (patio open noon-midnight Saturday and Sunday)
Stay up-to-date on what's happening
Receive the latest in local entertainment news in your inbox weekly!