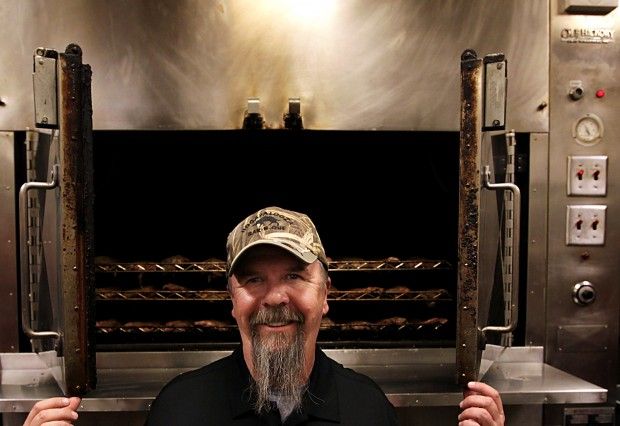 "The grills are smoking," co-owner Mike Emerson said an hour before Dalie's doors opened for the first time. Employees of the auto-service center next-door, he said, "will work on a car for a minute and then come out and take a big old breath."
Dalie's takes its name from co-owner and pitmaster Skip Steele's maternal grandfather, "Papa Joe" Dalie Wells. As Emerson related when announcing Dalie's in May, Wells was the first person to let Steele cook.
Dalie's menu features barbecue staples -- pork ribs, pulled pork, pulled chicken, beef brisket -- as well as roast beef and ham. Emerson said Dalie's ribs are closer in style to Pappy's than to Bogart's, with an apple-spice glaze. Dalie's ribs, however, are finished with "Papa Joe" Dalie's sauce.
"You can't describe this combination until after you've tasted it," Emerson said.
Among Dalie's distinctive dishes, Emerson pointed to the reuben, with pastrami, pork belly, sauerkraut and a housemade dressing on marble rye, and barbecue nachos made with Billy Goat potato chips, pit-baked beans and "Skip Dip," a combination of pulled pork, onions and pepperjack cheese.
Among the sides are the aforementioned beans, hush puppies and cole slaw. The fire-and-ice pickles from Bogart's are available both in their original form and deep-fried.
Dalie's Smokehouse is open 11 a.m.-8 p.m. Tuesday through Saturday and 11 a.m.-4 p.m. Sunday.  The phone number is 636-529-1898, or 636-529-1899.