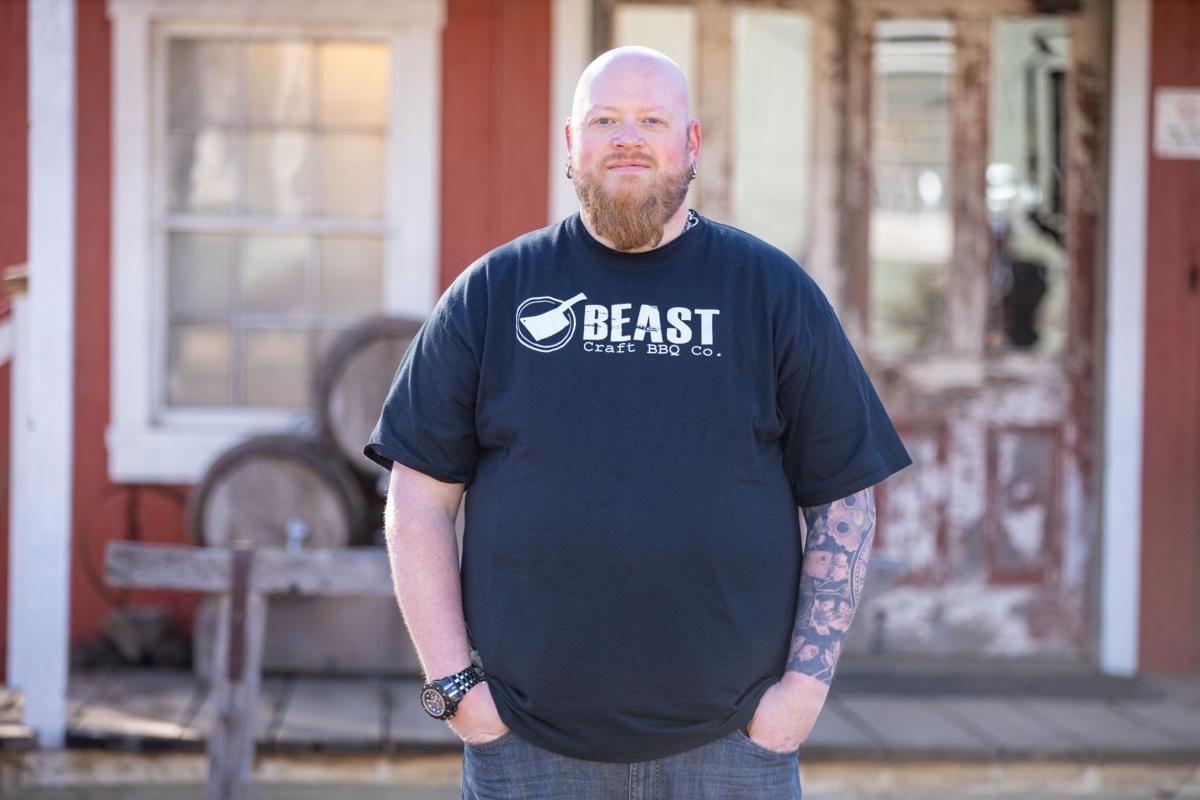 This article includes spoilers for the July 5 episode of Food Network's "BBQ Brawl." Don't read any further if you don't want the episode's outcome revealed.
Did the producers of "BBQ Brawl" anticipate their audience in a post-Independence Day meat coma coddling pets or small children rattled by the 48-hour artillery barrage of backyard fireworks? This week's episode is light on drama — actual or manufactured — and heavy on wings, ribs and all the glories of the tailgate feast.
Beast's David Sandusky and the other eight remaining contestants gather for the initial challenge. Michael Symon's team, Sandusky included, has won the past two weeks' brawls. Bobby Flay's team has yet to finish third in a brawl and remains at full strength with four pitmasters. Eddie Jackson's team has lost back-to-back brawls and two of its original four members.
Jackson chooses wings as the initial challenge's theme.
"I love cooking wings," Sandusky says. "I have my own wing company."
He neglects to mention Wing Runner STL by name, though! Will he knock the judges on their keisters with Wing Runner's ferocious habanero-jerk wings? He will not. He grabs some fennel to roast and pair with hot sauce.
(An aside as Bobby Flay dips a finger into a contestant's sauce to taste it: Uh, what were the COVID protocols on set?)
Beast's David Sandusky continues his quest to be named Master of 'Cue on the Food Network competition.
The judges love Sandusky's charred fennel-spicy barbecue wings. Rodney Scott even makes a sound of religious ecstasy. The winner of the challenge, though, is North Carolina's Christopher Prieto. This earns Team Jackson an advantage: putting both other teams into a 10-minute timeout during the brawl.
Team Symon decides to do three different rib preparations, with Sandusky opting for an ancho chile-harissa rub. In light of last week's drama ("drama," if you prefer), this means everyone on the team gets to cook meat.
Over on Team Flay, Texan Brendan Lamb is making a quail dish because, where he grew up in west Texas, "you can't throw a rock without hitting any quails."
Does Lamb risk angering the quail gods? Does stuffing the quail with Texas Twinkies anger them further? Are we still somehow only at the halfway point of this episode?
Finally, drama! Jackson calls timeout on Team Flay while Phoenix pitmaster Terry Matthews' ribs are uncovered over direct heat. When we return from commercial, Matthews' ribs are burnt beyond repair. Matthews throws a pork tenderloin on the grill instead, but right now he seems the likely candidate for elimination.
Our second-favorite competitor, the behatted, impressively mustachioed Ara Malekian, is making mojitos when Jackson hits Team Symon with its 10-minute timeout. They were ready, having already wrapped their meat to protect it. If you remember any practical advice from this week's episode, it should be that.
Sandusky checks his ribs post-timeout: "The bark on it was perfect. I've got nothing to worry about."
The judges like Sandusky's ribs — though Scott thinks they were left on the grill a little too long — and his roasted corn-tomatillo salsa, and Team Symon generally receives good marks.
But the judges are even more impressed with Prieto's ribs glazed with teammate Lu Holter's sauce, with Scott saying it is one of the best things they have tasted so far in the competition. Team Jackson wins this week's brawl, with Team Symon second.
Even before the judges have announced the winner, it is obvious Team Flay is going to finish third. The twist, however, is that the judges love the emergency gochujang-glazed pork tenderloin Matthews cooked after the rib disaster. They have fewer kind words for the fried mac-and-cheese balls from Taylor Carroll of Atlanta and the rib-eye tostada from Erica Blaire Roby of Dayton, Ohio.
Lamb's Texas Twinkie-stuffed quail gets the episode's biggest laugh from judge Carson Kressley's reaction to the name. (The moment is one you just have to see to appreciate.) The birds stuffed with bacon-wrapped jalapeño poppers are a flop, though. The combination doesn't work, and while Scott and Kressley at least like the quail, Brooke Williamson thinks it is overcooked.
The judges send Lamb home. The quail gods are appeased.