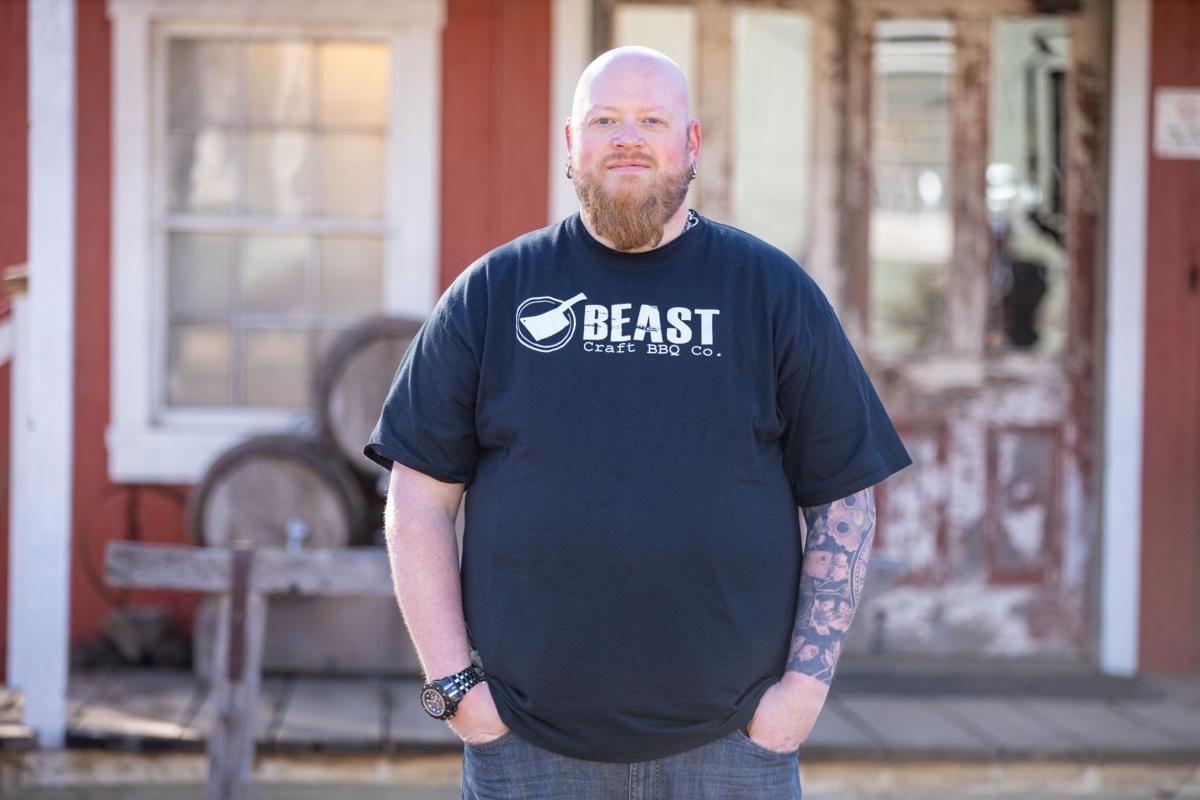 This article includes spoilers for the June 14 episode of Food Network's "BBQ Brawl." Do not read any further if you don't want the episode's outcome revealed.
By the end of first episode, that was no longer the case.
The competition begins with the 12 contestants each making a single small dish to showcase their talents for our hosts Bobby Flay, Eddie Jackson and Michael Symon. This also lets the show introduce the contestants.
For example, there is Christopher Prieto, a self-proclaimed barbecue "nerd" from Prime BBQ in Knightdale, North Carolina, who draws on his Puerto Rican heritage in his cooking. I mention Prieto because I noticed a vibe throughout this episode as if the producers are positioning him as the favorite, and I want this on record in case he does win.
Anyway, we see Fitzgerald — the "BBQ Mogul," as the show tags her — shortly before the first commercial break as she is working on bacon-wrapped shrimp stuffed with crab salad.
"I don't want to sound too cocky, but I feel like I probably am more prepared for this competition than anybody else here," she tells the camera.
The shrimp are sticking to the grill and then to the cast-iron pan where she tries to rescue them. The editors are professionals, folks.
We come back from commercial, and Fitzgerald's shrimp have released from the pan! A few minutes later, we catch up with Sandusky, who is preparing tequila-lime oysters on the grill.
"I don't follow the rules," he tells the camera. "I do my own thing. I do whatever I want whenever I want. I'm not going to grill like someone else does."
On "BBQ Brawl," Sandusky is the "Wild Card."
Having met the contestants, Flay, Jackson and Symon now draft four chefs each to be on their teams. Jackson, picking first, chooses Prieto. Symon then takes Sandusky, calling his oyster the day's "best bite." Symon later selects Fitzgerald, too.
The three teams must now prepare an introductory feast in 90 minutes for the "BBQ Brawl" judges: acclaimed pitmaster Rodney Scott, chef and former "Top Chef" winner Brooke Williamson, and reality-TV mainstay Carson Kressley.
There are no rules, Williamson says, "just show us what you can do."
David Sandusky of the Beast barbecue restaurants and Christina Fitzgerald of Sugarfire Smoke House will compete with 10 other pitmasters.
In hindsight, there maybe should have been some rules because Symon's team settles on a nebulous international theme. Symon assigns Fitzgerald eggplant.
"It's not something that I've done a lot," Fitzgerald says. "But I'm a cook, I'm a chef, I can do anything."
Sandusky suggests smoked cauliflower.
"I really wanted to do the protein," Fitzgerald says as we go to commercial.
We bounce from team to team as they cook. Sandusky describes his "hopeful" plan to smoke and then fry cauliflower to Williamson.
"Well, good luck to you," she says, sounding unconvinced.
Later, as the judges discuss Symon's team's approach, Flay comments, "Nothing says barbecue like smoked eggplant."
Later, Kressley weighs in on Sandusky's cauliflower plan: "I love when you take a healthy food and then you deep-fry it, and it makes it delicious."
When the judges evaluate Symon's team's feast, though, both Fitzgerald and Sandusky get dinged. Williamson says Fitzgerald's eggplant puree is pasty — it needs to be smoother — and overpowered by the flavor of the chicken a teammate prepared.
Strong says Sandusky's cauliflower needs more flavor. It's also a little heavy, Williamson adds.
"The judges walk away, and I'm not feeling so good about this," Sandusky says.
The judges choose the two safe teams, Flay's and Jackson's. Which means someone from Symon's team will be eliminated from the show. The judges gather the team together, and Williamson takes another opportunity to single out the cauliflower and eggplant as falling short.
Either Fitzgerald or Sandusky is going home after one episode. Right after this commercial break.
"This sucks," Sandusky says.
The judges eliminate Fitzgerald. She wishes the others luck and leaves.
"I came here to be Master of 'Cue," she says. "But what are you going to do? Didn't win."
Symon takes the blame for pushing Fitzgerald out of her comfort zone.