When Roberto's Trattoria & Chophouse launched curbside-pickup service May 6, nearly two months after temporarily closing during the coronavirus pandemic, the South County Italian restaurant was "really, really, really busy," owner Roberto Zanti said. But when he looked at Roberto's numbers at week's end, he drew a stark conclusion: "There is no way a restaurant like this can make it."
Zanti needs customers in Roberto's dining room, deciding in the moment to order both an appetizer and a main course, a bottle of wine with dinner, a drink or coffee after.
Beginning Monday, restaurants in St. Louis city and county can reopen their dining rooms again — with restrictions. Zanti will welcome the first guests inside Roberto's on Monday. How many other restaurants will choose to seat diners this week is not yet clear. The complexity of the decision is evident.
The protocols and guidelines for reopening dining rooms in the city and county are similar, though not identical: Wear masks. Check employees' health on their arrival for work. Maintain 6 feet of social distance among employees and between employees and customers. Wash hands and disinfect surfaces frequently. Keep tables 6 feet apart, or place plexiglass partitions between them.
(The county is not allowing banquet rooms and bars that do not serve full meals to open.)
Zanti is opening Roberto's at 25% of its usual capacity. He has installed plexiglass  partitions between the tables in two dining rooms, or diners can sit in a third room with the tables 6 feet apart but without partitions. There are also a few sidewalk tables.
With all of the precautions, Zanti feels confident about the safety of working and dining at Roberto's.
"I'm not nervous at all," he said.
Vito's in the Valley is also restarting dining-room and patio service Monday. The Chesterfield restaurant has been open during the pandemic, offering curbside pickup. Owner Giovanni La Fata said during this time his team has also been preparing for the new realities of socially distanced dining. Among the changes: QR codes diners can scan with their phones to access the menu.
"The decision to reopen was easy because I feel like it's time, and we're ready," La Fata said. "That was the biggest thing. We've met, and we've met, and the kitchen staff has met, and we will be ready — safe and ready."
Lodging Hospitality Management is opening the dining rooms at four properties Monday: Three Sixty, the St. Louis Union Station Soda Fountain, Basso and Westport Social. Occupancy will be capped at 25%.
LHM director of restaurants Blaise Pastoret said he drew from his experience grocery shopping during the pandemic. He didn't feel comfortable doing so until he found a store that was limiting occupancy to 20 customers at a time.
"I took that as I have to make the restaurants feel that way or it's not going to make any sense for us," he said. "So we're putting in a lot of protocols and procedures (about) how we do this to make the guests feel as well as the staff very safe."
Providing an opportunity to staff was also an important consideration for LHM.
"We wanted to get out there and get the people that do want to work (working)," Pastoret said.
The sheer number of restaurants that can open their dining rooms now makes it challenging to track how many will do so. And there is no shortage of restaurateurs choosing not to open their dining rooms yet, from prominent chefs to the owners of small neighborhood establishments.
Qui Tran said he is trying to keep his employees and customers safe by continuing with takeout and delivery service at his family's restaurant, Mai Lee, and two locations of Nudo House, which he operates with Marie-Anne Velasco.
"Right now, obviously, everyone's struggling," Tran said. "We're struggling as well. But I just think it's a little bit too soon."
Angel Jimenez-Gutiérrez said that, for the safety of employees and customers, he is waiting until at least June 1 to open the dining room of Malinche Mexican Culinary Experience in Ellisville. Terry Lee said Sides of Seoul, his family's Overland restaurant, will not open the dining room until it is "completely safe" for customers.
"As much as I would love to open back (for) dine-in, our family as a whole discussed that we have a responsibility to keep the community safe as they supported us through this time," Lee wrote in a text message.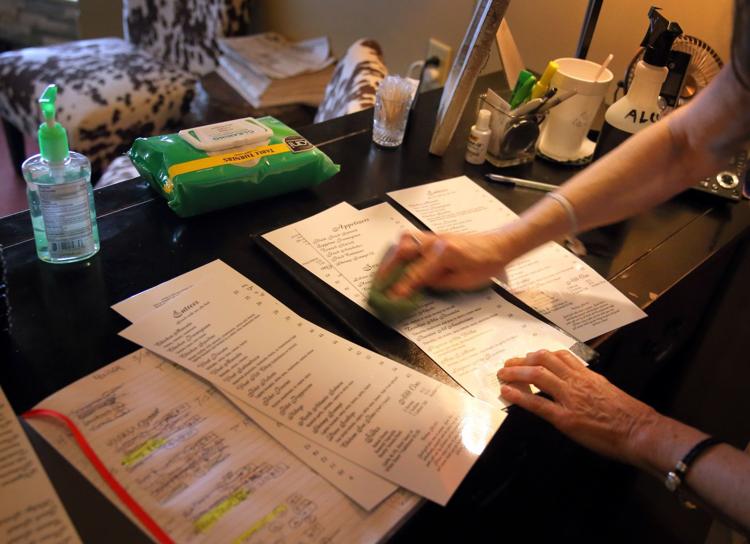 There are also practical considerations. Bob Brazell recently reopened his Marine Villa restaurant Byrd & Barrel for drive-thru service only. As for dine-in service, he said, "if I follow those (reopening) guidelines, I could literally only have four people at a time inside of Byrd & Barrel because it's so small."
Last year, Brazell and his business partners took over the Tenderloin Room inside Chase Park Plaza. There, he said, he would have to spend thousands of dollars on partitions and other modifications for a "very minimal" number of customers. 
From a safety standpoint, Brazell is able to operate Byrd & Barrel with a skeleton crew whose members are not crowding each other.
"And now we're supposed to bring more employees in and put more people in harm's way just to serve a very small amount of people, and our businesses only thrive when we're at 100% capacity," he said.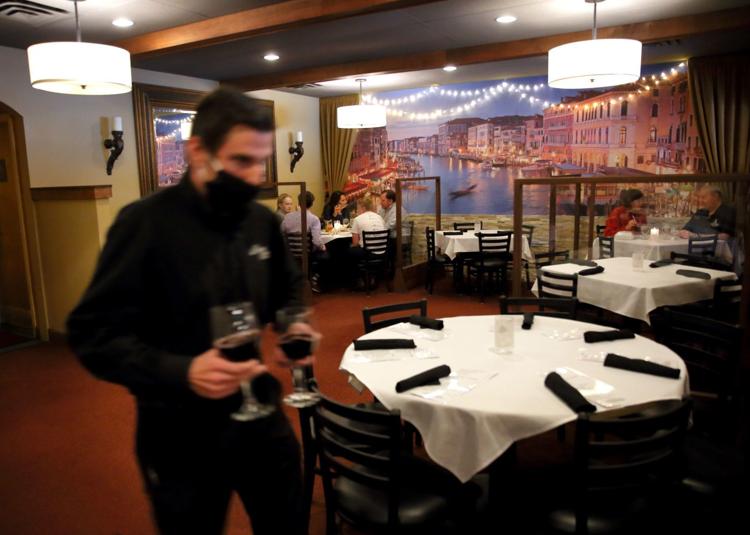 Whether customers will return is maybe the biggest question surrounding the reopening of dining rooms.
Sunset 44 Bistro & Banquet begins dine-in service Monday. Manager Carrie Menendez, whose family operates the Kirkwood restaurant, said customer demand drove the decision to do so.
"We thought about it, (and) we thought about it, and we decided that 'why not serve people if they want to be served, but in a new setting?'" she said. "So we thought that we could do it in a way that is safe and sort of viable for us."
Sunset 44's usual dining area is too enclosed and has too many surfaces to open right now, Menendez said. The restaurant will seat diners in its banquet room and on its patio. As of Thursday, about 80% of diners who had made reservations had requested patio seating.
Menendez said when she emailed customers the news of the restaurant's reopening, the result was "phone calls all afternoon."
If customers are eager to return to dining rooms, will a limited number of them be enough to sustain restaurants for weeks or even months?
"It'll be a lot better than the curbside, but I don't know," Roberto Trattoria's Zanti said. "I don't know. It's going to be hard."
---
500+ restaurants where you can get takeout or delivery
Concerned about COVID-19?
Sign up now to get the most recent coronavirus headlines and other important local and national news sent to your email inbox daily.