Like so many chefs, Juwan Rice was pivoting.
Since last August, Rice had been working at the Central West End seafood restaurant Bait. When the coronavirus pandemic closed dining rooms in late March, Bait at first pivoted to curbside pickup and delivery. Then, at the beginning of April, the restaurant closed temporarily.
(Bait has since reopened. Rice no longer works there.)
Rice needed to do something. "I was getting unemployment, and I was like, 'This isn't enough,'" he says. "You know, we still have bills to pay."
Rice had an option, though. He owned his own company, JR's Gourmet Desserts & Catering. In fact, he has been selling his own baked goods since he was 14.
He is 18 now. He will turn 19 in August.
In April, Rice began selling meals for curbside pickup through JR's Gourmet. In May, though, he saw the need for a different kind of service during the pandemic. He pivoted again and launched Feeding the Frontline to provide meals to employees of senior-care centers. Donations and sponsorships supported the effort.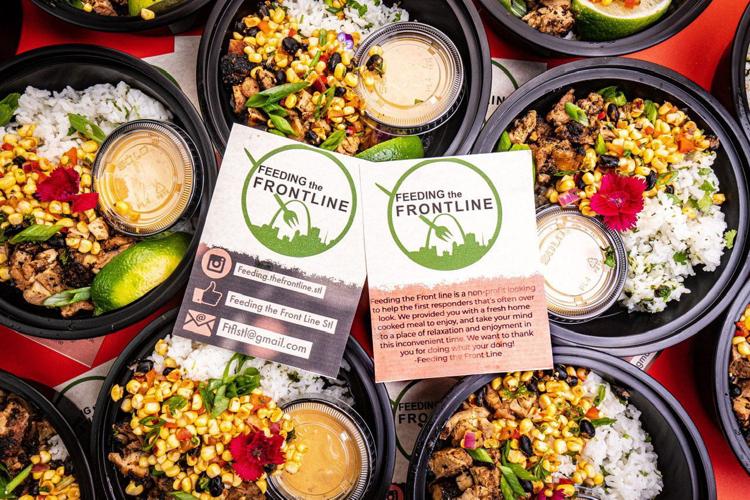 As of last week, Feeding the Frontline had delivered nearly 700 meals.
"I didn't have a really set goal, so I kind of surprised myself, actually," Rice says.
"He's always, always, always been passionate about giving back," says Rice's mother, Annetta Thomas.
Rice began cooking when he was 6 — though, as a child interested in math and science, he originally wanted to be a mechanical engineer. He would watch the DIY Network and then switch to the Food Network during commercial breaks.
"I was really interested in the creative process and also the engagement from the chef to the person who's actually eating the food," he says.
Even before he started cooking, Thomas says, Rice would "formulate concoctions," mixing things together just to see what happened. He would follow her or her own mother around the kitchen, asking questions.
The first thing Rice remembers cooking is Thanksgiving dinner with his grandmother. The dressing is the first recipe she taught him.
"I kind of got sucked in during Thanksgiving time," he says. "So I was frying chicken and peeling potatoes and doing things like that."
A breakfast of pancakes and eggs was the first meal Rice cooked for himself, Thomas says, "because I didn't like to cook, and Saturday mornings, breakfast cereal was not good enough for him."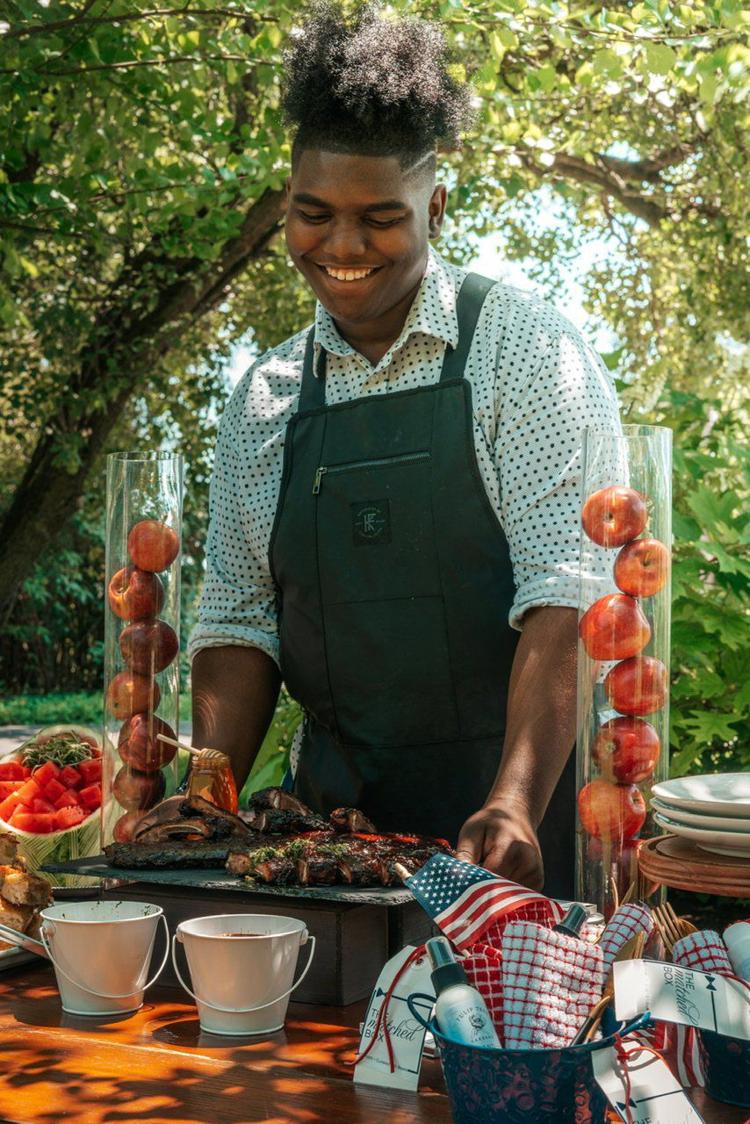 The 14-year-old Rice first sold baked goods to family and friends. Then he entered a program for young entrepreneurs. Afterward, he obtained his business license and other necessary certifications and formally launched JR's Gourmet.
The program, he says, is "what really made me want to do the professional side instead of just selling cookies out of my house and stuff like that."
When her son told her he wanted business cards, Thomas says, "I kind of laughed that off."
She quickly realized Rice was serious about starting a business. Not only did she support him, she changed her own career path. At the time, she worked as a medical assistant at Washington University. She was also a licensed barber, and she decided to leave the university and start her own barbering business, Against the Grainz.
"We've jumped on this journey as entrepreneurs together, kind of like a family business," Thomas says. "He does his thing, and I'm doing my thing, but we're both going at it together."
"I was helping her with her social media, and she was helping me with the business side of things," Rice says. "So we were co-parenting both businesses."
Meanwhile, Rice also made a culinary career the focus of his education. He graduated from both Parkway North High School and the culinary arts program at South Tech High School in Sunset Hills.
Pastry is Rice's passion. (He joined Bait last year as a pastry chef.) The sweetness is appealing, he says, "because who doesn't like something sweet?" But he is also drawn to the artistry of sculpting and shaping cakes, chocolate and fondant.
"You can't really manipulate food too much to make it into an art form, but that's when I can really be creative," he says. "So that's how I got attached to (pastry)."
As an influence, though, Rice points not to a pastry chef but to David Chang, the acclaimed and influential chef and restaurateur behind the Momofuku restaurant group and the host of "Ugly Delicious" and "Breakfast, Lunch & Dinner" on Netflix.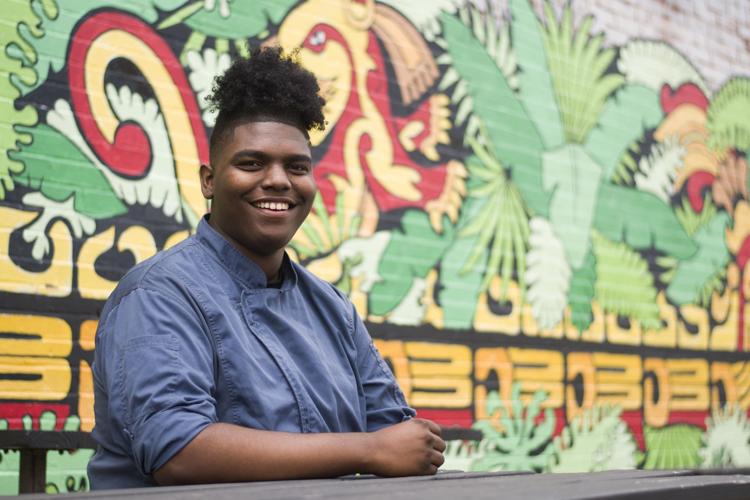 "He really digs deep into his roots and where his family came from, and that's inspiring to me," Rice says. "I definitely want to get more into it about where my family came from and the history and the culture."
Though restaurants have only recently begun reopening their dining rooms, Rice is already thinking about his future in the business.
"What I really want to do is to take my brand and put it into restaurants," he says.
As part of his plan, Rice is also looking to the next young chefs coming into the industry.
"What I had in mind was that I will get together some kids that are just getting out of either culinary school or high school (who) want to be in the industry," he says. "And then I'll be training them and then sending them to restaurants to produce the items that I have in mind."
Concerned about COVID-19?
Sign up now to get the most recent coronavirus headlines and other important local and national news sent to your email inbox daily.