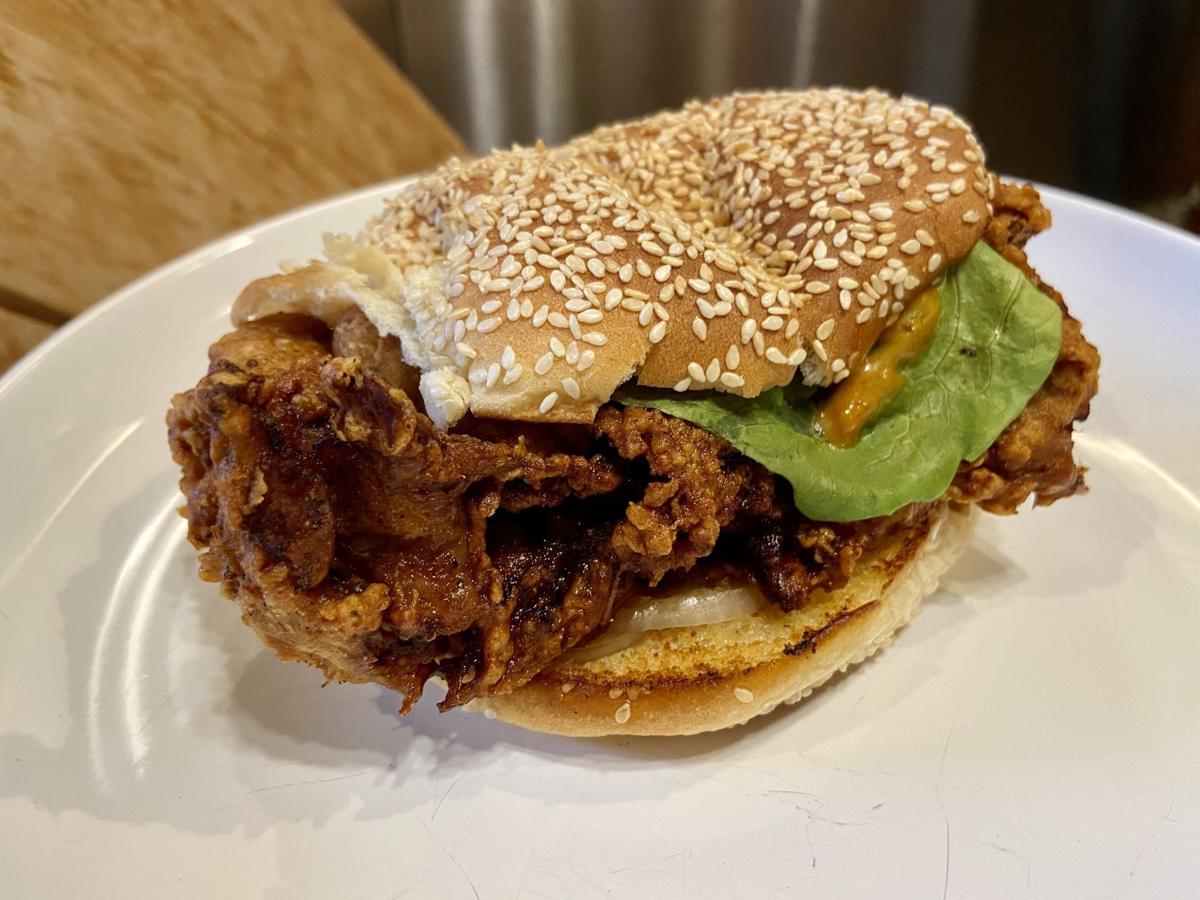 I want a beer. This is not usually a desire worth mentioning — during quarantine, it has been something like my default mode — but on this January evening, I am waiting inside the entrance of Perennial on Lockwood for my takeout order, and the 6-month-old Webster Groves brewpub's burnished bar is right there.
To be more specific: I want to sit at a bar like Perennial on Lockwood's and nurse a beer while getting lost in the ambient chatter and whatever game is playing on the big, hyperreal TV above me.
My masked breathing is creating its own weather system. I take off my glasses and wipe the fogged lenses on my shirt. For these few seconds, Perennial on Lockwood's interior becomes a dreamy, nearsighted mirage.
Perennial on Lockwood presents the first challenge to this column's new format. It is open for limited dine-in service, following current St. Louis County restrictions. I am sticking to takeout for now, so I can paint you only a partial portrait of the experience here.
That said, what I have brought home to eat has lived up to Perennial on Lockwood's unique promise. The brewpub is a partnership between the owners of one of St. Louis' most acclaimed breweries, Perennial Artisan Ales, and the owners of one of its best restaurants, Olive + Oak.
Though adjacent to Olive + Oak's new location, Perennial on Lockwood boasts its own entrance and kitchen and, under chef Evan Buchholz, brewpub fare both familiar and invigorated.
(Olive + Oak last year relocated roughly a block west of its original Webster Groves home; in that space, the Olive + Oak team has since opened a new Italian restaurant, O+O Pizza.)
Perennial on Lockwood might have already found its signature dish, a spicy fried chicken sandwich that draws its punch not from the cayenne-blitzed Nashville style, but from Sichuan cuisine's mala blend of chile heat and peppercorn tingling. As I noted in a December roundup of notable new fried chicken sandwiches, as vital to this dish as its seasoning is the meat, buttermilk-brined thigh rather than more common, less flavorful breast.
Sandwiches in general are a Perennial on Lockwood highlight. Haddock is a smart choice for fried fish, retaining the sweet spot between flaky and meaty underneath its beer-batter jacket. A dill-pickle aioli and a slick of melted American cheese give the sandwich the necessary, gentle accents. A very good turkey sandwich — not on the menu as I write this, alas — featured meat as succulent as the Thanksgiving bird you imagine but can never pull off zinged with a mild Jimmy Nardello pepper relish and a fiesty Calabrian chile-spiked cream cheese.
Your sandwich will likely come with skinny fries cooked to a shattering crisp in beef fat. If your Perennial on Lockwood order does not include fries, you should add some a la carte.
On this January evening, I take home two main courses from the dinner menu. Schnitzel proves a straightforward, beer-friendly pleasure: a crunchy-tender pork cutlet, on the thicker side for schnitzel (and juicier for it), with herbed spaetzle and sweet, earthy braised red cabbage.
The savory galette is a revelation, its crackling pastry crust supporting, if barely, oyster mushrooms, caramelized red onion and Gruyère garnished (at home, by me, if I did it correctly) with shaved Brussels sprouts and a bracingly tart pomegranate gastrique. The dish is not new or reinvented or anything like that, but its arrangement of elegance and surprise speaks to a confident kitchen, one I cannot wait to see further inspired by a full, humming dining room.
On this evening, I also bring home a 32-ounce draft crowler of Perennial's Bowling Trophies, a crisp corn lager that pairs beautifully with the schnitzel. I would like to tell you I was able to nurse this beer and get lost in the moment, but now there are dishes to be washed and children to get ready for bed.
Where Perennial on Lockwood, 216 West Lockwood Avenue, Webster Groves • More info 314-682-3823; facebook.com/perennialonlockwood • Menu Contemporary brewpub fare • Current services Dine-in; patio; takeout • Hours Lunch and dinner daily
This recommendation is based on takeout meals. Restaurant operations are in flux during the coronavirus pandemic. Please contact the restaurant directly for the latest hours and services. Delivery may be provided by a third-party service.