Winslow's Table, the new restaurant from Tara and Michael Gallina of the celebrated Vicia, opens Thursday (Nov. 14) at 7213 Delmar Boulevard in University City. The restaurant succeeds the farm-to-table restaurant and general store Winslow's Home, which ended its 11-year run in October.
At Winslow's Table, the Gallinas aim to offer Vicia's farm-to-table aesthetic in a more casual, family-friendly setting. As Tara Gallina said when announcing the new restaurant last summer, she and her husband want Winslow's Table to be somewhere "it doesn't have to feel like a fancy night out on the town."
Winslow's Table will initially offer breakfast and lunch service, with dinner likely to follow in December.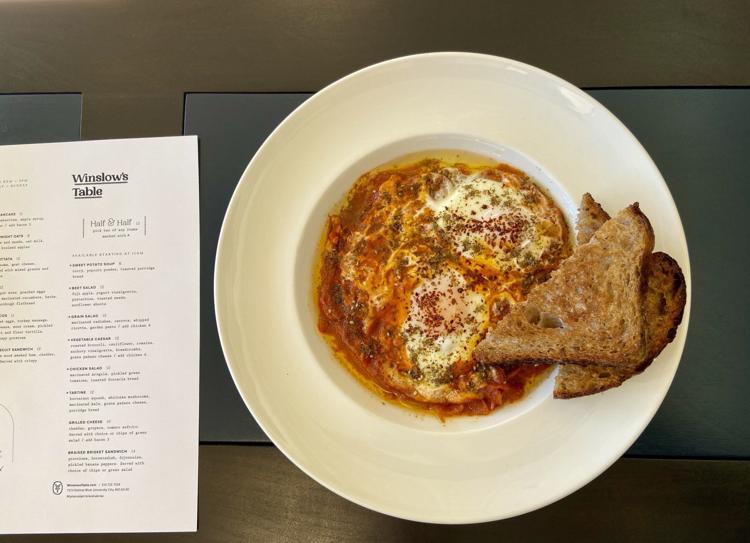 Breakfast fare includes shakshuka, breakfast tacos with scrambled eggs, refried black beans and turkey sausage and a frittata with crimini mushrooms, goat cheese and spinach.
Lunch, available from 11 a.m., features salads, a tartine with butternut squash, shiitake mushrooms, kale and Grana Padano cheese and — a nod to one of Winslow's Home's signature dishes — a braised-brisket sandwich.
"This is the opening menu, subject to probably change a million times," Tara Gallina said at a media-preview event at Winslow's Table on Tuesday.
"We tried to incorporate some old favorites but with our spin on it and then also some things that I think people love at Vicia that we'd love to have in another venue."
Vicia sous chef Alec Schingel will lead the kitchen at Winslow's Table. The bakery in the basement of the new restaurant will produce bread for both of the Gallinas' restaurants.
Grab-and-go food dishes will also be available, as will items from such local purveyors as Rolling Lawns Farm, Salume Beddu and Clementine's Naughty & Nice Creamery.
Winslow's Table's initial hours will 8 a.m.-3 p.m. Tuesday-Sunday. The phone number is 314-725-7559.