Sherif Nasser, the strikingly tall, slender owner of A Pizza Story in Maplewood, crouched beside the highchair in which my daughter sat merrily gnawing her way through a pile of Cheerios.
"Soon you will be able to eat pizza," he told her. "It's the best. You'll love it."
Later I tore off a small piece of my pizza's crust and handed it to her. She ate it, frowning and then not frowning, and then pointed her pinched fingers at her mouth, demanding more.
This is every pizza story, really. You try it — a crisp St. Louis square or a floppy New York slice or a brick of Chicago deep-dish or, especially in recent years, charred and bubbling from a wood-fired oven — and you fall in love. Its appeal is universal, its variety limitless, and for that reason it's a dish that you keep trying for the first time and falling in love with all over again.
It's a dish that can inspire three men with established careers in academia and medicine — and no experience running a restaurant — to open a pizzeria.
That's the pizza story behind A Pizza Story, which opened in June in the old Jones Typewriter Co. space in downtown Maplewood. (Underwood and Selectra aficionados exhale; Jones Typewriter has moved, not closed.) Pizzaoilo Muhammad Alhawagri is a biologist at the Washington University School of Medicine. Nasser is an assistant professor of marketing at the university's Olin Business School. The third partner, Nael Saad, is an assistant professor of radiology.
The men retrofitted the space into a single spacious dining room and bar, with the wood-fired oven installed in a back corner. Photos of St. Louis scenes both vintage and modern decorate the pastel-green walls. Speakers pump music a tad too loudly.
As at any Neapolitan-style pizzeria, the crust takes center stage. The oven, burning at 700 to 800 degrees, spots its skirt with char. The interior is neither airy nor chewy. It offers just enough resistance to allow the richly yeasty flavor to develop. If it isn't my favorite Neapolitan crust in town — I prefer a bit more sour tang — it's on the list. A classic margherita pizza ($12) dabs this crust with a lightly sweet tomato sauce and then covers it with fresh mozzarella — a few slices too many, pushing the sauce too far into the background — and basil fresh from the plants on the restaurant's front windowsill.
The Thriller ($15) tweaks the classic pepperoni pizza by substituting thin slices of peppery, smoky Spanish chorizo. With mozzarella, tomato sauce and a generous oregano seasoning, it makes for a terrific pie. The Fairy Tale ($14) skips the sauce and tops the crust with Gruyère cheese and what looks like a forest's worth of sliced wild mushrooms. If the combination as served proves too earthy for your palate, a sprinkle of red-chile flakes balances the flavor. The Fantasy ($16) blends creamy burrata with tomato sauce as the bed for gossamer prosciutto di Parma and verdant fresh arugula.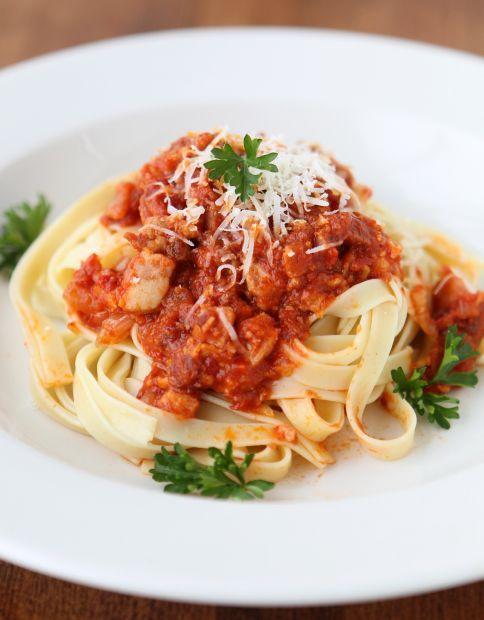 The brief menu also includes a couple of pasta dishes. The fat shells in an order of shells ragu ($13) didn't register much flavor or texture, but the red-wine-tomato sauce thick with braised beef was excellent. For its fried calamari appetizer ($9), the kitchen batters and deep fries plump slabs of squid rather than the usual rings and tentacles. The result is more tender and flavorful than the typical calamari; a side of puttanesca sauce for dipping is pungent with olive and capers.
A Caprese salad ($8) was the one misfire I encountered. The dish was beautiful, the mozzarella, basil and tomato arranged to resemble a blooming flower, but the roma tomatoes lacked much flavor — this in the height of tomato season — and the splash of balsamic vinegar distracted with its tannic note.
The wine list is very brief (four white, five red); the beer selection is draft-only and mostly local craft brews (plus the It Beer of this summer, Stiegl Radler). Dessert includes two scoops of velvet-smooth housemade gelato ($5). I paired a scoop of rich dark chocolate with one of gently tart limoncello — though not on the same visit when my daughter was there. She'll fall in love with this place one day, but Daddy isn't ready to teach about sharing yet.
---
Where A Pizza Story, 7278 Manchester Avenue, Maplewood • Two and a half stars out of four • More info 314-899-0011; apizzaastory.com • What Neapolitan-style wood-fired pizzas • Hours Lunch and dinner Tuesday-Sunday; closed Monday