Calling Bait a seafood restaurant is accurate, of course, but of limited use. This 5-month-old establishment in the Central West End isn't a corporate steakhouse wearing fins and scales a la 801 Fish. It doesn't evoke the day's catch enjoyed dockside, as Peacemaker Lobster & Crab Co. does.
Bait dazzles. Which isn't so unusual in the Instagram era of dining, but the chef, Ceaira Jackson, keeps control of her pyrotechnics.
A whole fried red snapper (market price, $35 on my visit) would be impressive enough in its plump majesty. Jackson dresses the fish with an aioli seasoned with her Old Bay-esque Bait Spice blend and serves it alongside piquantly spiced rice, all of which would also be impressive enough.
Jackson isn't finished. She includes three sauce ramekins: a bright, chimichurri-like blend of herbs; a sweet, mildly spicy mango-chile sauce; and a pungent hot sauce zippy with vinegar and lemon. By the end of my dinner, the snapper's tender, flaky meat might as well have been tortilla chips as avidly as I was dipping it in these sauces.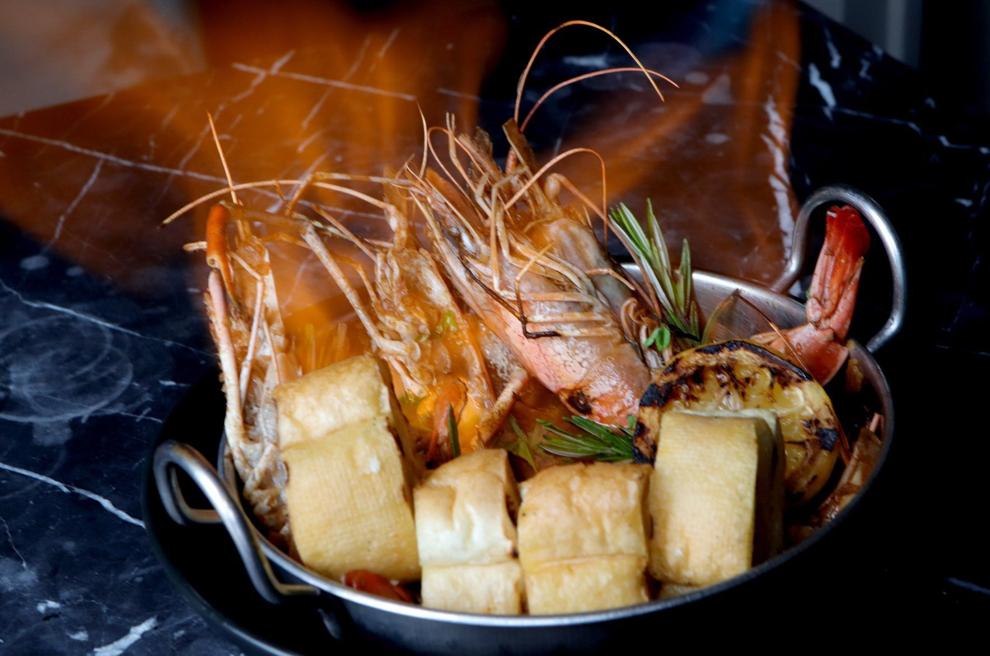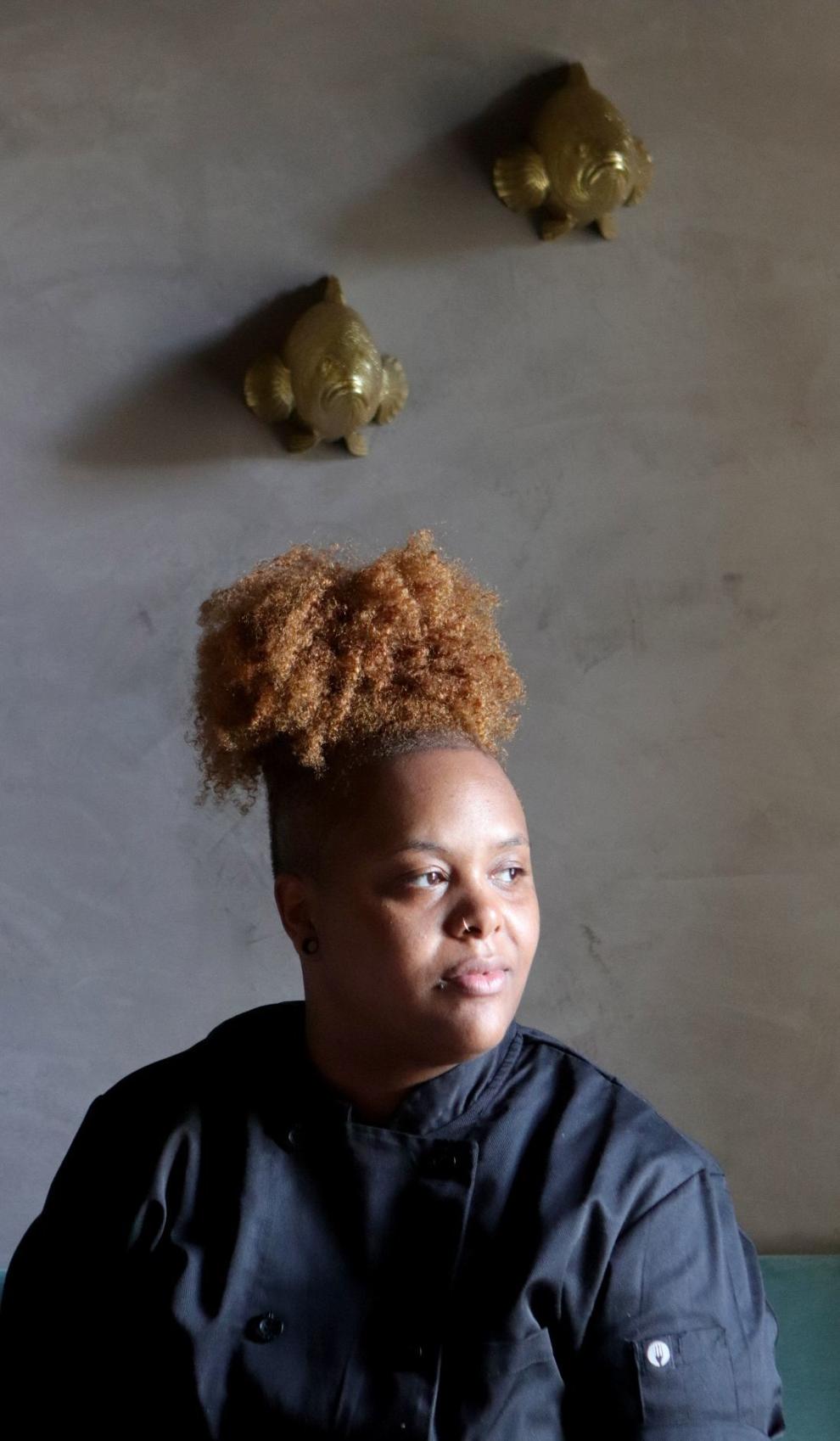 The Flaming Wicked Prawns ($17) deliver colossal prawns — more reminiscent of snow-crab legs than cocktail shrimp — in a broth made from dark beer and sherry and generously garnished with rosemary and other fresh herbs. This broth is set alight for a dramatic arrival at your table. Flames shimmer across its surface, blackening the slices of crusty bread bobbing beside the prawns.
Take a photo for social media. Now put out the fire and eat. If the prawns' firm flesh isn't as sweet as that of some smaller species, it still rounds out the malty broth with notes of butter and brine. Lingering over the dish, naturally pungent or coaxed out by the flames or both, is rosemary's piney perfume.
Jackson began cooking while growing up in Illinois and St. Louis. She cooked a lot, she told me in a phone interview, one of four daughters helping her single mother. She graduated from L'École Culinaire in 2011 and was the chef at SOHO Restaurant + Lounge in Forest Park Southeast's Grove and Fleur de Lillies in Soulard (both now closed).
Misha K. Sampson, who was a co-owner of Fleur de Lillies, is the general manager at Bait. She and Jackson provide an anchor of experience for owner Kalen Hodgest, a first-time restaurateur.
Hodgest houses the office of his home-health-care business on the second floor of Bait's Central West End address. The restaurant occupies the first floor, a warren of small, distinctly styled dining rooms. Though compact, the space never felt crowded on my visits, even when busy.
There is one design quirk. The small bar wedged into one corner lacks seating, making reservations, especially for prime weekend tables, more or less required.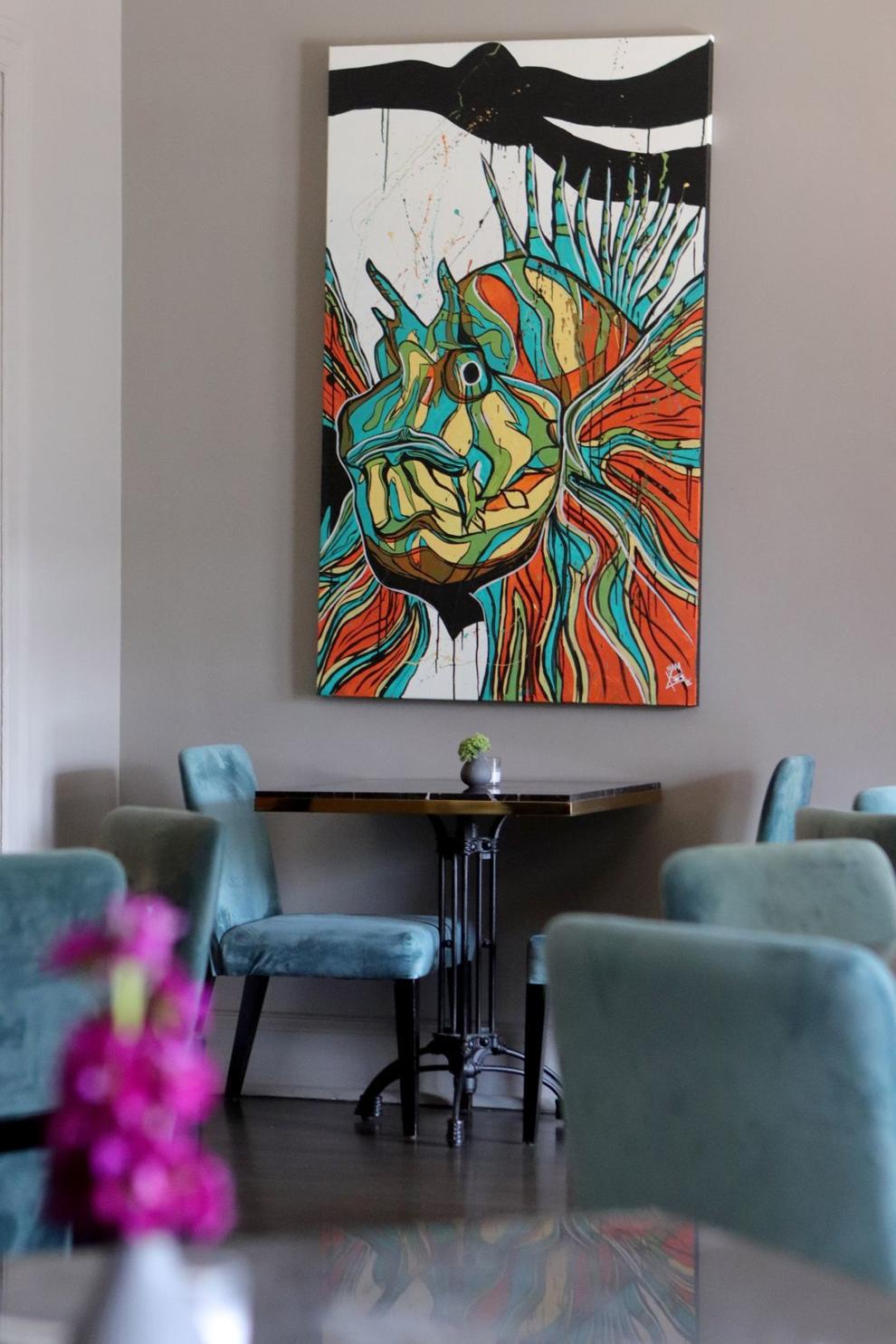 There is a full bar program, though, overseen by Sampson. The wine list tips toward white, rosé and sparkling, with most bottles priced under $50. The cocktails feature fun tweaks on classic drinks, like a margarita with the soft sweetness of d'Anjou pear or a caipirinha electrified by grapefruit.
Bait's overall vibe falls somewhere between sophisticated and sexy — or as sexy as you can feel when a painting of a large, nonplussed fish is staring back at you from across the room. ("Very sexy!" this Maryland native says.) It is, without a doubt, a restaurant for grown-ups.
The menu sprawls across 15 small plates and a dozen main courses. The selection of small plates is a challenge to parse. The prawns make sense as a shared appetizer, as do the Duck Rangoon ($10), smoked duck you can actually taste and molten cream cheese inside fried wontons. The Carrots Three Ways ($9) — braised in the Bait Spice blend, glazed with red wine and honey and then charred, and pureed with ginger and lemon grass — is more a complicated side dish rather than a complete dish. The contrasts in flavor and texture aren't distinct enough to command interest.
The scallops ($27) are priced like a main course. Add a fourth scallop to the plate, and the dish could pass as one. It is a beautiful arrangement as is, three bronzed scallops, pears braised in white wine and glazed carrots fanned across a crescent of parsnip puree. Popcorn dusted with Bait Spice provides crunch and prickly heat to what could have been a too-sweet, too-rich dish.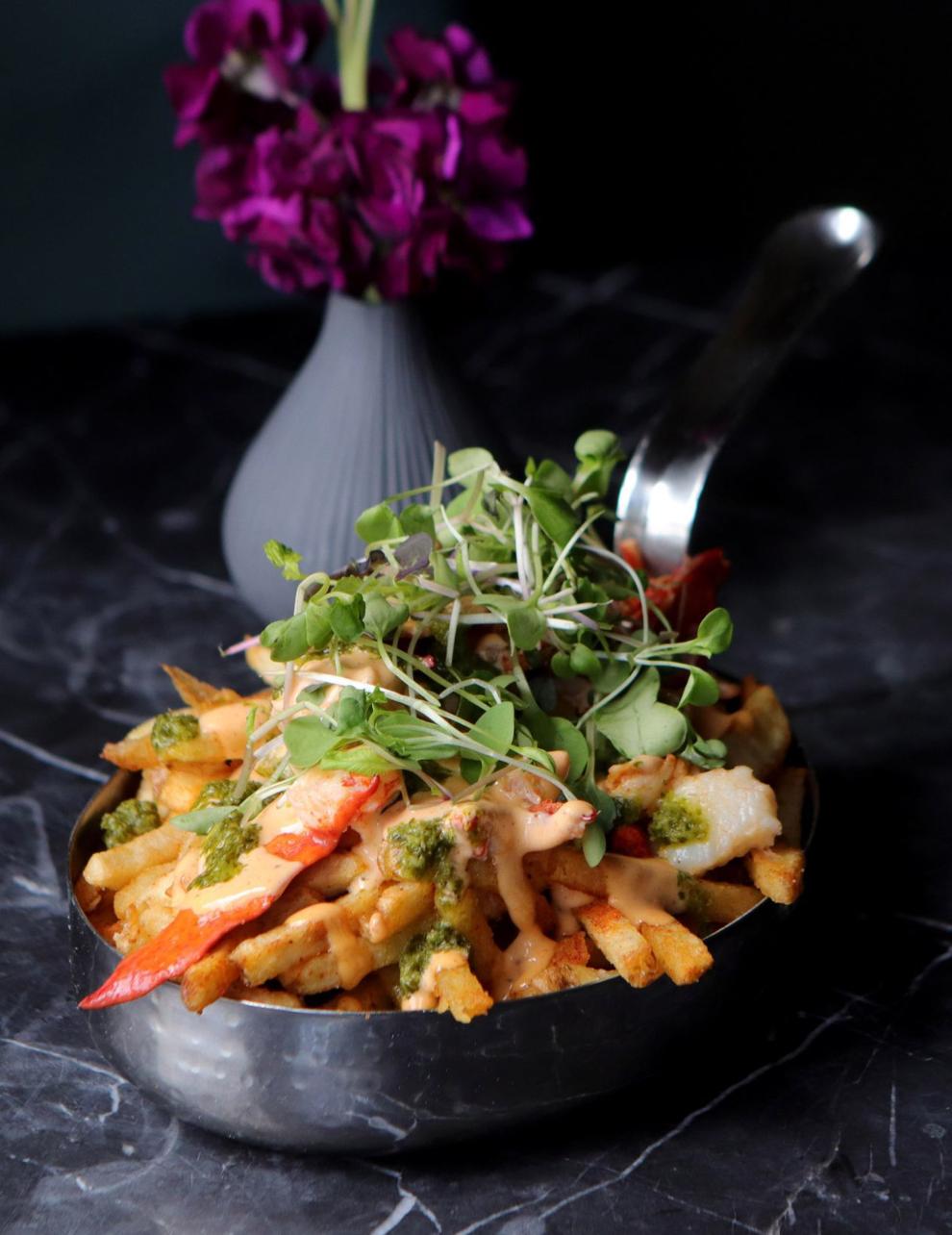 Jackson can plate her food with a painter's eye. Flowers and a few clams and mussels festoon a perfectly cooked piece of Chilean sea bass ($36). The sea bass sits atop baby bok choy and charred broccolini, which add a welcome vegetal accent, and also fingerling potatoes and a little bechamel sauce, which don't add much at all. I preferred a messier plate of meaty swordfish, red quinoa and wilted spinach in a sultry sauce of coconut and dark rum ($34).
Speaking of messy: Jackson's seafood boil brims with opilio-crab clusters, shrimp and turkey andouille, whole red potatoes and segments of corn on the cob. Between cracking the crab and swishing through the boiling liquid, you will need the dampened napkins your server offers.
The seafood boil costs $45. The menu doesn't list it as a dish for two — as it does for the $75 tomahawk steak — but it probably should. The boil isn't the priciest dish for one, though. That is a filet medallion with poached lobster for $60. I got my lobster fix from the less expensive (but, at $27, not inexpensive) Connecticut-style roll overfilled with warm, buttery poached lobster.
Tyler Davis, most recently of the nearby Chocolate Pig, recently joined Bait as a consulting pastry chef. His approach — s'mores served with a puff of smoke — matches well with Jackson's style.
Jackson described that style to me as "big and fresh and in your face." Exuberant is the word I used in my notes. Bait is an exuberant seafood restaurant, and Jackson is a rising star to watch.
Where Bait, 4239 Lindell Boulevard • Three stars out of four • More info 314-405-2797; baitstl.com • Menu Upscale seafood dishes • Hours Dinner Wednesday-Saturday