About halfway through my 27-course omakase dinner at Indo, Nick Bognar's wondrous 3-month-old restaurant in Botanical Heights, the 27-year-old chef served plump morsels of king crab with what he described as a Thai chimichurri (imagine a more herbacious nam prik), a bit of toasted jasmine rice and spicy fish sauce. The crab, its dense sweetness tickled by chile heat and grooved with the fish sauce's inimitable umami, I dispatched in three bites. The story behind the dish I am still chewing over.
When he was growing up, Bognar explained to the six of us seated at the chef's counter, his family would go to the casino and eat at the buffet. His mother — the chef and restaurateur Ann Bognar, who is originally from Thailand — would more or less order him to forgo fried chicken and other delights to focus on crab legs, albeit with a boost of flavor from home.
"I always had this distinct memory of my family sneaking in a jar of spicy fish sauce," he said. "That's the Thai-kid thing, right?"
The king crab wasn't the best course of my omakase dinner, which began with a mug of comforting broth made from the roasted bones of most of the fish being served that evening and ended, almost exactly 2½ hours later, with a scoop of Thai tea ice cream. (Which course was the best? I would offer the cliché of choosing a favorite child, but sometimes my children annoy me, and nothing at Indo did.)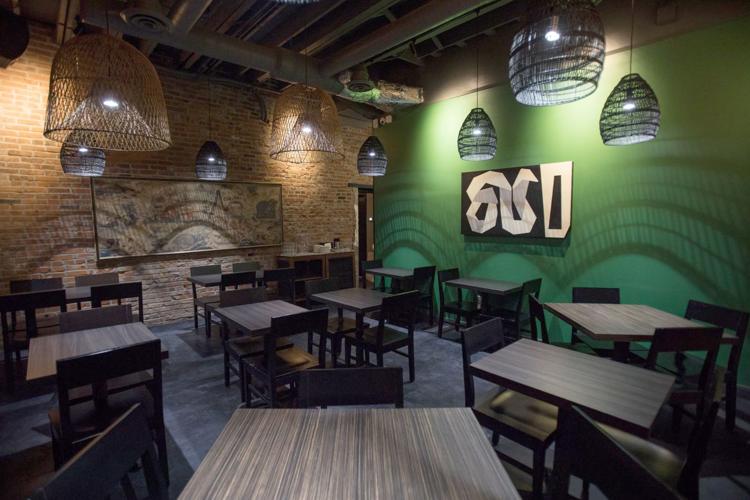 And the omakase menu isn't the only or even the main way most diners will experience Indo. There is the a-la-carte dinner menu, of course, which features many of the dishes from my omakase dinner. In the modern style, Indo is also open for lunch with a counter-service model and a compact menu of maki, rice bowls with sashimi and an outstanding bowl of khao soi ($14), the intensely aromatic red-curry broth silken with coconut cream and enriched with tender confit duck meat and a garnish of crisp duck skin.
This is good news for those who dislike tasting menus or for whom the cost ($150 per person, which doesn't include gratuity or drinks) is an understandable barrier to entry. This is good news, period. Indo's omakase dinner, for which you must purchase a ticket in advance through the website Tock, is currently available to only six diners an evening Tuesday, Wednesday and Thursday.
Still, Indo's omakase dinner demands attention. Bognar dares ambition at a time when many talented chefs have turned to the casual and the comfortable. He does so while avoiding the conventions of western European-derived fine dining. I regret to inform you this four-star restaurant lacks expensive table linens and a leather-bound tome of Old World and California trophy wines, though sommelier Zac Adcox enthusiastically guides you through his focused list, which is especially strong on interesting rieslings and other food-friendly whites.
While an eager student of sushi tradition, Bognar also doesn't cater to the Western fetish for "authenticity." A piece of grilled Australian sea trout in a lemony beurre blanc (sake and mirin as well as white wine), the fish's skin so crisp I wanted to snack on more of it from a bag like chicharrones? Inspired by the Cheesecake Factory, he cheerfully informed us.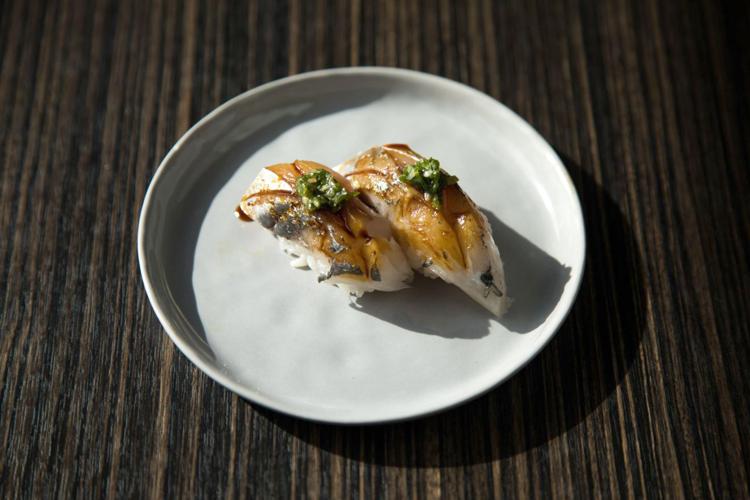 I don't think it is a coincidence my omakase dinner hinged on the king crab — and not simply because it was a natural transition between the first half of the menu, an intense study of the flavors and textures of nigiri sushi, and the second half, a giddy flurry of fatty tuna belly, A5 wagyu beef, foie gras and other luxuries. Bognar isn't content to sneak spicy fish sauce into the casino buffet. At Indo, he is staking his claim as one of the most vital voices in St. Louis dining.
Or, rather, Bognar is furthering the claim he staked two years ago, when he became the executive chef of Nippon Tei, the Japanese restaurant his mother opened near Ballwin in 2001. At Nippon Tei, which I awarded three stars last year, Bognar's calling card is nigiri sushi, each piece aged or accented or both to flourish properly.
Nigiri sushi remains a standout at Indo. Lightly brined hokkaido scallop garnished with shiso aioli, flying-fish roe and lime zest delivers an energizing sweetness, while kinmedai offers the buttery indulgence of lobster. I especially loved how Bognar treated the fattier, oilier fishes, transforming kanpachi (dry-aged for seven days, brushed with nikiri and accented with goji-berry vinegar) and saba (cured in salt, kombu and sugar and then marinated in akasu, or red vinegar) into luscious, meaty pleasures.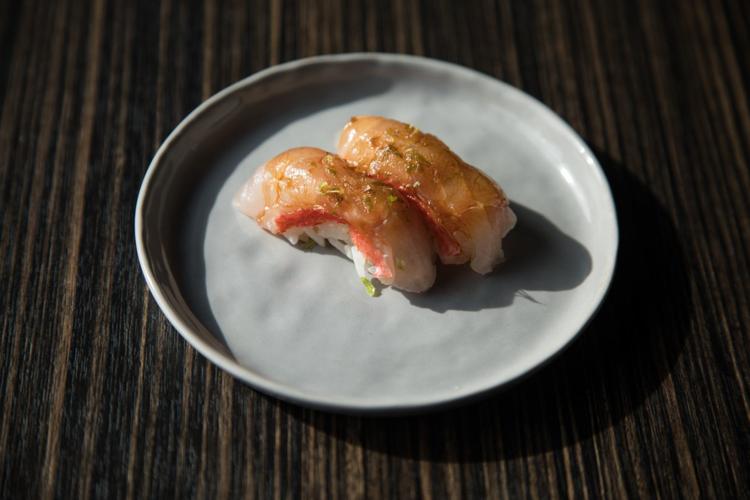 (The progression of nigiri sushi in the first half of the omakase menu is so satisfying that the second half's flight of bluefin tuna, while an undeniable pleasure, registers as redundant, to say nothing of the sustainability issues with this fish.)
If you are dining a la carte, the day's selection of nigiri sushi is printed on a separate menu from the other dishes. Remarkably, should you or your server misplace this nigiri sushi menu, you can still fashion an exhilarating meal at Indo.
The a-la-carte menu is divided into Cool Tastings and Hot Tastings — a Tasting is a small or small-to-medium portion, sometimes a snack or side, sometimes a composed dish — and a few large-format dishes for the table. Indo suggests two or three Tastings per person. Dining here with one person, I found three hot, three cool (including nigiri sushi) and one large-format dish more than enough food.
(Some of the dishes I am about to describe I ordered a la carte, others I ate in smaller form during my omakase meal.)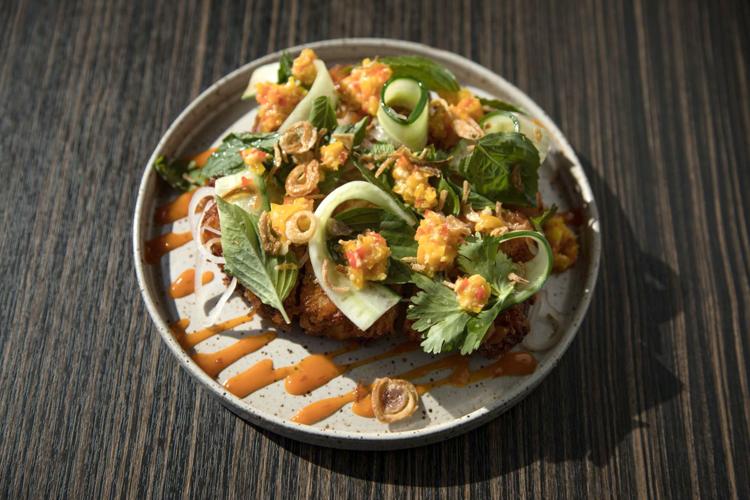 I insist you include the larb ($16), a Cool Tasting and maybe my favorite dish here: lamb tartare with candied pine nuts, fried shallots and fresh herbs on a sesame-rice cracker. The raw lamb's clean, pastured brightness is chased by a breeze of warming spices and scorching chiles was so intoxicating I couldn't help but devour the dish.
For this, Bognar drew inspiration from a staple of family Christmas celebrations, his grandmother's recipe for larb: shrimp and fish pastes, chiles and (his grandmother's secret, he told us at the counter) a spice profile more Middle Eastern than Thai. His grandmother had made her larb with raw beef, but he believed — astutely, as it happened — its spices would pair perfectly with lamb.
You will want sashsimi, but I would nudge you toward the sashimi-adjacent Isaan hamachi ($18), firm slices of lightly brined yellowjack in a coconut naam pla that draws out the fish's sweetness and also lends it a counterbalancing savor. A lacing of chile oil and a garnish ripe with makrut lime and chiles brightens the dish and gives it a lingering smack.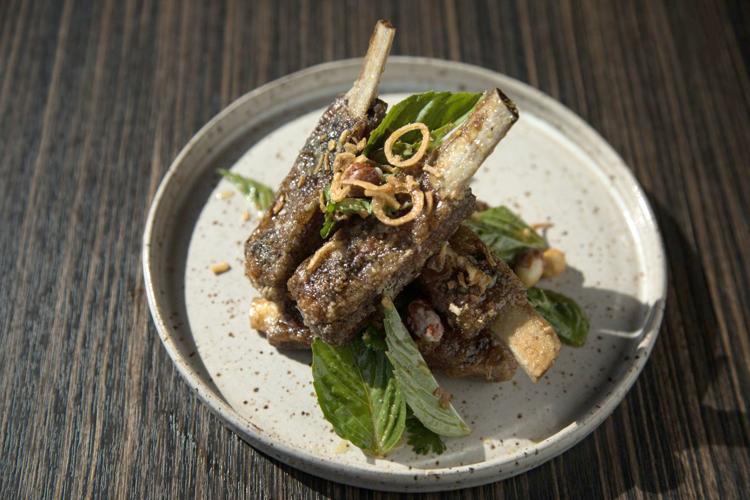 Lamb is also a standout among the Hot Tastings thanks to fried ribs ($18) with a palm-sugar glaze with some fish-sauce swagger further sharpened by lemon grass and galangal. This is the bar snack I would demand in heaven if they admitted critics. Bognar's version of shrimp toast ($15) tweaks nostalgia with a surprisingly delicate croquette of shrimp and cellophane noodles atop potato bread from Indo's Botanical Heights neighbor Union Loafers.
The most interesting hot cooking occurs in the large-format dishes. Fork-tender beef short ribs ($38) in a bottomlessly complex red curry sauce, with a side of cooling (literally and figuratively) labneh and housemade roti. Half of a madai ($60), aged for a few days and then fried, with a sweet mango-chile sauce to cut a richness that reminded me of nothing so much as fried chicken. Crab donabe rice ($50), each grain infused with the luscious richness of Dungeness crab.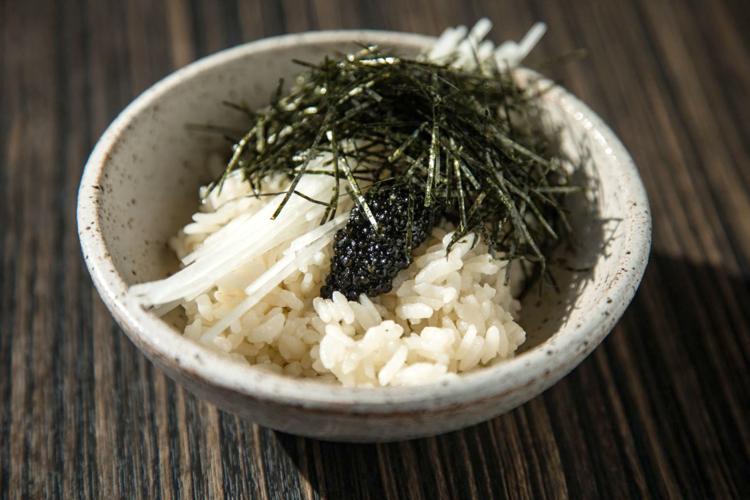 The crab donabe rice was the second of two rice dishes served during the omakase menu. A few courses previous, Bognar had presented us with rice cooked in a more seaweed-forward dashi with toasted nori, sesame oil, raw daikon and North American hackleback caviar. It was as intoxicatingly briny as the ocean itself.
Freshly cooked rice is a nice thing to include in a meal, Bognar told us at the counter. This will not be news to any number of cultures, but at Indo it still felt like a revelation, and when he offered us a second helping of the crab donabe rice, course 24 of 27, none of us could resist a little more.
Where Indo, 1641 Tower Grove Avenue • Four stars out of four • More info 314-899-9333; indo-stl.com • Menu Sushi and Japanese- and Thai-influenced fare • Hours Dinner Tuesday-Sunday, lunch Tuesday-Saturday (closed Monday)
Stay up-to-date on what's happening
Receive the latest in local entertainment news in your inbox weekly!