This restaurant closed in September 2019.
At 808 Maison, the French restaurant that opened in January in Soulard, chef Jon Dreja doesn't call the bouillabaisse bouillabaisse. He calls it a Marseille seafood stew ($30). For Dreja, this is about respecting tradition. Though your bowl brims with seafood in a saffron-hued, anise-scented fish fumet, though bread slathered with garlicky rouille floats atop the abundance, the dish lacks red scorpionfish and other fish considered essential to "true" bouillabaisse.
Instead Dreja gives you sole and buttery monkfish, which might be enough by themselves to carry the dish, but he also adds shrimp, squid, crab, clams and mussels. A connoisseur of French cuisine will appreciate the nuance Dreja shows in not calling this bouillabaisse. Any diner will appreciate the stew's splendor.
808 Maison is a new venture from Luke Reynolds and John Rogers, who own the restaurant's next-door neighbor, Soulard mainstay Molly's. From outside you could mistake 808 Maison for one more part of Molly's sprawl, but the restaurant is its own entity — more upscale, though in an unstuffy, Soulard kind of way.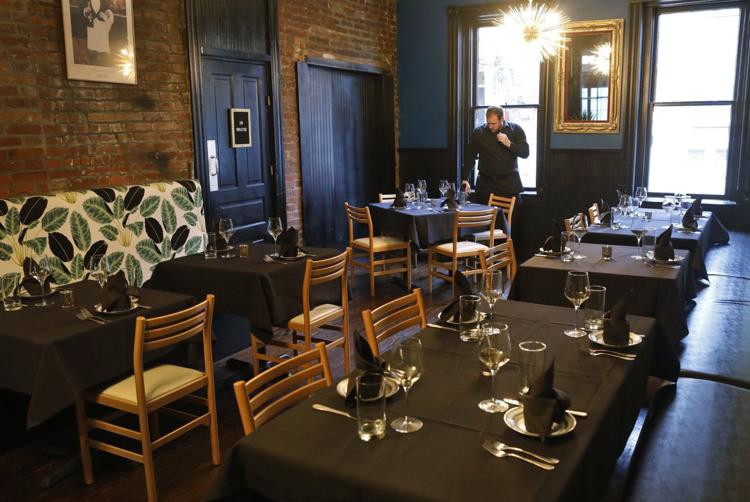 The restaurant is small. The front room includes the bar, a communal table and both booth and banquette seating. This is the more interesting space: exposed brick, floral-print wallpaper, a tin ceiling, stylish light fixtures. The second dining area is more conventional, though you can see enough of the front room to catch its quirky vibe.
You might call the whole arrangement cozy. I found the front room's cushy but low-to-the-ground booths and the second room's freestanding dining chairs uncomfortable and exceptionally uncomfortable, respectively.
For a decade, upscale but unstuffy French dining in Soulard was synonymous with the late, great Franco. 808 Maison doesn't try to mimic Franco's urbane cool, but it can boast Dreja, who was Franco's executive chef from late 2012 until its closure in 2016.
But 808 Maison doesn't simply fill the gap Franco's departure left in Soulard. St. Louis as a whole isn't a hotbed of French restaurants. This might be surprising, given the French influence on our city's history. I suspect it has more to do with how American fine dining turned away from French tradition. At any rate, 808 Maison affords Dreja an opportunity to introduce St. Louis diners to some less-often-seen dishes, like cervelas sausage en croute ($25).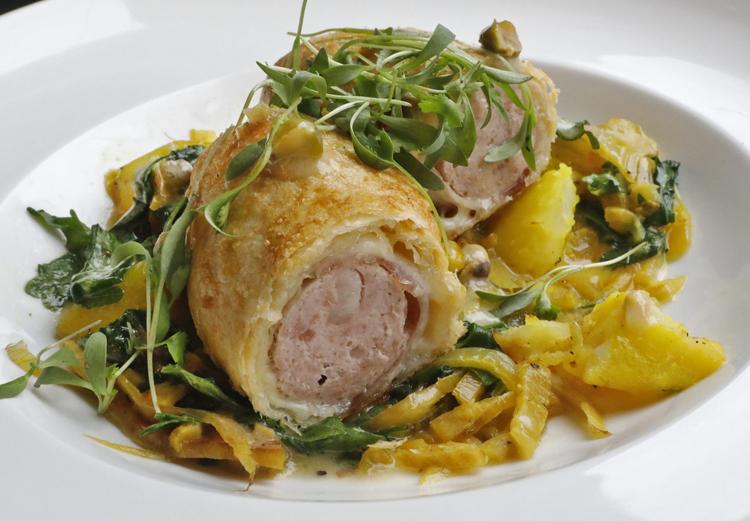 This is, if I may also turn away from French tradition, the best pig-in-a-blanket you have eaten. Dreja's version of cervelas is a plump, smooth pork sausage studded with pistachio and peppercorns that he has poached in salted water, wrapped with Comté and bacon inside a puff-pastry shell and then baked. This alone makes for a substantial dish, but in the same spirit of abundance as the seafood stew, the dish is also a play on choucroute, with salt-cured fennel (in the role of cabbage), arugula and potatoes in a silken pistachio beurre blanc.
Both the cervelas sausage and the Marseille seafood stew are new to the menu as of mid-April. My visits happened to coincide with the restaurant's shift from winter to spring, and several of the dishes I ate have changed substantially or, like the cassoulet ($28), have been removed from the menu.
These dishes still attest to Dreja's skill. It might seem redundant to call any cassoulet pork-intensive, but Dreja pushed the dish further into its essential piggy self. He served the dish with the obligatory duck confit — perfectly crisped skin and sumptuous meat — and a snappy Tolouse sausage. To this he added not pork belly but braised pork from a whole heritage-breed pig, and he cooked the cassoulet's white beans in the pork's braising liquid.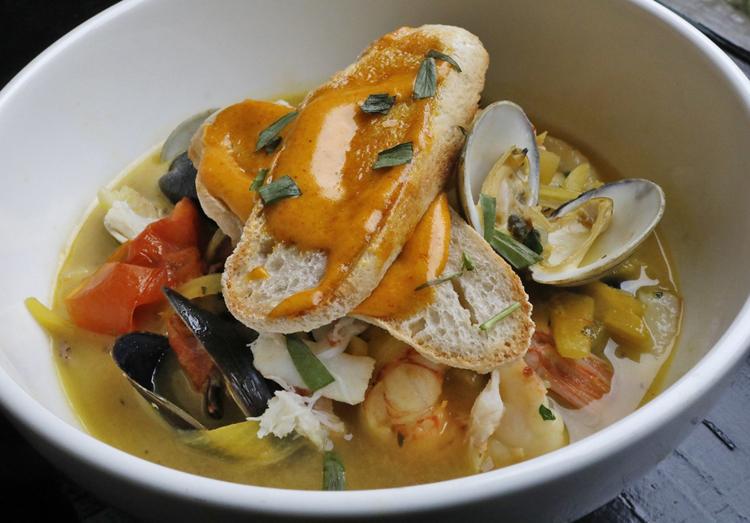 When I ordered the poussin ($32), the tender roasted chicken sat in a pool of Périgueux sauce with wild-mushroom barigoule, and this heady, earthy combination not only stood up to the chicken's stuffing of black truffle and veal sweetbreads — it stole the show. Scallops ($34) were seared right up to the edge — but not over — of too browned. These swam in a frog-leg ragout that bridged the scallops' ocean sweetness to a lightly meaty savor.
(The poussin is now served with its skin stuffed with black truffle and foie gras, while the scallops are paired with a flagolet-cherry tomato ragout. The prices haven't changed.)
Franco fans will want a cone of Dreja's pommes frites ($8) to start, and his take on escargots ($12), gilded with saffron-garlic butter and fattened with Spanish chorizo, will convert the snail-averse. New to the menu for spring is a crudite plate ($12) worth ordering for the radishes alone: dipped in butter that has been warmed until pliable, then chilled again and dusted with coarse salt, you want to eat these like popcorn. Another spring addition is garden pea soup ($10) with surprising swagger thanks to black trumpet mushroom, peekytoe crab meat and a creme fraiche enriched with dried porcini mushrooms.
808 Maison offers some universals, including French onion soup (here made with veal stock, which lends depth to the onions' sweetness; $7) and fruits de mer from a-la-carte oysters, clams and cocktail shrimp up to a $70 grand-plateau presentation. On paper, at least, the dessert menu reads like a punt — choices include creme brulee, ice cream and sorbet — though I was impressed with the precise technique of the apple tarte tatin ($7).
Dreja's cooking is a strong argument for more chefs and restaurants to look back to French tradition. It is an argument 808 Maison itself should hear. We have become accustomed to a more casual style of dining over the past few decades, and this has been mostly a positive development, creating more access for diners and chefs alike.
Given the quality of Dreja's cooking and the expense of a meal at 808 Maison, however, the restaurant's "quirks" — the uncomfortable seating I mentioned, occasionally flickering lights — distract from the magic of the experience.
808's potential is as abundant as the seafood in Dreja's Marseille stew. It is a compliment as much as a criticism to demand even more.
Where 808 Maison, 808 Geyer Avenue • Three stars out of four • More info 314-594-4505; 808maison.com • Menu Classic French fare • Hours Dinner Wednesday-Saturday